A 15-year-old boy has been handed a four-year custodial sentence for raping a 10-year-old girl in broad daylight in Shrewsbury.
The offender admitted one charge of rape and another of attempted rape.
Shrewsbury Crown Court heard how the youth had followed and approached the girl as she walked along St Michael's Street on the afternoon of Friday 11 April.
He persuaded her to help search for something he claimed to have lost, and lured her into an isolated location on disused land behind a car wash. It was here the offences took place.
This was an extremely disturbing case, involving a little girl of just 10 years. It quickly became apparent that her assailant was also fairly young, probably someone of secondary school age.

I am pleased to say we were able to arrest the perpetrator relatively quickly once the incident had been reported. He was a dangerous individual and fortunately, was identified and arrested before posing any further risk to the public. It also allowed for the effective recovery of vital evidence.
– DCI Neil Jamieson
West Mercia Police have also praised the public for their help in the quick arrest of the teenage offender.
Our prime suspect was caught on CCTV cameras carrying a fishing rod and fishing tackle box which made him conspicuous and we received a number of calls from people who had seen him at the relevant time...

There was an excellent response to our appeals for information, from both pedestrians and passing motorists. Their evidence played a big part in enabling an early arrest and I am very grateful to everyone who came forward.
– DCI Neil Jamieson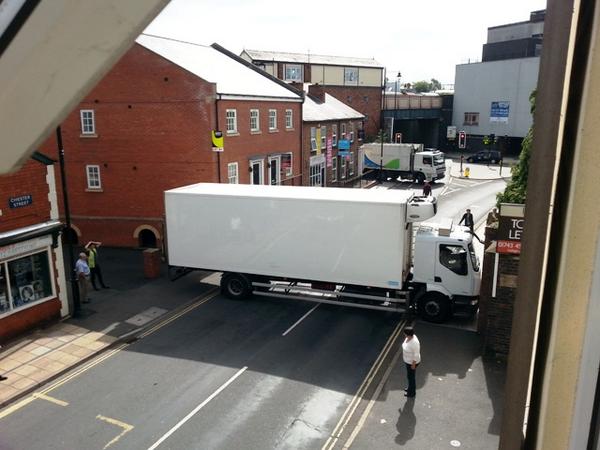 Delays are expected in Shrewsbury as a lorry has become trapped between two buildings, blocking the road.
The charity BuildItInternational uploaded this photo to twitter.
Advertisement
A positive sighting of Philip Speake, a 25-year-old man missing from Shrewsbury was made in Chirk, North Wales on Friday 8 August.
He was last seen at 4pm on Wednesday 6th August, leaving work in the town centre.
He is described as being 5 foot 7 inches tall, with brown hair. He was last seen wearing black trousers, black boots and a long black coat.
It is the final day of the Shrewsbury flower show today - where they are commemorating the 'show that never was' - after it was cancelled following the outbreak of the first world war 100 years ago.
They are also celebrating another 100 year anniversary. The Brownies was formed a century ago, and one of the show gardens is dedicated to the Girl Guides.
There are warnings of disruption to some rail services after a person was hit by a train.
It happened between Shrewsbury and Crewe and is affecting Arriva Trains Wales.
All lines are currently blocked, with services not expected to get back to normal until after this mornings rush hour.
Shrewsbury judo star, Danny Williams, has claimed gold in the 73kg men's judo event at the Commonwealth Games in Glasgow.
The 25-year-old beat New Zealand's Adrian Leat in the final.
Advertisement
Clare Whiteless is 'fully prepared' to face punishment after her son's primary school refused to grant him leave to attend her wedding.
Read the full story ›
Organisers of the Shrewsbury Half Marathon say improvements to the course will make this year's event even better than last.
Almost 3,000 runners signed up last year and they raised more than £30,000 for charity.
The event will start at the Shropshire Agricultural Showground and will continue through the town centre, the Longden Coleham estate and the Quarry.
This is the latest chapter in the botched West Coast franchise process, which has left passengers and taxpayers paying the price for Government incompetence. Under this out-of-touch Government, fares have risen 20 per cent on average since 2010 adding to the cost-of-living crisis.

The West Coast's long-suffering passengers will welcome £35m of service improvements, but this franchise process has already cost taxpayers at least £50m directly and hundreds of millions of pounds more through delays to investment on the line and other franchise competitions."
– Mary Creagh MP, Labour's Shadow Transport Secretary
Transport unions have hit out at Virgins Trains after securing an extension deal to its West Coast Main Line franchise.
The leader of the TSSA rail union said Virgin Trains is "being rewarded for failure on the West Coast line" and argued that publicly-owned franchises "provide better value to both taxpayers and passengers".
"Ministers continue to ignore the lesson that publicly-owned East Coast has returned far more cash to the Treasury in the past five years than Virgin," he said.
Mick Cash, from the RMT union, has said Virgin Trains have "bullied themselves into a monopoly provider position" by "ignoring the public sector option".
"Rail franchising is a one-way ticket to the bank for greedy shareholders as these companies promise the earth and deliver just the bare bones in the interest of profit," he said.
Load more updates