A music video about the impact of alcohol addiction, put together by a man who lost his brother to the disease, has now had over 1 million hits on YouTube.
Henry Maybury from Shrewsbury lost his brother Tom, he died at the age of just 29.
To pay tribute he put together a piece to sum up how his brother was feeling and what kind of impact drink was having not only on Tom, but also the rest of the family and his close friends.
A runner from Shrewsbury who has already broken the world record for running the most marathons in consecutive days is nearing the end of her challenge.
Amy Hughes' 48th marathon was through her home town. She now has five more of the 53 to go.
She is raising money for a brain tumour charity.
Advertisement
Virgin Trains will run direct services from Shrewsbury to London Euston from December.
Shrewsbury will see two services in each direction on a week day, departing at 06:39 and 15:24.
Police are hunting a man after a woman was subjected to a serious sexual assault in Shrewsbury.
The attack happened at about 4am on September 7, when the 24-year-old woman was walking along English Bridge on her way back from the Abbey Foregate area.
When the woman realised she was being followed by a man she had spoken to earlier that evening, she turned right onto the river footpath and started walking down the steps. At that point, the man attacked her.
Police believe that he then left the area on foot.
The suspect is described as a white man in his 20s with dark hair. At the time of the attack he was wearing a dark short sleeved t-shirt, and he is believed to have a sleeve-type tattoo on his right arm.
A teenage boy from Shropshire has gone missing.
Police are searching for 15-year-old Lewis Foster, who was reported missing from Sundorne Education Centre, Shrewsbury at 9.30am yesterday morning. He is originally from Market Drayton.
Lewis is white, of slim build and around 5ft7ins tall. He has short, platinum blond, wavy hair. He was last seen wearing a rust coloured hooded top, with a grey v neck t-shirt, dark blue jeans and a blue suede 'skater' style shoes.
"Lewis may well have travelled to a secluded location to spend some time on his own, but he is also known to have hitch hiked in the past.

"Both police and Lewis' family are now very keen to establish that he is safe and well."
– Inspector Ed Hancox of West Mercia Police
An engaged couple from Shrewsbury have just received the wedding present of their dreams.
Jackie Murphy, 61, and John Potter, 54, scooped a £1m top prize on a National Lottery Millionaire 777s Scratchcard.
But the pair, who are getting married in September, aren't going to change their plans for the big day, although they will be treating their guests to a free bar.
Advertisement
Thirteen children from Birmingham have been treated by the emergency services after it's thought they inhaled fumes from the coach they were travelling on.
Emergency services were called to a service station near Shrewsbury yesterday evening.
57 people, including 49 children aged between 14 and 17 from a church group in Birmingham were on the coach headed for a campsite in Wales.
The coach was seized by police and Health and Safety Executive are being informed.
A 15-year-old boy has been handed a four-year custodial sentence for raping a 10-year-old girl in broad daylight in Shrewsbury.
The offender admitted one charge of rape and another of attempted rape.
Shrewsbury Crown Court heard how the youth had followed and approached the girl as she walked along St Michael's Street on the afternoon of Friday 11 April.
He persuaded her to help search for something he claimed to have lost, and lured her into an isolated location on disused land behind a car wash. It was here the offences took place.
This was an extremely disturbing case, involving a little girl of just 10 years. It quickly became apparent that her assailant was also fairly young, probably someone of secondary school age.

I am pleased to say we were able to arrest the perpetrator relatively quickly once the incident had been reported. He was a dangerous individual and fortunately, was identified and arrested before posing any further risk to the public. It also allowed for the effective recovery of vital evidence.
– DCI Neil Jamieson
West Mercia Police have also praised the public for their help in the quick arrest of the teenage offender.
Our prime suspect was caught on CCTV cameras carrying a fishing rod and fishing tackle box which made him conspicuous and we received a number of calls from people who had seen him at the relevant time...

There was an excellent response to our appeals for information, from both pedestrians and passing motorists. Their evidence played a big part in enabling an early arrest and I am very grateful to everyone who came forward.
– DCI Neil Jamieson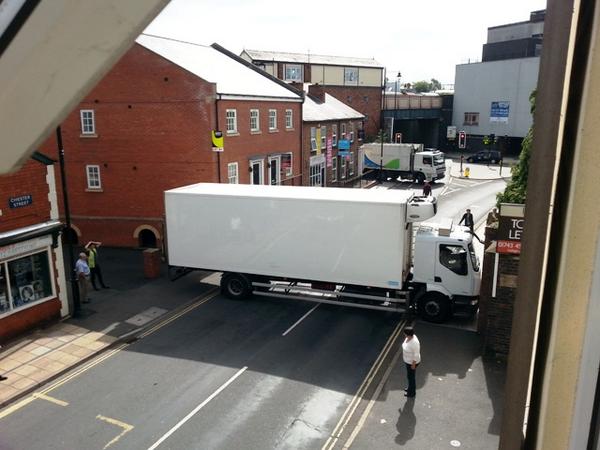 Delays are expected in Shrewsbury as a lorry has become trapped between two buildings, blocking the road.
The charity BuildItInternational uploaded this photo to twitter.
A positive sighting of Philip Speake, a 25-year-old man missing from Shrewsbury was made in Chirk, North Wales on Friday 8 August.
He was last seen at 4pm on Wednesday 6th August, leaving work in the town centre.
He is described as being 5 foot 7 inches tall, with brown hair. He was last seen wearing black trousers, black boots and a long black coat.
Load more updates