A pet oxygen mask has been used for the first time in Shropshire to revive a cat in a house fire.
Read the full story ›
"A visit to the UK for just two weeks a year can have a positive effect on their health and considerably extend their life expectancy."
Read the full story ›
Advertisement
Commuters in Shropshire have had a dramatic start to the working week after firefighters were called to reports of a fire on board a train in Shropshire.
The train had to stop at Whitchurch railway station, and fire-fighters were called shortly before 7:30am this morning.
A legitimate excuse for the delay to my journey to the office this morning - my train is on fire! http://t.co/5Jffy7wshC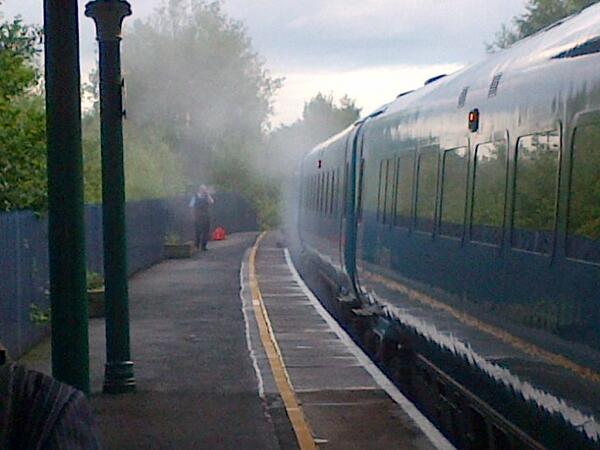 One fire engine dealt with the incident, and Shropshire Fire & Rescue service says it has been using thermal imaging cameras, but no fault could be found with the train.
Passengers have been tweeting pictures of smoke coming from the engine compartment.
Rush hour services between Shrewsbury & Crewe have been heavily disrupted. The train is being recovered and taken to Wrenbury Station, and the incident has now been handed over to Cheshire Fire Service & Arriva Train engineers.
A fire has broken out at the Ironbridge Power Station in Shropshire.
Shropshire Fire and Rescue Service were called to the scene of the blaze shortly after 6am this morning.
No casualties have been reported
More to follow.
Marley has his paws firmly back on the ground after being rescued from a 25 foot hole.
He disappeared down the old mine workings on Clee Hill in Shropshire when out on a walk with his owner, six-year-old Jaden and his mother.
Shropshire firefighters from Ludlow made it to the disused building within 10 minutes and used a ladder to bring him up from the bottom of a concrete lined storage container.
Marley was shocked, with some bleeding from his paws, but no lasting damage.
It was the second time a dog had got into difficulties in the mine workings over the last five years.
Firefighters are now warning walkers to take care in the area.
Shropshire Fire and Rescue Service had to rescue three people and a dog from a river. They were called out yesterday to Coalport and had to use lines to rescue the casualties from the centre of the river.
Advertisement
At a time when fire services are making cutbacks, Shropshire Fire & Rescue service says it needs more retained firefighters.
Read the full story ›
At a time when fire services are making cutbacks, one of the region's most rural counties says it needs more retained firefighters.
The Shropshire Fire & Rescue service has 23 stations, with all but four staffed entirely by on-call colleagues.
Retained firefighters are ready day and night to be sent to emergencies - but they also have day jobs.
Watch Chris Halpin's full report above.
Ollie Hayden - riding instructor (Top Left), Dave Pearson - electrician (Top Right), Laurie Bridle - mechanic (Bottom Left), Steve Weston - toolmaker (Bottom Right)
Retained firefighters work shifts for the fire service at the same time as having their day jobs.
They can get paid anything between £5000 and £11,000 per year, depending on how much cover they can work in and around their normal jobs.
They must live and work within five minutes of their base fire station, so they can be kitted up and ready to deal with an emergency call-out 30 minutes after being alerted by pager.
To find out more about becoming a retained firefighter click here.
Matt Lamb, the Secretary of the Fire Brigades Union (FBU) in Shropshire, says it's important to get the balance of retained firefighters and full-time staff right in a county like Shropshire.
That's because there needs to be crews trained to be on-call as it's such a large, sparsley populated county.
Load more updates