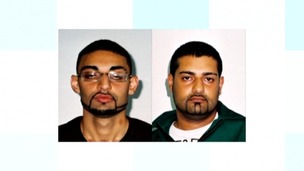 A major criminal inquiry into a child prostitution ring in Shropshire has ended after securing the conviction of seven men.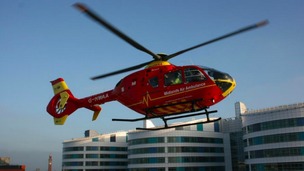 A man who was saved by the Midlands Air Ambulance when his helicopter crashed, has opened an education centre in Worcestershire.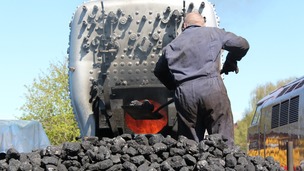 Not long ago it would seem unthinkable...the Midlands running out of coal. But that's exactly what's happening.
Live updates
Local election results
Shropshire counting over: Conservatives retain overall control
The Conservatives, despite losing six seats, have retained overall control of Shropshire Council.
Conservatives – 48 seats
Liberal Democrats – 12 seats
Labour Party – 9 seats
Independent – 5 seats
Inquest into quarry deaths
"We may never know" the reason behind the children's deaths
Detective Chief Inspector Niel Jamieson from West Mercia Police says it is still unclear why Ceri Fuller took the lives of his children.
Advertisement
Inquest into quarry deaths
Deaths of children "great darkness"
Recording his verdicts, the coroner said the deaths represented a "great darkness" and were the "sort of thing nightmares are made of".
After offering his condolences to members of the couple's family, the coroner told them: "It's clear to me that the relationship between Ruth and her husband had lasted for about 15 years and was generally quite good.
It appears there were ups and downs and there were separations but nothing so remarkable as to give a clue as to what followed.
– Coroner

A discussion about a separation had taken place on July 11, the coroner said, at a time when Mrs Fuller was clearly unwell.

Ruling that it was highly likely that the children were killed on July 12, the coroner added: "What exactly happened on that fateful day may never fully be known.
From the scene, the police, despite a painstaking search, could find no evidence to suggest any third-party involvement in the deaths.

The injuries sustained by the children were caused by a knife. The evidence that the injuries were caused by their father is overwhelming and that conclusion is inescapable.

I am satisfied and I am sure that he, and he alone, inflicted fatal injuries on his children.
– Coroner
Inquest into quarry deaths
Children died after parents agreed to split up
A two-day inquest heard that the children, from Milkwall, Gloucestershire, were found dead at Pontesbury Hill, Shropshire, on July 16 last year.
All three had suffered a severe neck wound inflicted with the Bowie-type knife, while the two girls had been repeatedly stabbed in the chest.
The inquest heard that Mr Fuller, a paper mill worker who had a degree in molecular biology, drove the children away from his marital home on the morning of July 12 after agreeing to split up with his wife.
During the inquest, Mr Barkley heard that Mr Fuller's wife, Ruth, had been suffering from mental problems and attempted to stab herself and take an overdose after the children left.
Inquest into quarry deaths
Children found dead in quarry "unlawfully killed"
Three young children from Gloucestershire were unlawfully killed in a remote quarry by their father who then jumped to his death from a cliff, a coroner has ruled.
The deputy coroner for Mid and Northwest Shropshire described the killing of 12-year-old Samuel Fuller and his sisters Rebecca and Charlotte, aged eight and seven, as acts of "unimaginable horror".
Finding that Ceri Fuller had taken his own life, coroner Andrew Barkley said overwhelming evidence had driven him to the inescapable conclusion that the 35-year-old acted alone in attacking his children with a hunting knife.
Man dies in Oswestry
Man dies after assault in Oswestry
Police are investigating the death of a man who died after being assaulted in Oswestry, Shropshire.
The man was attacked at 20:20 on Lord Street yesterday (24 April).
A cordon is currently in place on the street.
Advertisement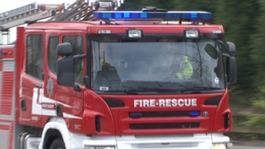 At a time when fire services are making cutbacks, Shropshire Fire & Rescue service says it needs more retained firefighters.
Read the full story
Fire recruits' dramatic training
Dramatic training for trainee 'on-call' firefighters - full report
by Chris Halpin
At a time when fire services are making cutbacks, one of the region's most rural counties says it needs more retained firefighters.
The Shropshire Fire & Rescue service has 23 stations, with all but four staffed entirely by on-call colleagues.
Retained firefighters are ready day and night to be sent to emergencies - but they also have day jobs.
Watch Chris Halpin's full report above.
Fire recruits' dramatic training
What day jobs can retained firefighters do?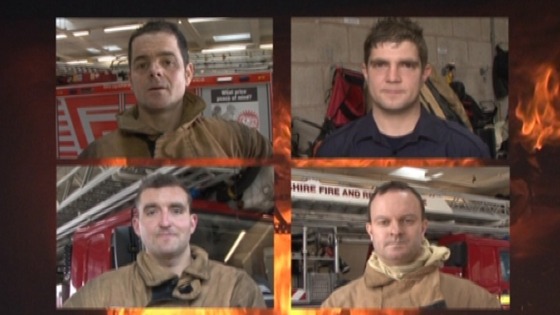 Ollie Hayden - riding instructor (Top Left), Dave Pearson - electrician (Top Right), Laurie Bridle - mechanic (Bottom Left), Steve Weston - toolmaker (Bottom Right)
Retained firefighters work shifts for the fire service at the same time as having their day jobs.
They can get paid anything between £5000 and £11,000 per year, depending on how much cover they can work in and around their normal jobs.
They must live and work within five minutes of their base fire station, so they can be kitted up and ready to deal with an emergency call-out 30 minutes after being alerted by pager.
To find out more about becoming a retained firefighter click here.
Fire recruits' dramatic training
FBU says retained firefighters are vital for Shropshire
Matt Lamb, the Secretary of the Fire Brigades Union (FBU) in Shropshire, says it's important to get the balance of retained firefighters and full-time staff right in a county like Shropshire.
That's because there needs to be crews trained to be on-call as it's such a large, sparsley populated county.
Load more updates
Back to top