Officers in Shropshire are appealing for help to find a missing 73-year-old man from Bishop's Castle.
Edward Pimlott left his house in a black BMW 1 Series (reg FR11 EHC) at around 3pm.
The vehicle was later spotted heading east on the A483 in Welshpool at 5.20pm.
Edward is described as being white, with short blond hair and about 5 foot 8 inches tall. He was last seen wearing a grey t-shirt, blue jeans, a black fleece jacket and grey slippers.
If you see Edward or know of his whereabouts please call 101 and quote incident 0676s of 3rd August 2015.
Stretton ward at Ludlow Community Hospital is to close today because of a lack of trained nurses. It is merging with Dinham ward on the ground floor of the hospital.
More than 2,600 people signed a petition over the decision.
Shropshire Community Health NHS Trust says it will still be providing the same number of beds and access for patients.
In a statement, the trust said:
We have experienced some serious nurse shortages over the last couple of years and despite many creative recruitment drives still do not have enough trained nurses.

If the nurses are on the same floor it is much easier for them to support each other across the wards areas, keeping patients and carers safe and providing a much more supportive working environment for our staff.

The move is an interim arrangement and will be monitored carefully to ensure there are no unintended consequences.
– Shropshire Community Health NHS Trust
Advertisement
Police are investigating the rape of a woman who was walking home after a night out with friends in Telford.
Read the full story ›
Six people, one a financial adviser, have been arrested as part of an investigation into a suspected £4 million tax evasion and money laundering fraud.
Officers from HM Revenue and Customs searched six premises in Telford and Wolverhampton last week and arrested the four men and two women.
During the operation, four domestic addresses, five vehicles and two business premises were searched.
Two arrests were made at Birmingham Airport as the individuals re-entered the UK.
This is an investigation into suspected tax fraud on an industrial scale, attacking the PAYE system and associated money laundering. A self-styled financial adviser and five others have been arrested in connection with the investigation of which we believe involves the theft of PAYE payments collected from the employees of a number of companies in the West Midlands and Shropshire areas.

"Tax fraud is not a victimless crime and every year costs millions of pounds in lost revenue that should be funding public services. We are committed to working with our partner agencies in the UK and abroad to target those who try to rip-off taxpayers in the UK.

"Anyone with information about people or businesses suspected of being involved in tax fraud can contact HMRC through the Tax Evasion hotline on 0800 788 887."
– Richard Wentel, Assistant Director, Criminal Investigation
Two men and a woman are arrested after a man is critically injured during an assault at a pub in Telford.
Read the full story ›
The A49 Southbound remains closed and there is heavy traffic due to an oil spillage and a serious accident involving a lorry and truck.
The northbound carriageway has now reopened but southbound will remain closed until 16pm whilst the lorry is righted and the oil spillage is cleared.
Diversion: A5, A458 to Morville then take the B4368 to rejoin the A49 at Craven Arms.
Advertisement
A Shropshire adventure centre has been able to rebuild the home of an elderly Nepalese couple, who lost everything in the Nepal earthquake.
Read the full story ›
Please avoid A49 Church Stretton, Officers currently dealing with serious Collision. Road Closed 1974 http://t.co/yvcr3l5UmN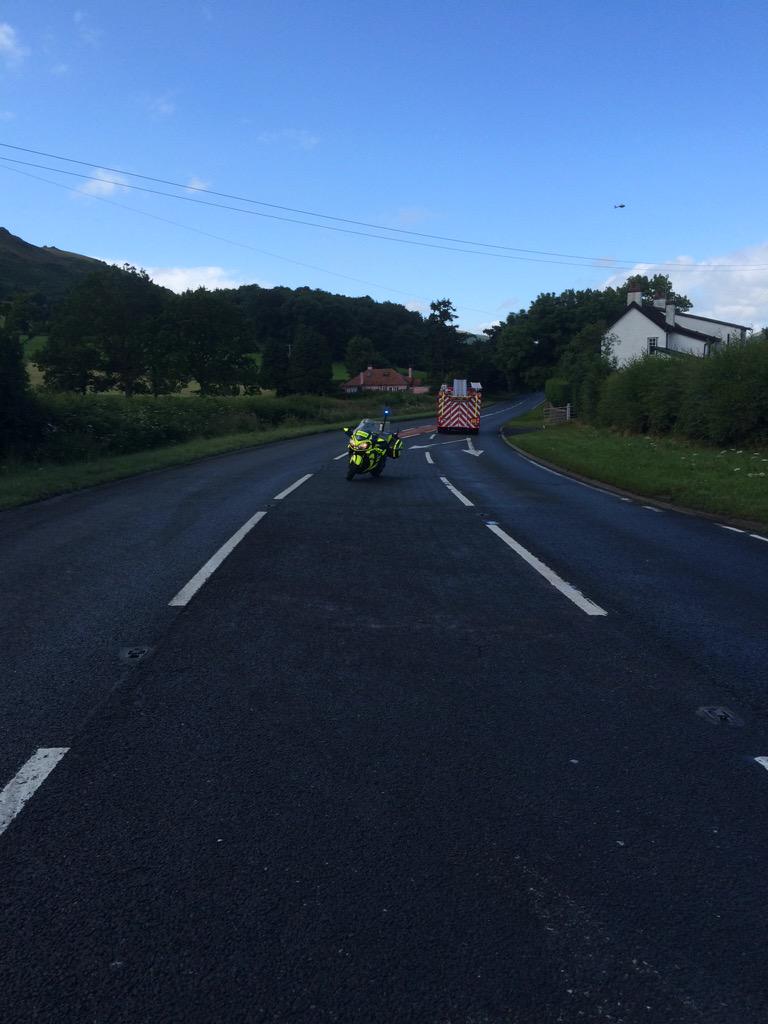 West Mercia Police have confirmed that the driver of a pick-up truck was killed this morning, after a collision with a lorry on the A49 in Shropshire.
Officers were called to the scene of at 7.45am at Leebotwood, near Church Stretton.
The driver of the pick-up truck was pronounced dead at the scene.
Police officers remain at the scene for ongoing investigations into incident, with the A49 Southbound remaining closed in both directions.
Crews arrived to find a pick up truck and a HGV that had been in a serious collision. Both vehicles had suffered significant damage.

Unfortunately, it quickly became apparent nothing could be done to save the man driving the pick up truck, and sadly he was confirmed dead at the scene.
– West Midlands Ambulance Service spokesman
Eloise Parry's mother has urged others not to follow in her daughter's footsteps after an inquest into the student's death found she had accidentally taken an overdose of highly toxic diet pills containing the drug DNP.
Speaking outside the inquest today Fiona Parry said: "Eloise decided that even though she'd been told DNP was dangerous being slimmer was worth the risk. She was wrong.
"If anything it was even more dangerous than she'd been told. DNP - do not purchase, do no partake, do not please, death's not pleasant."
ITV News Correspondent Ben Chapman reports:
The death of a student who died after taking diet pills has put the dangers of taking unprescribed substances in the spotlight.
Read the full story ›
Load more updates