The National Lottery are holding an event in Telford today in the hope of finding a millionaire ticket from Shropshire.
The Lotto winner hasn't come forward to claim the £1million prize since the draw on June 28th and it will expire on Christmas Day.
Santa, his elves, a snow-making machine and a spokesperson from Camelot will be there.
The numbers were 8, 12, 28, 30, 43 and 49. The lucky ticket-holder matched all six of these numbers.
Danny Williams from Shrewsbury who won gold in the men's under-73kgs men's judo in Glasgow, talks about how he managed to lose weight in such a short space of time, after finding out he was actually competing in the Commonwealth Games.
Advertisement
Danny Williams from Shrewsbury is celebrating after his Gold medal success in the under-73kgs men's judo. The 25-year-old was only called up after injury to another competitor, and had a week of self-imposed drastic starvation to make the weight for the Commonwealth Games.
Here he tells describes the feeling of being a Commonwealth Games champion, and how his life has changed. He also talks about the "large portion of food that got brushed" after finding out he was actually competing in the Games.
Shrewsbury judo star, Danny Williams, has claimed gold in the 73kg men's judo event at the Commonwealth Games in Glasgow.
The 25-year-old beat New Zealand's Adrian Leat in the final.
Queueing traffic and two lanes closed due to accident on M54 Westbound between J5 A5 (Telford Central) and J6 A518 / A5223 (Telford West).
Two lanes closed and very slow traffic due to accident on M54 Eastbound between J6 A518 / A5223 (Telford West) and J5 A5 (Telford Central).
Advertisement
Dozens of penguins at Dudley Zoo witnessed a poolside proposal when a man dropped to his knee and asked his girlfriend to marry him.
28-year-old Dan Pearson and 29-year-old Claire Tedstone from Halesowen are season ticket holders at the zoo and he decided penguin bay would make the ideal romantic spot.
We both love Dudley Zoo and the penguins are my favourite animals. When he pulled out the ring and got down on one knee I was so surprised I forgot to say yes – I was too busy hugging him and squealing with delight!
– Claire Tedstone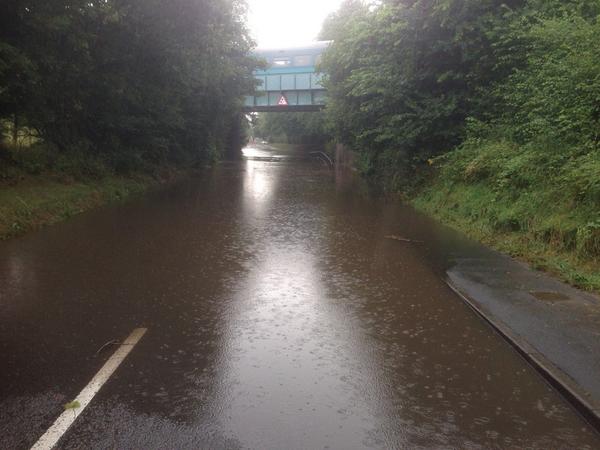 Parts of the Midlands are dealing with flash flooding this morning. This photo shows Newport road in Albrighton is closed because of flooding.
Is there any flash flooding where you live? Email your photos to centralnews@itv.com with your name and location.
Large parts of the Midlands were hit by another night of thunder and lightning last night.
This photograph was captured in Ironbridge, Shropshire.
Did you take any photos of the lightning last night? If so, we'd like to share them on our website. Please email them to centralnews@itv.com
Don't forget to include your name and where the photo was taken from.
The High Court has ordered a fresh inquest into the death of soldier Private Cheryl James who died at Deepcut barracks.
It was after a challenge by her family who are from Shropshire.
The 18-year-old was found dead from a single gunshot wound in November 1995. An inquest recorded an open verdict.
She was one of four soldiers who died at the Surrey barracks between 1995 and 2002 amid claims of bullying and abuse.
Load more updates