A nine-year-old boy was left with "serious" injuries after he was run over while playing on his scooter.
Read the full story ›
A man has been sentenced four-and-half years imprisonment for trying to kidnap a nine-year-old girl from a street in Birmingham.
Read the full story ›
Advertisement
Police were called to an address in Marshall Street, Smethwick at around 11.30pm on 23 August, after a report that shots were fired at a property.
Nobody was injured, but it is believed three shots were fired through a front door in what's believed to be a targeted attack.
Forensic and house-to-house inquiries have been carried out to help establish who was behind it.
A silver or white Mercedes car was spotted leaving the area shortly afterwards.
"Fortunately no-one was hurt but this could have seriously injured or even killed the occupants.

"I believe that people in the area may have seen the vehicle or the incident and I am appealing to them to call me or one of the team."
– Detective Constable Peter Miller, from Smethwick's Violent Crime Team
Anyone who can offer any further details about the vehicle - or what happened - should call police on 101.
Crocketts Lane has been closed in both directions due to a building fire at the old Sandwell College building at Regent Street in Smethwick,
Our @wmashart team are standing by at the scene of a building fire at the Old Sandwell College in Smethwick to support @westmidsfire
Firefighters are tackling a fire at the old Sandwell College in Smethwick.
Fire crews were called to the scene at 4.43am.
West Midlands Fire Service told ITV News six fire engines are currently tackling the blaze, which is in a three storey derelict building.
Advertisement
Police investigating a betting shop fraud case release CCTV images of three men they want to speak to.
Read the full story ›
Two people were led to saved by firefighters from a severe fire in a flat above a shop in the Black Country.
The blaze started in the living area above the retail unit in Messenger Road, Smethwick, during the early hours of Wednesday morning.
The living room was completely gutted and firefighters using breath apparatus helped rescue the pair. The flat was gutted by flames and filled with thick smoke.
About 20 firefighters from Smethwick, Ladywood, Handsworth and West Bromwich were at the scene.
The cause of the fire is not yet known and there are no know injuries.
Police are appealing for information after a man needed surgery after being shot in the leg at West Smethwick Park in Victoria Park Road.
Officers were called to the park yesterday, just after 7.15pm after reports that a man had been shot in the shin after an argument with another man.
An ambulance was called and the 38-year-old was taken to hospital where he was taken into surgery but is now described as being in a stable condition.
Officers believe the suspect left the park on a BMX style bike and was heading towards Smethwick.
An investigation has been launched and officers want to hear from anyone who was at the park around that time.
This was a serious attack and the victim is fortunate to only have suffered relatively minor injuries. Offences involving firearms are rare in this area.
– Detective Sergeant Chris Jones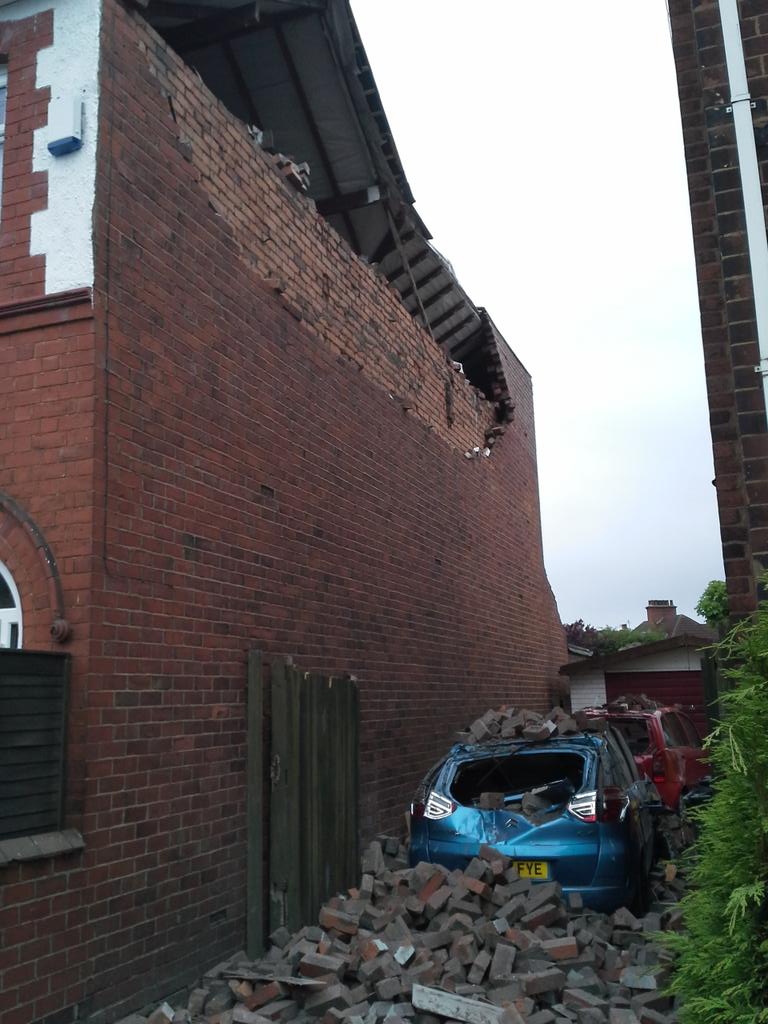 Fire crews are dealing with a building collapse in Oldbury.
West Midlands Fire service has tweeted a picture of what appears to be a 1930s built house with part of its gable end missing.
The rubble from the collapse has crushed a car parked down the side of the property in Richmond Hill.
Fire crews are on the scene will assessments are taking place to make the structure safe.
Load more updates