Police say the M6 in Staffordshire will remain closed until around 4pm this afternoon after a lorry fire in the early hours of the morning.
Another picture of the lorry fire scene M6 South between J13 and J12. The fire has melted the tarmac, South closed! http://t.co/hpIE4UfJu3
Drivers are being told to expect delays on all surrounding routes of the M6 south from junction 13 to junction 12 near Stafford.
Drivers are being told to use the M1 as a diversion.
Police in the West Midlands say one of the busiest stretches of motorway in the region will remain closed until lunchtime after a lorry fire.
Lorry fire causing a complete closure on the M6 South J13 to J12. Please avoid if possible. Fire crews in attendance. http://t.co/rtiWyeXHA3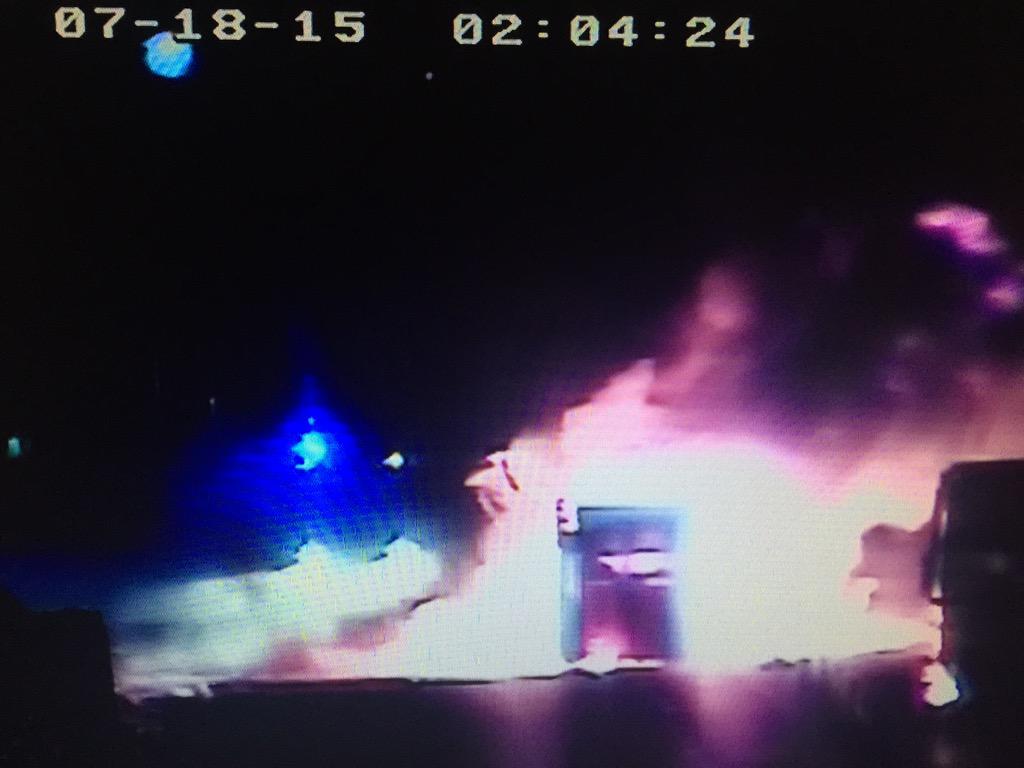 It is estimated that the M6 south at junction 13 for Stafford will re-open between 12 and 1pm today.
CPMG tweeted to say that the fire had melted the tarmac on the stretch of the M6.
Advertisement
This is the moment Jeremy Lefroy held his Stafford seat for the Conservatives.
It was filmed with the help of students from Staffordshire University.
A man has been fined and ordered to pay compensation after assaulting three paramedics.
Joshua Mason, 21, from Stafford, was sentenced on March 4th to a fine of £185, ordered to pay £200 in compensation and £100 in costs after pleading guilty to three counts of assault by beating.
It happened when West Midlands Ambulance Service was called to the junction of Wildwood Drive and Chepstow Drive on July 26th last year.
All three members of staff were initially treated on scene, though one did receive follow-up hospital care the following day.
"I am pleased to see that both the ambulance service and police have taken such a strong stance regarding this matter.

"It is extremely disappointing to suffer physical abuse when we are trying to help members of the public with medical emergencies."
– Emergency Care Assistant Christopher Shirley
"The Trust welcomes the sentence that has been passed on this occasion, it is completely unacceptable that ambulance staff, who are responding to help people who have serious medical conditions or injuries, should have to face violence and verbal abuse.

"The Trust has a zero tolerance policy in place and works extremely hard to bring the full weight of the law to bear on anyone who attacks our staff.

"It is simply not acceptable that staff who are there to help people, suffer at the hands of patients, their relatives or other people at the scene. Any type of assault against our staff will not be tolerated."
– Steve Elliker, West Midlands Ambulance Service's Head of Security and Safety
"I will not tolerate any attack or abuse on staff and we will always pursue attackers and push for the toughest possible sentence."
– Trust Chief Executive, Anthony Marsh
Two lanes closed and heavy traffic due to accident, lorry and a car involved on M6 Northbound between J14 A34 / A5013 / A5013 Creswell Grove (Stafford North) and J15 A500 (Stoke-On-Trent).
Advertisement
After 198 nights, protestors at Stafford Hospital have spent the day dismantling their camp and packing up.
They have been campaigning about the restructuring of services which will see emergency surgery moved to Stoke-on-Trent, but they vow to fight on. Wesley Smith reports.
The protesters at Stafford Hospital are packing up camp, but say their campaign is far from over.
A new shop is opening in the town centre and one member is standing for parliament.
Some have been on site in all weathers for more than 200 nights.
A protest camp in the grounds of Stafford Hospital is being abandoned today, as some of the protesters have become ill.
The Save Stafford Hospital campaigners have been protesting about emergency surgery being moved to Stoke-on-Trent. NHS officials deny anyone will be at risk but the protestors disagree.
After a bitterly cold winter weather some in the protest camp have developed chest infections, flu and even pneumonia. The camp will be dismantled this morning, almost 200 days after it was set up.
The Save Stafford Hospital campaigners say they will carry on with their fight from a town centre office.
Protests have been held over tomorrow's closure of all council run youth centres in Staffordshire.
Campaigners made one last attempt to gain support in Stafford earlier to save the 38 centres. The County Council made the decision in March to save £2.7 million a year. 400 youth workers are losing their jobs.
Councillors say funding is available for other community projects. But those who used the centres say they'll be a massive loss.
Jack Taylor is a campaigner.
Load more updates