Police release photo of multi-HGV crash on A50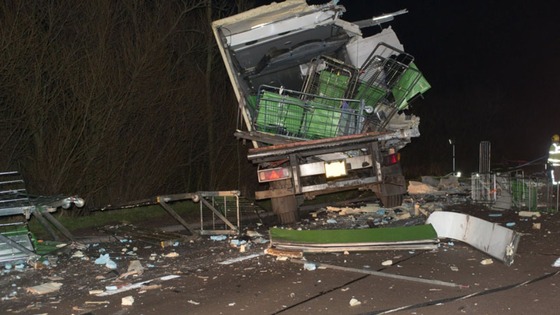 Officers have released a photograph of a multi-vehicle road traffic collision on the A50 in Staffordshire, in a bid to receive more information from witnesses.
The collision happened at around 9:15pm on February 15, 2013 on the eastbound carriageway between Draycott Island and Uttoxeter.
The collision involved two HGVs. One was parked in a lay-by, where it was subsequently struck by the second. This pushed the first HGV down the embankment and the second jack-knifed, resulting in five cars being involved in the collision.
Both HGV drivers suffered minor injuries and were taken to the University Hospital of North Staffordshire for treatment. They have since been discharged.
Four occupants from the other vehicles also suffered minor injuries and were taken to the same hospital.
"This collision was one of the worst I've ever seen in terms of the amount of debris and damage to the vehicles involved – it's a miracle those involved survived somewhat unscathed," said PC Dave Stubbs, Investigating Officer.