Alton Towers bosses were forced to shut two rollercoasters today after a large metal clip was feared to have dropped off one of the white-knuckle rides.
Ride Air and Runaway Mine Train were shut just minutes after the Staffordshire theme park opened.
Shocked visitor Ashley Sandle, 28, even found what appeared to be a large metal clip lying on the track beneath Air.
The apprentice gas engineer captured the moment he handed the clip to a member of staff which led to the ride being closed at 10am.
Ashley, who was staying at one of the hotel's at the resort with his partner Jazie Church, 26, said: "We were queuing up for Air to get on as soon as it opened but I saw something under the track.
"I picked it up and it was a big clunky metal clip. I didn't know what it could be but thought it must be important.
"I found a member of staff and handed it to him and explained where I had found it. His face went deathly white and ran off to his supervisor.
"A few minutes later an announcement came out over the tannoy saying Air was shut because of technical difficulties.
"It re-opened about half-an-hour later but then shut again.
"The Runaway Mine Train is shut too. It's becoming a bit of a farce. I think Alton Towers should close completely until they check out every ride is safe."
Mr Sandle, from Morden, south west London, says he called a friend to tell them about the delay and minutes later received a call from park bosses offering him a complimentary meal and bottle of wine.
He added: "I have no idea how they [Alton Towers] got my number because I don't give it to anyone.
"I asked who it was and they said it was a representative from Merlin Entertainments. They told me to report to reception and they would give me a voucher for a free meal and bottle of wine.
"It came totally out of the blue a few minutes after I handed the metal clip in. I didn't give anyone my number but my initial thought was they were trying to offer me a freebie to shut me up."
Air was closed four times yesterday while Runaway Mine Train was late opening.
The closures comes nine days after The Smiler rollercoaster smashed into an empty carriage leaving 16 people injured, including four seriously.
On Wednesday parents and children were evacuated form the newly opened Octonauts Rollercoaster Adventure in the CBeebies area of the park.
It is understood the ride stalled due to a malfunction and the a young boy became distressed.
Engineers wearing helmets and harnesses were seen by visitors helping people leave the ride. The ride remained closed yesterday.
Alton Towers yesterday confirmed Air and the Runaway Mine Train had closed for "technical issues."
A spokeswoman said: "Alton Towers puts the health and safety of its guests at the forefront of everything it does, which means that from time to time rides will be closed to allow for technical issues to be reviewed.
"We do understand that this can be inconvenient for our guests and we will keep them as informed as we are able to throughout any delays, but we will not operate a ride if there is any suggestion of a safety compromise.
"It is natural that given the current circumstances, our guests (and the media) are more focused on any minor delay or technical stoppage, but all of the rides undergo comprehensive pre-opening checks and any delays that we are experiencing now are within our expected level.
"All issues will be dealt with according to our stringent processes and rides will reopen as appropriate."
*Air opened in March 2002 and cost #12million. It has a top speed of 47mph and takes up to 84 passengers along a 2,760ft (84m) track close to the ground and under footpaths.
*Runaway Mine Train opened in 1992 and is oldest ride in Alton Towers.
Daniel Thorpe is currently recovering well from the injuries to his lower legs which he suffered following the incident at Alton Towers. His condition remains stable.
He said: "I would like to thank everyone for their support which has been a great comfort to me at this time.
"In particular the emergency services, doctors, nurses and the rest of the team who have been looking after me and my family during this time have been fantastic.
"I'm now looking forward to getting better, getting home and getting back to normal."
Advertisement
Prince Harry will be attending a service to unveil the Bastion memorial to remember those who lost their lives in Afghanistan.
Read the full story ›
Leah Washington, the 17-year-old girl whose leg was amputated after a rollercoaster collision at Alton Towers has stood up for the first time since the crash, her brother has said.
The teenager initially needed a machine to keep her alive in intensive care after being involved in the collision on the Smiler ride earlier this month.
She had her left leg amputated above the knee and suffered a fractured hand in the incident.
Leah's brother, Luke Washington, told BBC WM: "Yesterday I walked into the room and she was standing up. It was great."
He said his sister had been "heavily sedated" when he visited her in hospital shortly after the crash.
She was in intensive care so she had machines keeping her going.

It was only the day after they took her off that and she was back to breathing on her own. She had a rapid recovery.

We've all been there for Leah but she's the one who's kept us going. She's just done amazing. I don't know where she's got this strength from but it's really opened our eyes.
– Luke Washington (told BBC WM)
Leah's recovery has been helped by the support of her favourite band, One Direction. Leah, who is a huge fan, will receive a recorded video message from the band, as well as backstage concert tickets.
The band's tribute follows a Twitter campaign, #Get1DToLeah, that urged fans to help get them to contact her.
Leah was one of four people sat at the front of the ride who suffered serious injures in the crash. Her 18-year-old boyfriend Joe Pugh was treated for two broken knees and extensive hand injuries.
Daniel Thorpe, a 27-year-old old hotel assistant manager from Buxton in Derbyshire and 20-year-old Vicky Balch, from Leyland in Lancashire, were also seriously injured.
The four are being treated at the Royal Stoke University Hospital and the University Hospital Coventry.
One Direction have announced they plan to meet to Leah Washington, who had to have her leg amputated after last week's crash on the 'Smiler' roller coaster.
It comes after a social media campaign by one of Leah's friends who said it would mean 'so so much' to the 17-year-old who continues to recover from her terrible injuries.
Leah had tickets to see the band on last Saturday, but had to miss the concert due to her ongoing hospital treatment.
However, it is now understood that the band will send her a personal video message and offer her back-stage passes to attend one of their concerts once she feels well enough.
Last night band member Louis Tomlinson, who is from Doncaster close to Leah's home town of Barnsley, also tweeted his support.
@leahwashy Thinking about you Leah & hoping you are home in South Yorkshire soon Xx
One Direction singer Louis Tomlinson says his thoughts are with 17-year-old Leah Washington who had to have her left leg amputated after last week's crash on the Smiler ride at Alton Towers.
@leahwashy Thinking about you Leah & hoping you are home in South Yorkshire soon Xx
A friend of Leah's also took to twitter to try and get the band to visit her in hospital as she continues to recover from surgery.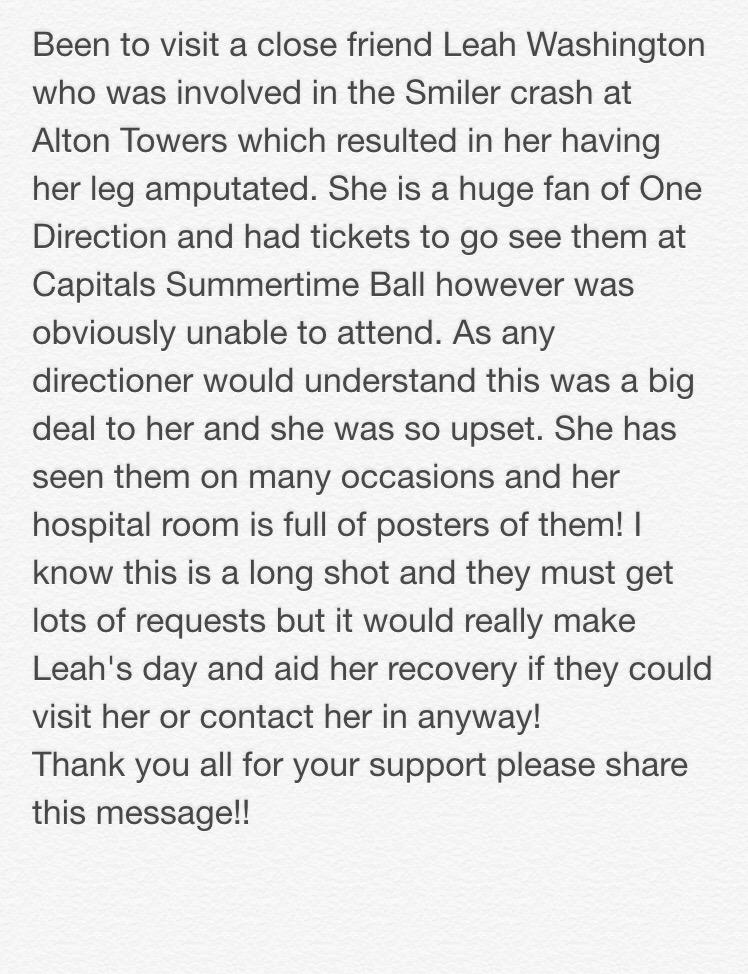 Advertisement
The families of three people injured in The Smiler rollercoaster crash have welcomed the admission of liability from Alton Towers today.
Victoria Balch, Leah Washington and Joe Pugh were among those injured in the crash at the theme park last Tuesday.
Merlin Entertainments, which owns Alton Towers, today said it accepts full responsibility for the crash and that all those injured will receive compensation.
Acting for the families of those injured, Paul Paxton, Head of Personal Injury at Stewarts Law, said: "I will be meeting with the solicitors acting for Merlin and its insurers this week to discuss the early release of money to assist with financial hardship and rehabilitation."
Merlin Entertainments, who own the Alton Towers resort, say they are "deeply saddened" by the news that 17-year-old Leah Washington has had to have her left leg amputated above the knee, after being injured in last week's crash on the 'Smiler' ride.
The owners also say they will offer compensation to all victims and have hand delivered 16 letters of apology to those caught up in the incident last Tuesday.
"We are deeply saddened by the news about Leah and all our thoughts are with her and her family. We cannot undo the events of last week but everyone in the company and at Alton Towers is determined to do all we can to provide appropriate support to those who were injured and their families."
– Nick Varney, CEO Merlin Entertainments
The company also released the following statement:
Since the accident of last Tuesday we have done our best to provide appropriate communication and support to those involved and to their families.

We absolutely recognise what a difficult time this is for everyone, especially those who have been so seriously injured, and we have tried to do this in a way that is both sensitive and appropriate.

Over the course of the weekend we have written again to all of the 16 people involved or to their families. These letters were all hand delivered by Alton Towers representatives. Irrespective of the outcome of the current investigations into the causes of the accident, in these letters we have accepted full responsibility to those who had been injured in the accident and confirmed that we will ensure that compensation will be provided to them.

We have recommended each of the injured guests or their families instruct a lawyer and submit a claim for compensation which we will ensure is dealt with swiftly and sensitively.

In addition we have engaged the services of Health and Case Management Ltd (HCML) – a leading firm of specialist independent rehabilitation providers - to provide all of those involved with the best support for their individual needs whether from the NHS or by providing additional support and services. HCML have already made contact with some of those affected in order to progress this.
– Alton Towers Spokesperson
The first guests to visit Alton Towers since it was shut following last week's serious crash on the 'Smiler' ride say they are not worried about any of the attractions posing a risk.
The park closed for all of Wednesday to Sunday last week as the Health and Safety Executive and Alton Towers employees carried out full safety checks across the park.
Four people were seriously injured last Tuesday when one carriage on the Smiler crashed into another. One of those hurt had to have one of her legs amputated above the knee. The others are understood to have suffered "serious leg injuries".
The ride remains closed for the foreseeable future.
Families who have visited Alton Towers today, the first day the park has opened since The Smiler crash, said they had complete faith in the park.
Many said they felt that today was the best day to return to the rides as: "They wouldn't open if it wasn't safe."
Load more updates