A badly injured motorcyclist was airlifted to hospital yesterday after an accident.
The man fell from his bike at around 2.40pm on Cannock Road in Penkridge.
He had suffered serious injuries to his shoulder, chest and head. He was treated at the scene and then taken to University Hospital Staffordshire in an air ambulance.
One lane is closed on the M54 eastbound in Staffordshire at junction 2. The problems are due to roadworks.
Advertisement
Rebecca Adlington has tied the knot with fellow swimmer Harry Needs and said I'm A Celebrity helped her get in shape for the big day.
Read the full story ›
M6 Toll has now been re-opened as @cmpg_ciu have completed their investigation & @hatraffic_wmids has cleared the debris.
The M6 Toll road has reopened after a police car chase which ended in a high-speed crash, injuring two police officers. Officers tried to stop the car and put a rolling road block in place to protect other road users.
The injured police officers are "very shaken but are ok", the Central Motorway Police Group said on twitter.
Two police officers have been injured during a high-speed car chase on the M6 Toll in Staffordshire.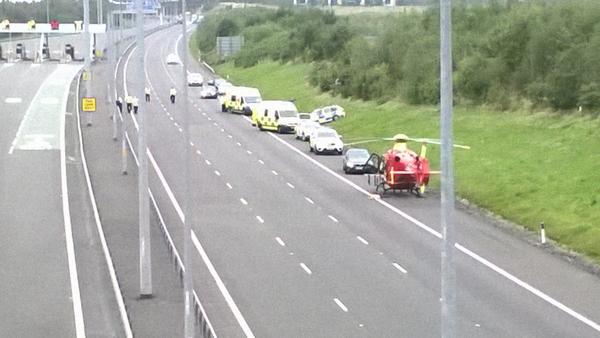 At around 9:45am police began tracking an MG ZR, which was being driven 'erratically' on the M6 through Staffordshire.
Officers tried to stop the car and put a rolling road block in place to protect other road users.
The car, travelling at speeds of up to 90mph, then went onto the M6 Toll.
After the motorway had been closed between junctions T8 and T6, the car collided with the marked police BMW.
Both cars crashed into the central reservation and ended up in the embankment.
Two police officers have been taken to hospital, but their injuries are not thought to be serious.
A 23 year old man, has also been taken to hospital with reported leg injuries.
He was arrested at the scene on suspicion of dangerous driving, failing to stop and driving while under the influence of drink or drugs.
The M6 Toll in Staffordshire is currently closed due to a 'serious incident'.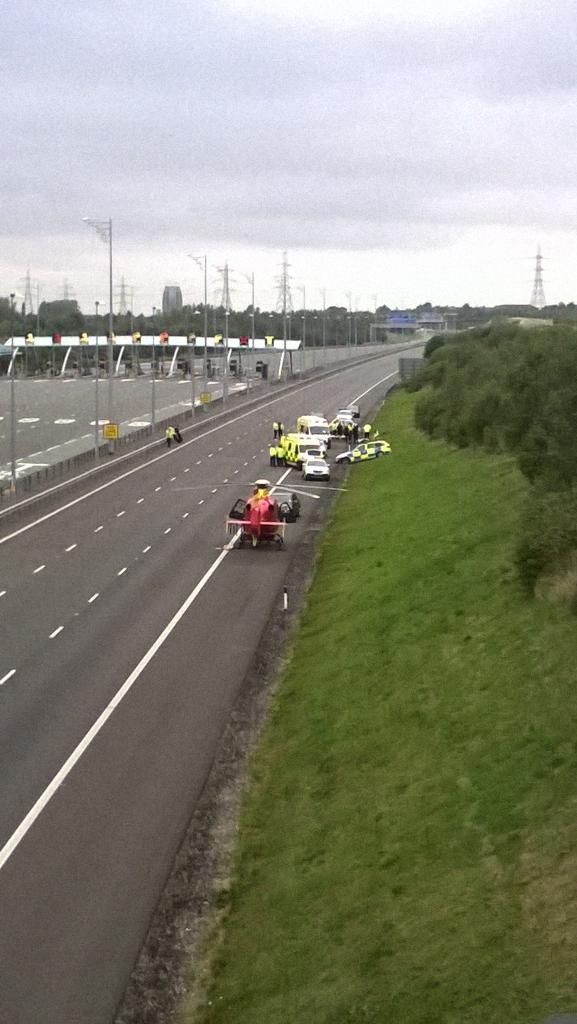 The Highways Agency say there is a total closure between T7 and T6.
There is also a closure in place from JT8 and the air ambulance is at the scene.
Advertisement
More than £250,000 worth of cannabis has been seized from an abandoned building in Staffordshire.
Police were called to the building in Queen Street in Burslem, Stoke-on-Trent, yesterday morning after CCTV operators reported two men acting suspiciously nearby.
Building inspectors were called to ensure it was safe for officers to enter the crumbling property - but after being given the all-clear, teams found around 1,700 plants spread across eight rooms.
Lee Tuong, aged 30, has been charged with producing cannabis and will appear before Newcastle Magistrates Court tomorrow.
A 58-year-old man, who was also arrested at the scene, has been bailed pending further inquiries.
More than 100 large bags of compost were also seized, and will be donated to community groups for use in gardening projects. Anyone interested can call Sgt Mark Churton at Burslem police station on 101.
The A34 Walsall Road is closed in both directions due to an acetylene gas cylinder fire between North Street and the A5 Walsall Road / A460 Eastern Way (Churchbridge). Police are directing traffic.
Fusilier Lee Rigby has been honoured at a service remembering fallen servicemen.
Rigby was murdered by Michael Adebolajo and Michael Adebowale near Woolwich Barracks last year.
The soldier is one of 17 servicemen to have their names added to the National Memorial Arboretum in Staffordshire.
The annual event remembers fallen servicemen who have been killed on duty the previous year.
Family members will lay wreaths at the memorial after the service.
American actor and film producer Johnny Depp was apparently spotted in Leek in Staffordshire over the weekend, according to the Stoke Sentinel.
The manager of Foxlowe Arts Centre, Ian Wilson, said his staff told him that the Pirates of the Caribbean star paid them a visit.
Excited fans took to Twitter when they heard the rumours.
#JohnnyDepp are you currently in Leek, Staffordshire, England? The town is going crazy because it thinks you are!
The real Johnny Depp is in leek Staffordshire filming..wonderful. ..my home town..Please let me meet him
Load more updates