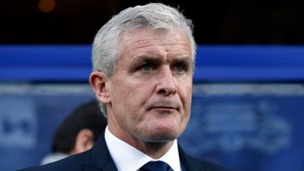 Mark Hughes has been appointed the new manager of Stoke City FC, replacing Tony Pulis.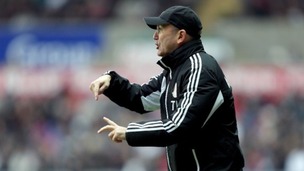 Tony Pulis has urged Stoke City fans to get behind whoever succeeds him as the club's manager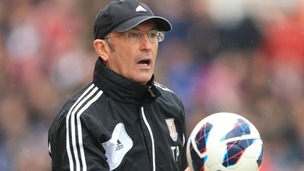 Former Stoke manager Tony Pulis is disappointed by his exit but accepts chairman Peter Coates' decision to take the club in a new direction
Live updates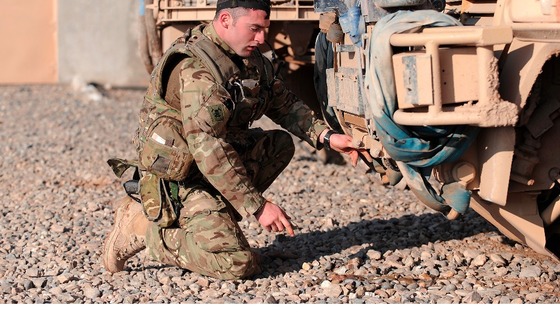 At half-time today during Stoke's match against Cardiff the city council will be presenting Stoke City and the Queen's Royal Lancers with the freedom of the city of Stoke-on-Trent.
The Freedom of the City is generally given to valued members of the community of dignitaries. It comes from an old medieval practice where some citizens were granted freedom from being a serf.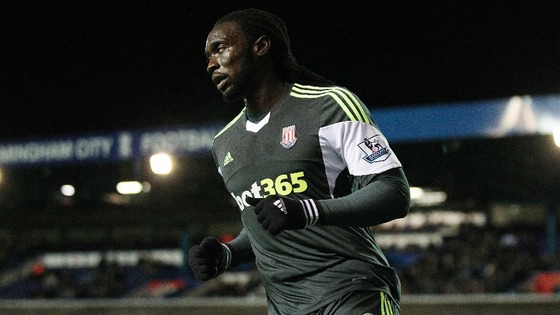 Stoke have doubts over the fitness of Kenwyne Jones and Marc Wilson, while Sunderland will give Wes Brown a late fitness test.
For more team news on today's Premier League clash- see the ITV Sport website.
Advertisement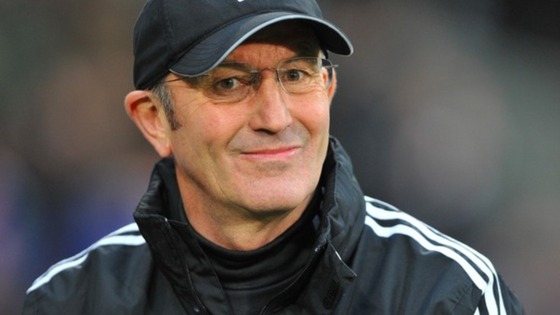 Premier League strugglers Crystal Palace have named Tony Pulis as their new manager on a two-and-a-half-year deal.[
](http://www.itv.com/news/central/2013-05-22/tony-pulis-disappointed-with-stoke-exit-but-proud-of-legacy/)Pulis left Stoke by mutual consent in May after the club failed to make much progress in the 2012/13 season.
Read: Tony Pulis disappointed with Stoke exit but proud of legacy
For more on his new appointment go to the ITV Football site.
Stoke goalie to launch charity
Stoke City goalkeeper Asmir Begovic is to officially launch his own charity this evening.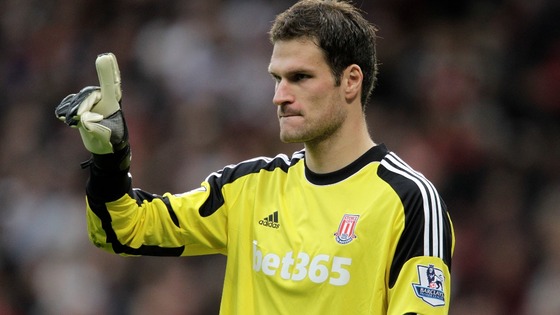 The aim of the charity is to enable the building and improvement of recreational facilities for youngsters in England and also Bosnia and Herzegovina, the country where Asmir was born.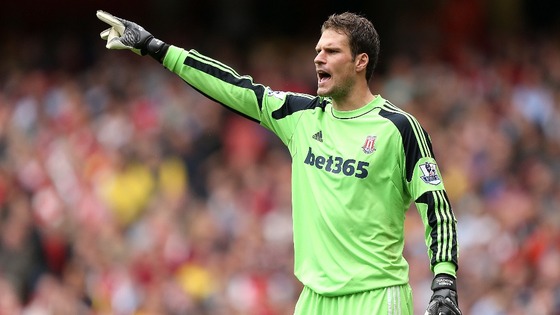 Earlier this month, Begovic scored a spectacular long-shot goal and joined the exclusive group of goalkeepers who have scored in the Premier League.
Peter Crouch opens £32m Academy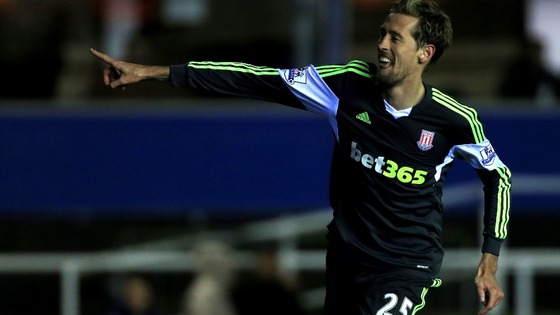 England and Stoke City footballer, Peter Crouch, will take a break from the football pitch later today.
The 32-year-old striker is to visit St Peter's Academy in Stoke later today to open its new £32million building.
Pupils will get the chance to meet the footballer before he officially opens the new building.
Goalie celebrates long-shot goal
Scoring goalie Asmir Begovic has joked that he is happy to share advice with his teammates after being the only Stoke player to hit the net in yesterday's match against Southampton.
Begovic became the fifth ever Premier League goalkeeper to score in the game, following in the footsteps of Peter Schmeichel, Paul Robinson, Brad Friedel and Tim Howard with his long-shot kick just 13 seconds into the match.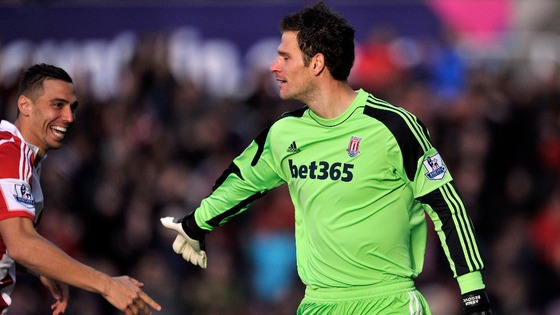 Speaking after the match, he said he was delighted - and not a little surprised - when he saw the ball had actually gone in.
It was nice. I've never scored a goal so I'll take it. I've never come close as I've never been allowed up for corners but it happened to go in.

I didn't think it was going in at all and when it went in I thought 'What?'.
It was a little bit surreal but the ball got caught in the wind and carried a distance.

I'm joint top-scorer now so it's working pretty well in my favour at the moment. If they want any pointers they know where I am and I'll pass it on to them.
Speaking to BBC Radio 5Live, he also said he was disappointed the team had not managed to capitalise on the early advantage and only came away with one point.
Advertisement
Goalie celebrates long-shot goal
Stoke City's goalkeeper Asmir Begovic managed to join the exclusive group of goalscoring Premier League goalies yesterday when a long-shot punt paid off after just 13 seconds.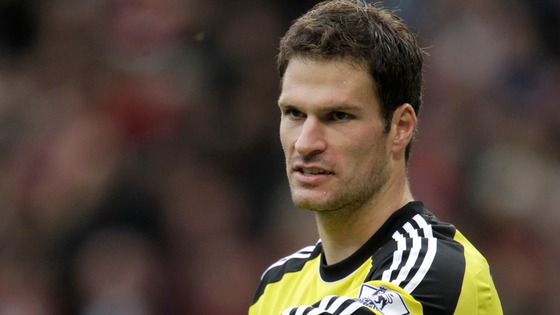 The Bosnia-international player booted the ball downfield at yesterday's game against Southampton at the Britannia Stadium.
It bounced over his rival teammate's head to hit the net.
However, it failed to seal the deal for the Potters, who went on to concede a goal just before half time to end as a one-all draw.
Extra security will be in place tomorrow as the Baggies face the Potters in a Midland derby after a series of incidents involving smoke bombs being set off in football grounds.
Police have urged Baggies fans hoping to travel to Stoke-on-Trent to watch their club take on the Potters not to travel unless they already have tickets.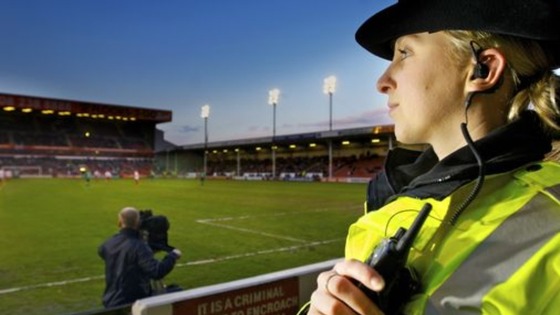 Officers say there have been a "number" of recent incidents were supporters have let off smoke bombs, flares and fireworks at football stadiums in recent weeks, and said ticketless fans will not be allowed into the grounds.
West Midlands Police's match commander Ch Insp Carl Ratcliffe said "thorough" searches would be carried out tomorrow ahead of the 3pm kick-off.
"There have been a number of incidents nationally in recent weeks where smoke bombs/flares and other firework type explosives have been let off by supporters and I want to warn people against this type of behaviour," he said.
"We are working closely with the club and will be carrying out a through search operation and anyone found in possession of such items will be arrested.
"Our joint aim is to ensure the safety of all supporters so everyone can have an enjoyable time."
England are just one win away from guaranteeing themselves a place at next year's World Cup. An impressive win came on Friday against Montenegro and they have another home match tonight, this time against Poland. What could possibly go wrong?
The only thing is that history is not necessarily on their side: in 1973 England failed to qualify after being held to a draw by Poland.
Leicester and Stoke legend Peter Shilton was one of the players in the side and told us of the devastation he felt at the time.
Load more updates
Back to top