Images have been released of two men police need to speak to about a serious assault on board a train.
The attack happened on a train arriving at Stourbridge Junction railway station at around 11.15pm on Saturday, September 20.
Four men had boarded the train at Kidderminster, and they began talking to a man and a woman who were on their way to Birmingham for a night out with friends.
A fight broke out, and two of the men from the group of four threatened the couple. Then, one of the men punched the woman, and smashed a bottle over the man's head.
The male victim needed stitches for a bad cut to his forehead.
"If you recognise either of the men pictured, I would like to hear from you. We would also like to speak to anyone who may have witnessed the incident.

"This was a violent assault which has left the victim with a nasty head injury. It's vital that we trace those responsible."
– Detective Constable Dan Hart, British Transport Police
Two people have been injured after an accidental fire at a garage in Stourbridge.
One workman at the garage in Hayes Business Park, in Lye was superficially burned on his forehead, and a man from a neighbouring factory suffered smoke inhalation. Both were taken to hospital.
The fire service says the blaze was accidental, caused by a worker who dropped a tool into petrol vapours while working on a car.
The whole building has been affected by the fire, which also destroyed 11 cars.
Power was also lost to nearby properties, and Western Power is at the scene trying to rectify the problem.
The road at the location is also closed, with 3 fire engines and an ariel platform still at the garage. The fire is now under control.
Advertisement
Avoid the area as road closed at The Hayes by Park Road, Stourbridge for crew safety as we deal with an accidental fire in a garage.
Fire now under control at the car garage at The Hayes, Stourbridge. Crews making plans to reduce resources. http://t.co/gswwaM3dFT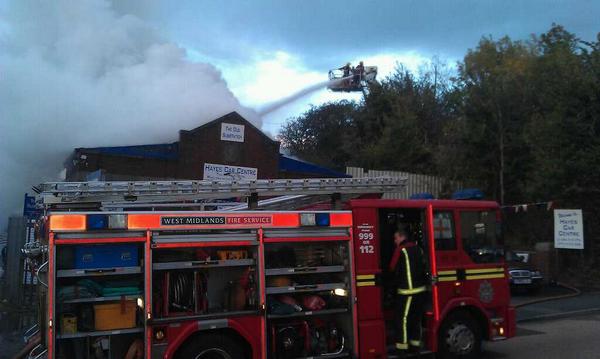 A video of four 'grannies' from the Black country dirty dancing, which became a world-wide internet hit, has now had a million Facebook shares.
It was filmed at Stourbridge Carnival and the 'elderly' dance troupe left visitors in stitches by defying their apparent age to bust some raunchy moves to music hits, including 'twerking' to Beyonce's Single Ladies and Gangnam Style by Psy.
But they are actually friend Sue Hawkins, Jackie Fellows, Deb Nicholls and Emma Rollason who perform together for the Dudley-based Fizzog Productions.
The professional group have been together for 14 years after meeting at Dudley College where they studied Community Theatre.
Twerking Black Country 'grannies' become world-wide internet hit
Seen more than 180,000 times on YouTube as far away as India & Japan, this video of four Black Country 'grannies' isn't all that it seems.
Read the full story ›
A company from Leicester has been ordered to pay more than £4,000 after a child's head was stuck in a gate at a school in Stourbridge.
Read the full story ›
Advertisement
A man has been burnt on his face, neck and ear after his bonfire exploded.
Paramedics were called out to Hayes Lane in Stourbridge yesterday afternoon after the 26-year-old poured accelerant onto the bonfire.
Advanced paramedic, Ste Hill, said:
The 26 year old from the Pedmore area said that he was concerned about the rain coming and wanted to get the fire going before it arrived. Fortunately for him, the burns to his neck, ear and side of his face had blistered but were not as serious as they could have been."
Two men have been jailed for a total of more than 30 years for masterminding an international heroin smuggling operation from Pakistan.
Ringleader Tahir Mahmood controlled a gang spread over two continents from his home in Stourbridge. After being watched and followed by police in Spain and the UK, he was arrested in raids last year, along with his right hand man Anwar Bashir from Bradford.
The men were directly connected to around 46 kilograms of heroin seized, with a further 49 kilos found as part of the wider operation. In total the drugs had an estimated street value of around £9.5 million. Chris Halpin reports.
Today two key players of an international drug smuggling operation were sentenced to more than 30 years behind bars. Tahir Mahmood from Stourbridge, and Anwar Bashir from Bradford, controlled a group of men to smuggle heroin to the value of £9.5m into the UK from Pakistan.
Using couriers or drug 'mules', the heroin was hidden on flights passing through the United Arab Emirates, Spain, Germany, Austria and finally the UK. Watch the video above to find out exactly how the gang planned to flood Britain's streets with heroin.
The National Crime Agency have said an international drugs gang led by a man from Stourbridge could have brought 'misery, harm and violence' to Birmingham.
Tahir Mahmood was jailed today for a variety of offences into importation of significant quantities of heroin into Europe and the UK after previously pleading guilty.
We proved Mahmood and Bashir were linked to seizures totalling 46 kilos but I believe the network dismantled could have been responsible for many more importations – bringing misery, harm and violence to communities in Birmingham, Bradford and other cities.

"Tackling the supply of drugs on a global level and protecting our borders are priorities for the NCA and its partners. We targeted the couriers one by one and obtained the evidence that led to the downfall of these two men. They are now behind bars where they belong."
– Paul Risby, NCA Branch Commander,
Load more updates