Police have evacuated residents and cordoned off an area in Stratford-Upon-Avon after two suspected artillery mortar shells were found.
A member of the public reported the discovery on Banbury Road to police at approximately 8.35am this morning.
The Banbury road between Trinity Way and Dale Avenue, as well as parts of Saturn Way and Mercury Drive have been evacuated whilst bomb disposal experts carry out a controlled explosion.
Three people have been charged with murder following the death of a 36-year-old man in Stratford-upon-Avon on Monday.
Tristram Wallace, 36, was pronounced dead at the scene on Arden Street.
Neil Potter, 36, Peter Mallon, 41, and Tony Jelf, 39, will appear appear at Leamington Magistrates Court tomorrow charged with murder.
Two women - Florence Caines, 26, and 37-year-old Donna Windsor - have been charged with attempted theft.
Warwickshire Police said a post mortem examination conducted on Tuesday requires further analysis before cause of death can be confirmed.
Advertisement
Detectives investigating the death of a 36-year-old man in Stratford-upon-Avon on Monday have been granted a further 36 hours to question four people on suspicion of murder.
Two men and a woman from Stratford-upon-Avon, aged between 37 and 41, and a 26-year-old woman from Wellesbourne were arrested on suspicion of murder after an incident on Arden Street.
A fifth person, a 36-year-old man from Stratford-upon-Avon, who was initially arrested on suspicion of assault, has been arrested on suspicion of murder and also remains in police custody.
Detectives are questioning four people after a man died in Stratford-upon-Avon.
Police were called to reports of an assault on Arden Street at about 4:15pm yesterday.
Three men and a woman have been arrested and are in custody, Warwickshire Police said.
The remains closed in both directions between A3400 Birmingham Road / Clopton Road and Greenhill Street.
Warwickshire Police are appealing for witnesses after a fatal collision on the Birmingham Road, Stratford-upon-Avon.
The incident happened at around 2.45pm yesterday, when a motorcyclist was involved in a collision with an Audi A4 near to the Rybrook Mini Garage.
The accident involved a 42-year-old man from Solihull, who was taken to hospital by air ambulance and was sadly pronounced dead shortly before 5pm.
The driver of the Audi A4, a 31-year-old man, sustained minor injuries.
Police are eager to hear from anyone who witnessed the collision or the vehicles prior to the collision. To give information, please call 101 quoting incident 220 of Sunday 14 June.
Advertisement
Stratford, Alcester, Leamington & Coleshill attending 5 vehicle road traffic collision: A46 Bishopton road now closed http://t.co/FEfJhWmVQe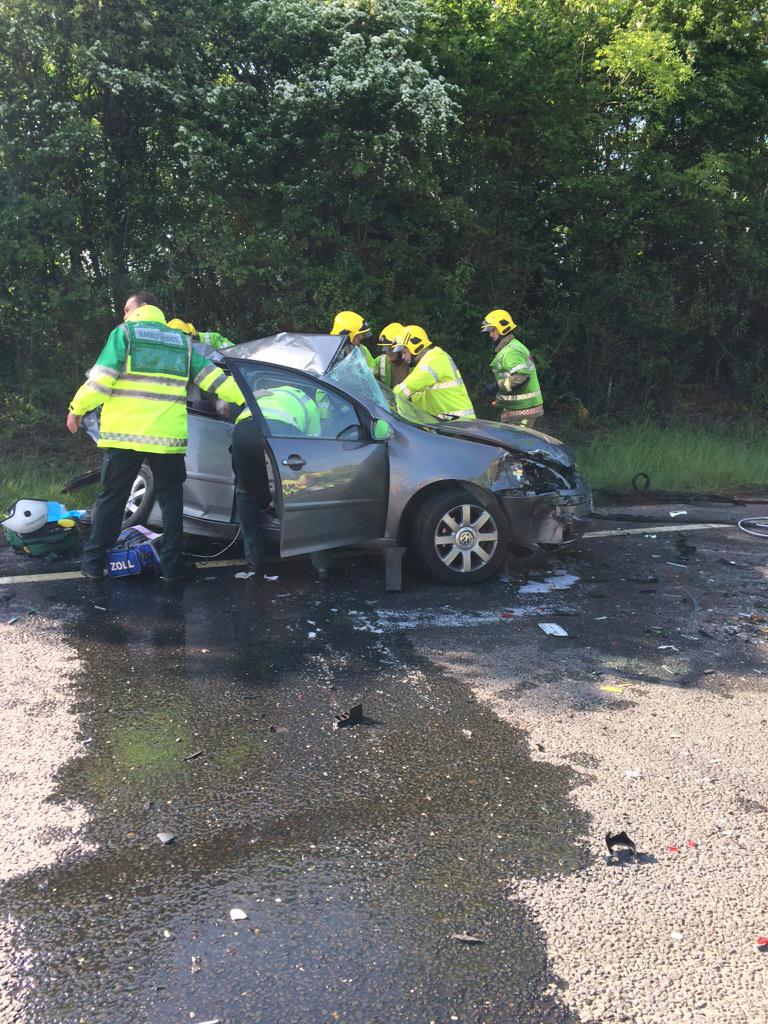 A new portrait of William Shakespeare has been unearthed and it is the only likeness of him to have been made in his lifetime.
Until now, the only authentic portraits of William Shakespeare were found in the First Folio and his monument at Holy Trinity Church in Stratford, but both were created posthumously.
The picture was discovered by botanist and historian Mark Griffiths. In an interview with Country Life magazine, he explains that he saw the portrait on the title page of The Herball by John Gerard, a 16th century book on plants, 400 years after it was first published.
"This is the literary discovery of the century. We have a new portrait of Shakespeare, the first ever that is identified as him by the artist and made in his lifetime.

"Mark Griffiths' unrivalled specialist knowledge as an expert in the role of flora in the literature of the English Renaissance made him uniquely qualified to discover the greatest Elizabethan of all."
– Mark Hedges, editor of Country Life
Shakespeare was born in Warwickshire 451 years ago today and he died 399 years ago today. We celebrate the greatest Midlander of all time.
Read the full story ›
A small child and two adults have been taken to hospital after a car crash in Warwickshire yesterday.
Paramedics were called to Campden Road in Lower Quinton - just south of Stratford Upon Avon - shortly after 7.20pm.
They found a three-year-old girl and her mother in one of the two cars involved. The child had facial injuries and neck and back pain. The trauma doctor at the scene was concerned about her condition, and she was sent to hospital in an ambulance.
Her mother - who is in her thirties - was suffering from abdominal pain, and she travelled to hospital in the same ambulance.
A man in his thirties was the only person in the other car. To begin with, he was unconscious and trapped in his car. Firefighters cut him free from his car, and he was sent to hospital with serious leg injuries.
Load more updates