A small child and two adults have been taken to hospital after a car crash in Warwickshire yesterday.
Paramedics were called to Campden Road in Lower Quinton - just south of Stratford Upon Avon - shortly after 7.20pm.
They found a three-year-old girl and her mother in one of the two cars involved. The child had facial injuries and neck and back pain. The trauma doctor at the scene was concerned about her condition, and she was sent to hospital in an ambulance.
Her mother - who is in her thirties - was suffering from abdominal pain, and she travelled to hospital in the same ambulance.
A man in his thirties was the only person in the other car. To begin with, he was unconscious and trapped in his car. Firefighters cut him free from his car, and he was sent to hospital with serious leg injuries.
Over 40 school children avoided escaped uninjured from a bus crash outside Stratford this morning.
The accident happened on The Ridgeway at 9:10am this morning, when the bus skidded off a country road and ended up in a ditch.
"On arrival, the ambulance staff found a bus that had left the road to the nearside and was at an angle in the ditch."
– West Midlands Ambulance Service spokesperson
Advertisement
Wellesbourne, Stratford & Rugby Large Animal Rescue team working to rescue Tally the 28year old horse in Walton today http://t.co/iW0wA8MMH5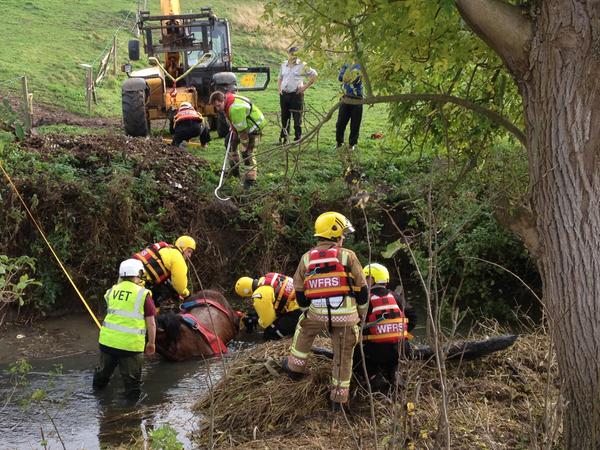 He hasn't even hit 40 yet, but Doc Brown has already forged three successful careers in different fields.
He started out as a rapper on the underground scene, before making a name for himself as a comedian. Now, he's playing DS Joe Hawkins in ITV's 'Law & Order: UK'.
ITV Central caught up with Doc Brown - Ben Bailey Smith - as his stand-up comedy tour reaches Birmingham Town Hall tomorrow night and Stratford's RSC next month.
Three men who crept into a Warwickshire house in the middle of the night and stole five guns have been jailed.
The burglary happened on April 8 in Clifford Chambers, close to Stratford upon Avon. The homeowner was asleep when they came in, but she woke to discover the trio in her house.
Mark Simons, 22, Raymond Kerridge, 49, and Lee Forbes, 31, sparked a major police operation in the wake of the crime.
Simons and Kerridge pleaded guilty prior to the trial at Warwick Crown Court. They were each sentenced to seven years and six months behind bars.
Lee Forbes was convicted following a trial, and was sentenced to nine years in prison; eight for the Clifford Chambers burglary and an extra 12 months for a dangerous driving matter and a burglary in Leicester.
A fourth man, 21-year-old Connor Kearney of Holly Walk in Stratford is charged with possession of a firearm and is due to appear in court at a later date.
"All burglaries have a massive impact on victims and this one was particularly frightening for the person who was home alone and awoke to three men in her house whose sole purpose was to steal firearms.

"The sentence has allowed the victim some closure and made her feel safer in her own home.

"This sends out a clear message to criminals that where firearms are stolen or used you will receive a heavy custodial sentence and Warwickshire police will do everything they can to bring those responsible to justice, and follow all leads to find lethal weapons."
– Detective Constable Collette O'Keefe
Police are asking witnesses to come forward after a car accident in Stratford yesterday.
The crash involved two vehicles, a Silver Fiat Sedici and a black Ford Fiesta.
Both drivers were taken to hospital. The woman driving the Ford Fiesta was air lifted to Walsgrave Hospital because her injuries were serious. The man driving the Fiat received minor injuries and was taken to Warwick Hospital.
It happened on the B4632 on Clifford Lane, near Clifford Chambers at 7.45am.
Advertisement
Iraq-born Tory MP Nadhim Zahawi has said that local leaders in northern Iraq estimate that between 500 and 700 Britons are fighting with the Islamist militants.
He told Channel 4 News that he was seeking further information after a high-ranking official told him one had been found "with a Liverpool Football Club membership card" and another carrying a different UK-related membership card.
The Bulldog Bash returns to Stratford-upon-Avon today after a year out.
More than 4,000 campers are expected at the motorcycle and music festival which runs until Sunday.
The event includes drag strip demos, fairground rides, food and the custom show tent for bikes.
The festival has been held at Long Marston Airfield since 1987 and attracts bikers from across Europe.
The Bulldog Bash has been hit by controversy over the years. In 2007 Hells Angel member Gerry Tobin was shot in the back of the head while riding home from the festival on the M40.
Seven members of rival gang Outlaws were sentenced to a total of 191 years in prison for his murder.
Warwickshire Police say they will have an increased police presence in the area during the festival and are warning people to plan their travel arrangements in advance.
While this year's event is expected to be smaller than previous years, the nature of the roads leading to Long Marston Airfield means that they can quickly become congested.

We are urging people to consider their travel arrangements during next week's event and if they do intend to travel allow themselves extra time.
– Chief Inspector Ian Whiting, Warwickshire Police
A bodybuilder from Stratford-upon-Avon who was forced to give up his career because of devastating bowel disease is now a fitness model - sporting an ileostomy bag.
Blake Beckford, 33, was preparing to compete in a bodybuilding competition when he was diagnosed with ulcerative colitis in 2003.
His condition meant he was constantly tired and needed to go to the toilet up to 20 times a day.
The condition stopped him from training and being a bodybuilder. In October he needed surgery to remove his entire colon.
Despite warnings from doctors that training could cause injuries such as hernias, he was determined to get back into shape.
Doctors also warned the father-of-one he would never be able to train at the level required to be a fitness model.
But determined to prove them wrong, he began a training regime in January, starting at a weight of 11st 12lbs.
Over the last six months he has bulked up to 13st 2lbs and has just appeared in 'Men's Fitness' magazine.
Now a personal trainer, Blake hopes his progress will inspire others with stoma bags to have more confidence.
MORE: Worcester woman with Crohns disease becomes internet sensation
Warwickshire Police are investigating the death of a 20-year-old man who became unwell at the GlobalGathering event in Stratford-Upon-Avon.
Police say he was taken from the event to Warwick Hospital by ambulance around 11 o'clock last night. Despite attempts to save him, he was declared dead in the early hours of the morning.
His death is being treated as unexplained and a post-mortem is due to take place. The man's next of kin have been informed.
Load more updates