Advertisement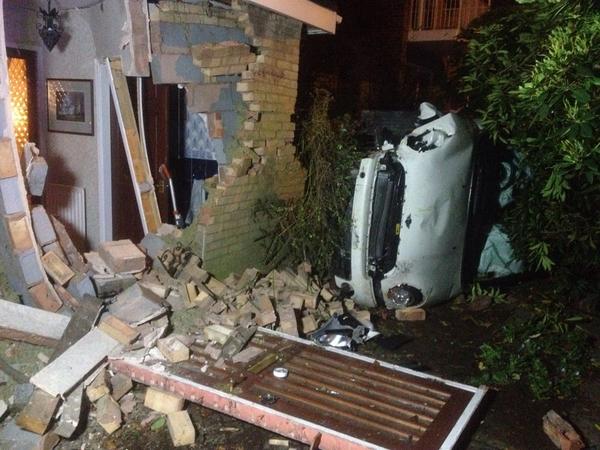 A car careered off the road in Streetly last night, before smashing through a house.
The driver was pulled out of the car by a passer by, and she was taken to hospital for treatment. The homeowner was not injured.
Firefighters were called to the scene on Thorn Hill Road at 10.30pm last night, to find the detached house's porch completely destroyed.
They spent an hour working at the scene, before passing the incident over to the police.
This is the moment a police officer from Sutton Coldfield was rammed against a lamp-post by a car being driven by a burglar during a police chase.
PC Pete McGinn was left fearing for his life and suffered multiple fractures to his legs and pelvis but is now back fighting crime after several operations.
The family of former Conservative minister Sir David Mitchell, who died aged 86 following a long illness, have paid tribute to the health professionals who looked after him.
Sir David Mitchell, the former Member of Parliament for Hampshire North West and minister in the Thatcher governments has died today aged 86.

The family has expressed its gratitude to the health professionals and carers who enabled him to die peacefully in his own home.
– A family spokesman
Former Conservative minister Sir David Mitchell has died aged 86 following a long illness, his family has announced.
Sir David, who served under Margaret Thatcher in various departments including industry, transport and Northern Ireland, was the father of former Cabinet minister and current Tory MP Andrew Mitchell.
He was an MP from 1964 to 1997, representing Hampshire North West, and died at his home in Odiham, Hampshire, in the early hours of this morning.
Advertisement
A 23-year-old battling cancer posted a defiant selfie when her weak physical condition meant she fell from her wheelchair.
Read the full story ›
A toilet built for the sole use of the Queen during a visit to the Midlands is being given away.
Read the full story ›
The Home Secretary has criticised two Midland police officers accused of a shocking f-word rant against an alleged domestic violence victim.
Read the full story ›
Scotland Yard has said it will not release information heard in gross misconduct hearings against officers involved in the so-called Plebgate affair, despite a request from Sutton Coldfield MP Andrew Mitchell.
According to reports tonight, Mr Mitchell's letter reveals that one of the female officers boasted to a friend that she could "take down the Tory government" over the incident, which involved a dispute over whether he could cycle through the main gates of Downing Street.
The woman also allegedly texted "the Fed need our help" - thought to potentially be a reference to a dispute between the Police Federation and the government.
Three officers have already been dismissed over the incident, with two more facing ongoing proceedings.
The Metropolitan Police Service says it will release a full report in due course - but won't be commenting on Mr Mitchell's request.
A statement from the force confirmed officers had received a letter from Mr Mitchell, adding:
Statutory regulations govern police misconduct proceedings and state they are considered a private process.
As such the information raised at misconduct hearings is treated as confidential. However, the MPS has already stated publicly that a report detailing the Operation Alice investigation will be published in due course.
We also intend to publish the summary reports from the chair of the gross misconduct boards.

Mr Mitchell is aware that we will inform him in advance of publication what will be released, and when.
There are still outstanding gross misconduct hearings. To ensure that these important hearings are not jeopardised through abuse of process, we will not comment any further until they have concluded.
Load more updates