Around one hundred people have met to walk across fields near Sutton Coldfield which could be developed for housing. Sutton Coldfield MP Andrew Mitchell joined the group in their campaign against the development.
Council bosses say the land, off the A38 near Walmley, is needed to meet the growing demand for housing in Birmingham.
Members of the Project Fields campaign to save the green belt organised the protest this morning.
"Current projections show that there will be a need for more than 80,000 homes in Birmingham by 2031 as a result of an anticipated population increase of 150,000. As required by law, we have carefully looked at all available sites for housing and the BDP offers the best possible solutions to the challenging situation we face."
– Birmingham City Council Statement
A decision to reopen investigations into three police officers in the 'plebgate' row concerning Sutton Coldfield MP was 'legally flawed'.
Read the full story ›
Advertisement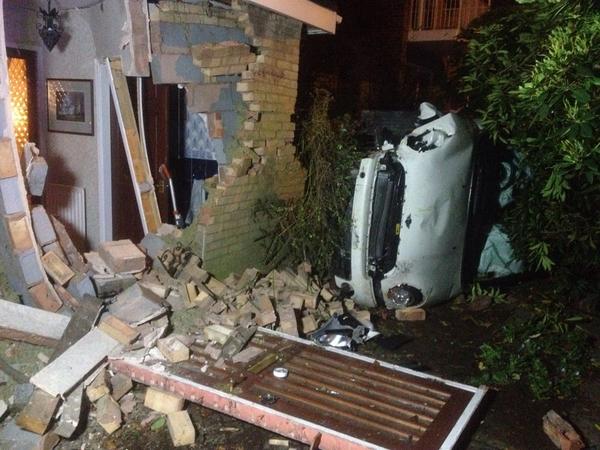 A car careered off the road in Streetly last night, before smashing through a house.
The driver was pulled out of the car by a passer by, and she was taken to hospital for treatment. The homeowner was not injured.
Firefighters were called to the scene on Thorn Hill Road at 10.30pm last night, to find the detached house's porch completely destroyed.
They spent an hour working at the scene, before passing the incident over to the police.
This is the moment a police officer from Sutton Coldfield was rammed against a lamp-post by a car being driven by a burglar during a police chase.
PC Pete McGinn was left fearing for his life and suffered multiple fractures to his legs and pelvis but is now back fighting crime after several operations.
Advertisement
The family of former Conservative minister Sir David Mitchell, who died aged 86 following a long illness, have paid tribute to the health professionals who looked after him.
Sir David Mitchell, the former Member of Parliament for Hampshire North West and minister in the Thatcher governments has died today aged 86.

The family has expressed its gratitude to the health professionals and carers who enabled him to die peacefully in his own home.
– A family spokesman
Former Conservative minister Sir David Mitchell has died aged 86 following a long illness, his family has announced.
Sir David, who served under Margaret Thatcher in various departments including industry, transport and Northern Ireland, was the father of former Cabinet minister and current Tory MP Andrew Mitchell.
He was an MP from 1964 to 1997, representing Hampshire North West, and died at his home in Odiham, Hampshire, in the early hours of this morning.
A 23-year-old battling cancer posted a defiant selfie when her weak physical condition meant she fell from her wheelchair.
Read the full story ›
A toilet built for the sole use of the Queen during a visit to the Midlands is being given away.
Read the full story ›
Load more updates