Police investigating the discovery of a human skull near a motorway slip road have found further skeletal remains.
West Mercia Police said the remains were found close to the skull at junction 4 of the M54 in Telford in Shropshire.
Forensic examinations and excavations are set to be carried out following the finds, made on Thursday after the skull was spotted during a routine survey of a motorway embankment.
The skull was reportedly uncovered in a hollow in dense undergrowth.
It is believed the initial find was made by a maintenance worker around 50 yards from the sliproad, while the other remains were located by police.
The eastbound slip road onto the M54 was closed after the find and motorists have been warned that "lengthy" inquiries will take place at the scene.
Two people were ejected from their vehicle and subsequently airlifted to hospital following a collision between a car and a lorry in Telford yesterday afternoon.
There were three patients in total from the incident at the Crudginton crossroads where the A442 meets the B5062.
Crews arrived to find a car with significant front end damage following a collision with a lorry.

"There were three patients in total, all men in their 20s from the car. Two of them had been ejected from the vehicle in the collision, one through the driver's side window and one through the rear windscreen.

"The front seat passenger was treated for cuts to his face, a suspected fracture nose and injuries to his mouth before being airlifted to Royal Stoke University Hospital. The hospital had been alerted to the man's condition prior to his arrival.

"The man travelling in the back of the car was also treated for injuries to his face, cuts to his head and abdominal pain. He was airlifted to Queen Elizabeth Hospital Birmingham on alert.

"The car driver was treated for a head injury and taken by land ambulance to Royal Stoke University Hospital.

"The lorry driver was uninjured in the incident."
– A West Midlands Ambulance Service spokesman
Advertisement
A man has been arrested and two people taken to hospital after what police describe as 'violent disorder' outside a nightclub.
Read the full story ›
Police are investigating the rape of a woman who was walking home after a night out with friends in Telford.
Read the full story ›
Two men and a woman are arrested after a man is critically injured during an assault at a pub in Telford.
Read the full story ›
A man who committed serious domestic violence and abuse against two former partners has been jailed for 21 years.
Dino Burley, aged 42 of Telford, must serve a minimum of 12 years before being considered for release.
Burley was sentenced at Shrewsbury Crown Court on Tuesday 14th July after being convicted of five counts of grievous bodily harm with intent.
Burley was responsible for a number of assaults which left the victims permanently scarred. Some of the offences dated back to the early nineties.
In 2014, Burley caused life changing injuries to a different victim after throwing her down the stairs and pouring boiling water on her feet. On a further occasion between 1991 and 1993, Burley pushed screws into the fingers of one of the victims.
You are a jealous and controlling man who used extreme violence on your victims that amounted to medieval torture"
– His Honour Judge Onions
This was a horrific series of attacks which will have long term affects both physically and emotionally on the victims. We'd like to commend the courage of the two victims who attended court and gave evidence with great dignity.

"It is encouraging to see that Burley has been convicted of assaults dating back many years, as a result of the victim coming forward last year, and we hope this will provide reassurance to other people who have been subjected to domestic violence and abuse. We want people to know that they will be supported by the police. Reports will be taken very seriously and thoroughly investigated."
– Detective Sergeant Jo Delahey
Advertisement
Police are appealing for witnesses over a knife attack in which a 31-year old man suffered facial injuries. It happened around 10.30pm last night at Wantage, Woodside in Telford.
Officers say the victim was confronted by three white men, one of who had a knife. The victim was attacked by all three men and suffered what's being described as "significant" facial injuries. He was taken to the Princess Royal Hospital.
"We are appealing for any witnesses who may have been within the area around the time of this violent attack, or may have any information regarding the three suspects who had committed this assault".
– West Mercia Police
The three suspects are described as:
Suspect 1: a white man, approximately 5'9" to 5'10" in height with a slight beard and moustache, who was wearing dark clothing.
Suspect 2: a white man, approximately 5'9" to 5'10" in height with short dark hair, who was clean-shaven and wearing dark clothing.
Suspect 3: a white man, approximately 5'9" to 5'10" in height with a dark beard and dark clothing.
A 20-year-old man from Wellington, Telford, has been charged with a bomb hoax following an incident in the town.
Alistair Taylor, aged 20, from Wellington, was arrested and will appear at Telford Magistrates Court on 13 July.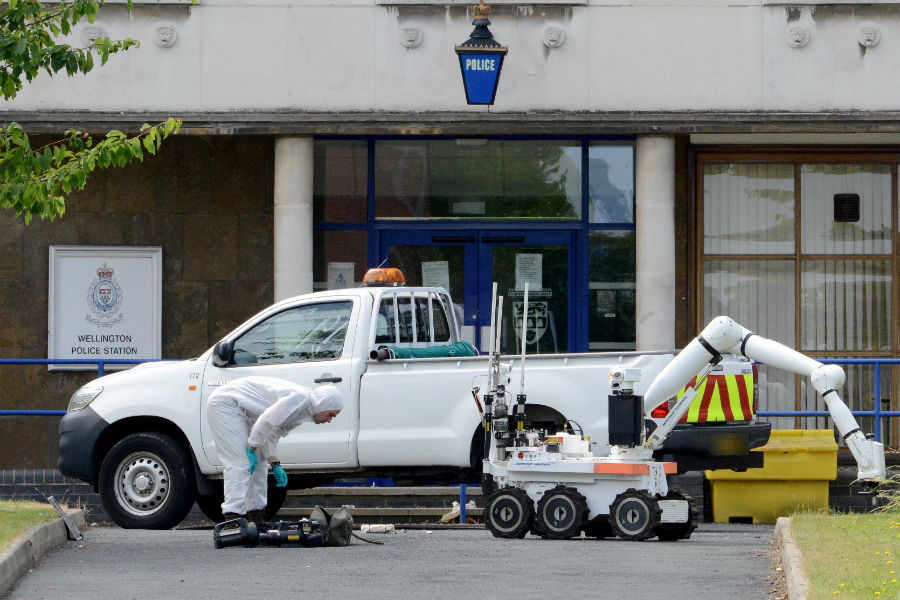 A 19-year-old man arrested shortly after the incident was released without charge.
The discovery of the "suspicious package" at Wellington Police Station led to Victoria Road being closed.
Police continue to appeal for information regarding the incident, especially from people who saw anyone acting suspiciously in the Victoria Road area late Thursday night. To provide information please call 101 and quote reference 0091s of 10th July 2015.
A 19-year-old man has been arrested on suspicion of making an item "capable of causing an explosion or endangering people or property" in Wellington, near Telford.
It follows the discovery of a "suspicious package" on Victoria Road this morning.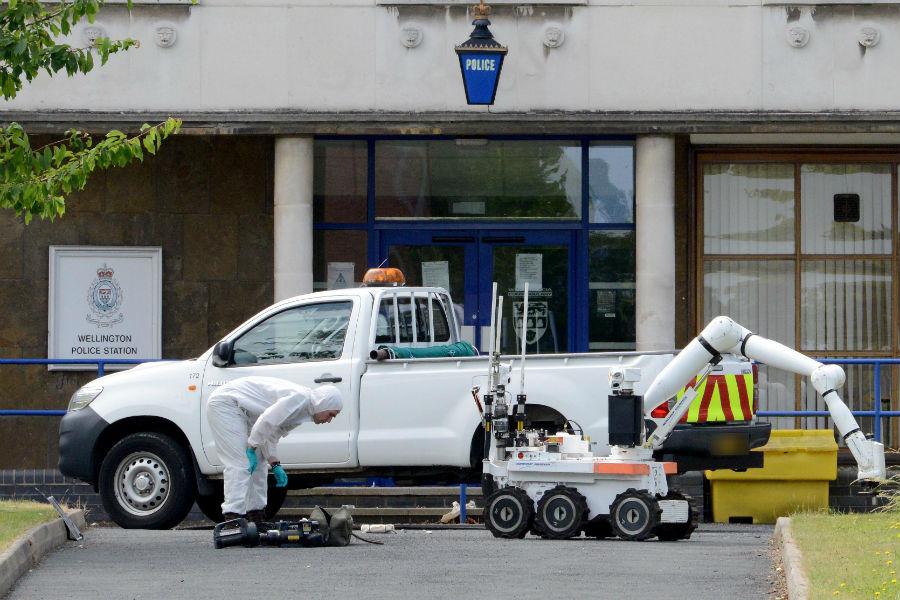 A cordon was put up around the area after the package was taken to Wellington Police Station by a member of the public.
Superintendent David McWilliam said:
Military personnel carried out two controlled explosions. People are now being allowed to return to their properties and the road has reopened.

At this early stage of the investigation we don't believe the package was a viable device but I hope people understand the precautions we have taken.

We would like to remind people of our advice if they do ever find a package that they believe to be suspicious; don't move it and call the police who will carry out a threat assessment, offer advice and respond appropriately.
– Superintendent David McWilliam, West Mercia Police
Two controlled explosions have been carried out on a street in Telford after a suspicious package was taken to Wellington Police Station by a member of the public.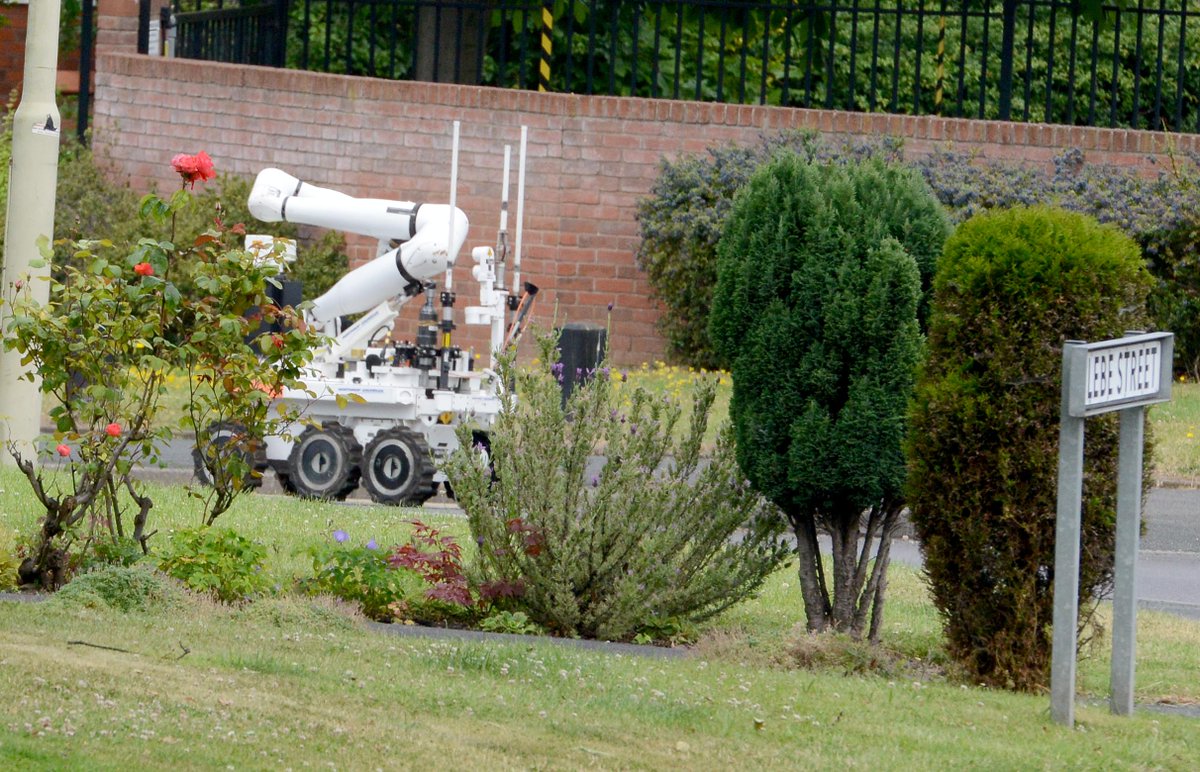 The suspicious package was discovered near to the police station on Victoria Road, which has been shut between the junctions with Wrekin Road and Glebe Street.
West Mercia Police said a cordon has been put in place around the police station and people have been evacuated from nearby houses.
Load more updates