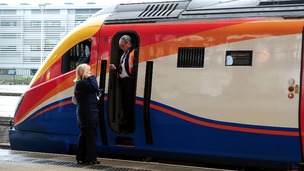 A new timetable has been announced today for upcoming railway franchise tenders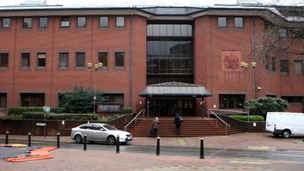 A jury is expected to return a verdict today in the case of a signalman on trial over the death of a woman in Herefordshire in 2010.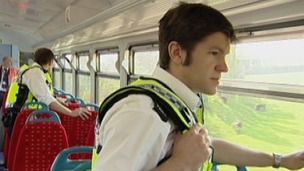 British Transport Police are warning youngsters to stay off the rail lines after seeing a rise during half-term.
Live updates
New Street travel warning
We would urge passengers to allow extra time to catch their train from New Street over the next few weekends while we manage the huge increase in passengers using the station.

The safety of passengers is our priority and last Friday we saw nearly 200,000 passengers use the station, a 75,000 increase on a typical day. We would appreciate their patience while we implement these crowd control measures which are there for the safety of all passengers using the station.
– Steve Lewis, Network Rail station manager
New Street travel warning
Passengers travelling from Birmingham New Street station on Friday nights and weekends are being asked to allow extra time for their journeys owing to the huge increase in passengers over the Christmas period.
From today (Friday December 6) Network Rail will be implementing crowd control measures at the station over weekends to prevent overcrowding on the platforms. At busy times, passengers may be asked to wait a short while on the station concourse to allow platforms to clear.
Over the next three Friday nights and weekends until Christmas, crowd control measures will be in place at New Street station at the following times:
Friday 1500-2300
Saturday 0900-2300
Sunday 1100-2300
Advertisement
Railway museum plans
The Great Central Railway's plan for a new museum, to be built in Leicester, is expected to cost £15million in total.
Alongside the proposed £10million lottery grant, submitted to the National Heritage Fund, £5million of additional match funding would be required.
A striking building is planned for construction, alongside the Great Central Railway's Leicester North station where the museum will be connected to the running lines, allowing for inter-changeable displays.
Drumming up support for the project, City Mayor Sir Peter Soulsby said:
This is a really exciting opportunity to create a heritage railway centre of national standing in Leicester...

...The museum will house items which are of both national importance and local interest, complementing the nearby National Space Centre and Abbey Pumping Station, helping to enhance the city's reputation as an important visitor destination.
Railway museum plans
The proposed railway museum to be built in Leicester could create up to a thousand new jobs.
An economic impact study, carried out as part of the £10million funding bid, suggests the project will be worth £43million to the local economy over five years.
Leicester City Mayor, Sir Peter Soulsby, has called it an exciting opportunity to enhance the city's reputation as an important visitor destination and said:
"It will create hundreds of new jobs, both during construction and on opening, while providing training opportunities in the rail industry for dozens of young people. We're fully committed to this project and will be working with the Great Central Railway to help them deliver this ambitious scheme.
Along with 300 short-term construction jobs, annual visitor figures are expected to reach 230,000, and so additional spending could create more than 900 jobs for the surrounding area.
Railway museum plans
The Great central Railway have submitted a bid for £10million to the Heritage Lottery Fund. for the building of a new railway museum in Leicester.
Filled with priceless artefacts from the national collection, the new attraction will be based at GCR's terminus in Leicester North.
Plans for the new museum have been described as "world class" and Managing Director of the Great Central Railway Bill Ford said:
This is a visionary project. In the last 12 months the partners have worked hard to prepare the funding bid. The museum will help people reconnect with Leicester's railway story and our shared heritage. Together with our thriving steam line, we're confident tens of thousands of people will visit every year.
Railway museum plans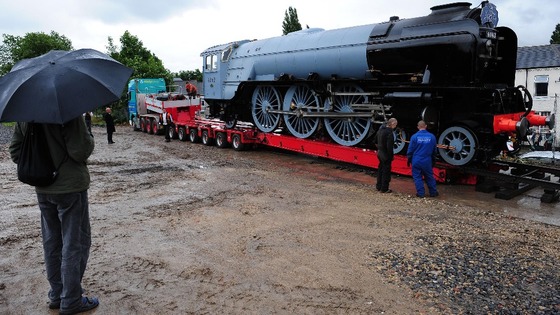 A bid has been put forward for lottery funding to help pay for a new railway museum in Leicester.
If the £10 million grant is given by the Heritage Lottery Fund, a new tourist attraction would be created at Leicester North.
The site is the terminus for The Great Central Railway, who are running the project in partnership with Leicester City Council and the National Railway Museum.
Advertisement
Derbyshire County Council has welcomed government plans to encourage train operators to publish information about which services are most crowded. The government wants to create a traffic light system which would let passengers know which services are busiest.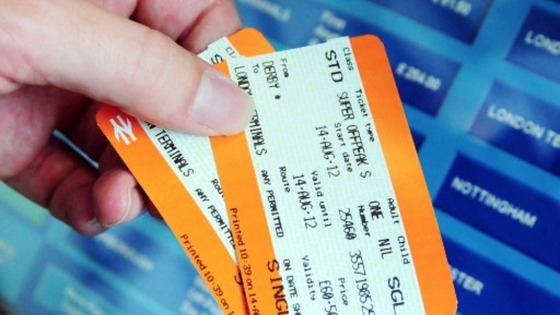 Nottingham Station reopens
Commuters have used Nottingham Train Station for the first time since it re-opened to the public. The station and surrounding lines have been closed for 37 days for track and re-signalling work at a cost of more than £100 million.
There were still some cancelled services today though - a de-railed freight train between Nottingham and Newark means that service has been suspended for the next five days.
Nottingham Station reopens
The first real test of Nottingham station ran smoothly this morning as commuters arrived in the city via train for the first time in nearly six weeks.
Most of the work in this second phase of redevelopment has gone on behind the scenes replacing track and signals that were over 40 years old.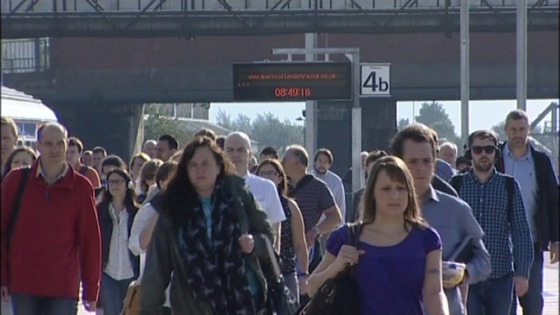 For passengers using the station the two main changes they will notice are the brand new Platform 4 and the new canopy on Platform 7, which allows London trains to exit the station in both directions.
The project aims to improve the flexibility of the station, which it is hoped will have a positive impact on service reliability.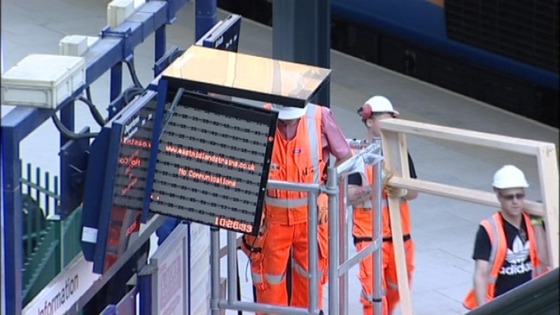 Calendar
Rail services linking Skegness with Nottingham have started getting back to normal.
Nottingham station has undergone a £100 million revamp, with buses replacing trains over the last month. It re-opened yesterday but today officials will see how staff and commuters cope with the changes as people return to work following the Bank Holiday.
Network Rail area manager Justin Page says they've have thousands of people working on the project.
Load more updates
Back to top