The Leader of Nottinghamshire County Council Councillor Alan Rhodes has issued the following statement on Toton becoming the preferred option for a HS2 station in the East Midlands.
"Nottinghamshire County Council has always been fully committed, 100 per cent, to Toton as we believe that a hub there would serve both Nottingham and Derby,"

"Toton would provide excellent overall connectivity for Nottinghamshire as a whole – including places to the north of the county like Kirkby and Mansfield – and bring enormous economic benefits, as well as improving travel time for passengers.

"Bringing HS2 to Nottinghamshire, combined with the dualling of the A453, will help make our county a place where businesses can flourish."
– Councillor Alan Rhodes
The final decision on where the East Midlands station will be built will be made by Transport Secretary Patrick McLoughlin MP, who will set out how the Government plans to take Phase Two of the high speed rail project forward later this year.
The cost of part of a proposed extension to Nottinghamshire's Robin Hood Line should be part-funded by the government, according to the county council.
The line currently runs between Worksop and Nottingham. Plans are in place to extend it to Ollerton.
The council's asking for half of the 200 thousand pounds needed for the next phase of the study.
Advertisement
Network Rail is issuing the following advice to people using Birmingham New Street station this weekend, as it expects a surge in numbers of people visiting the city by train.
Allow more time to catch your train – it is likely you will have to queue at peak times from Friday afternoon through the weekend.
The station will be busy. Be prepared for large crowds using the station.
There will be crowd safety measures in place. These are tried and tested and there for passengers safety.
Last Saturday an additional 100,000 people used the station compared to an average Saturday (230,000 compared to 130,000)
Crowd control measures will be in force at Birmingham New Street Station again this weekend, after 100,000 more people than usual passed through the station last Saturday.
People reacted on social media last week that the concourse was overcrowded, and one person complained his 5 year old son had been injured.
@networkrailbhm never mind the footfall; children and pregnant mums were getting crushed at the bottom of your escalators today.
@networkrailbhm this was while your crowd management staff were around. It was dangerous and my 5yo got injured.
Network Rail said however they had received no formal complaints, and insisted the measures put in place were completely safe.
Birmingham Frankfurt Christmas Market and the Black Friday shopping weekend were two of the reasons cited for it being unusually busy last weekend.
Nottinghamshire County Council have agreed to increase their contribution to the Special Hardship Fund set up to help traders affected by the tram works.
The council's increasing the package they offer to £50,000. Businesses along the extended routes through Beeston and Clifton say they've struggled to cope during the construction of the new tram lines.
Controversial plans to limit traffic to 60mph for 12 hours a day on parts of the M1 in Derbyshire have been put on hold.
Read the full story ›
Advertisement
The Transport Secretary has said it's vital to get the "best people" working on HS2, after it emerged that thirty staff could be better paid than the Prime Minister.
The Transport Secretary & Derbyshire Dales MP Patrick McLoughlin said the proposed salaries were within the budget set and would involve hiring engineers with established skills.
But he said all salaries would have to be approved by the Treasury.
The world's biggest plane is due to take off from East Midlands Airport at 10 o clock this morning. The Antonov-225 was made in Ukraine.
It's powered by six engines and is the longest and heaviest plane ever built with a maximum take-off weight of 6 hunderd and 40 tonnes.
It landed at the airport yesterday evening, which was filmed by Gary Hodgkinson.
The world's biggest plane is due to take off from East Midlands Airport at 10am today.
The Antonov-225 is a Ukrainian-built plane powered by six engines and is the longest and heaviest plane ever built with a maximum take-off weight of 640 tonnes.
It landed yesterday evening at the airport.
Commuters in Shropshire have had a dramatic start to the working week after firefighters were called to reports of a fire on board a train in Shropshire.
The train had to stop at Whitchurch railway station, and fire-fighters were called shortly before 7:30am this morning.
A legitimate excuse for the delay to my journey to the office this morning - my train is on fire! http://t.co/5Jffy7wshC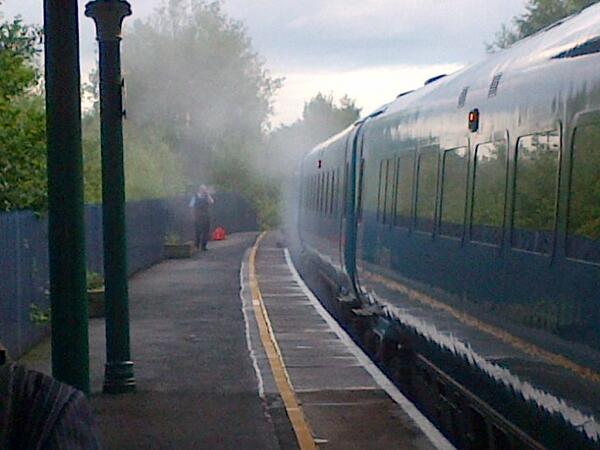 One fire engine dealt with the incident, and Shropshire Fire & Rescue service says it has been using thermal imaging cameras, but no fault could be found with the train.
Passengers have been tweeting pictures of smoke coming from the engine compartment.
Rush hour services between Shrewsbury & Crewe have been heavily disrupted. The train is being recovered and taken to Wrenbury Station, and the incident has now been handed over to Cheshire Fire Service & Arriva Train engineers.
Load more updates