The world's biggest plane is due to take off from East Midlands Airport at 10am today.
The Antonov-225 is a Ukrainian-built plane powered by six engines and is the longest and heaviest plane ever built with a maximum take-off weight of 640 tonnes.
It landed yesterday evening at the airport.
Commuters in Shropshire have had a dramatic start to the working week after firefighters were called to reports of a fire on board a train in Shropshire.
The train had to stop at Whitchurch railway station, and fire-fighters were called shortly before 7:30am this morning.
A legitimate excuse for the delay to my journey to the office this morning - my train is on fire! http://t.co/5Jffy7wshC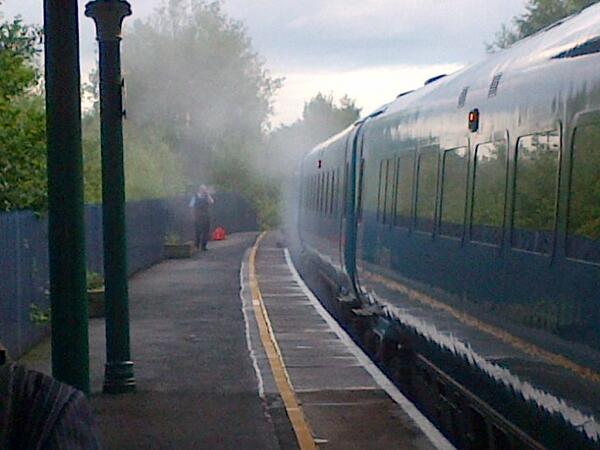 One fire engine dealt with the incident, and Shropshire Fire & Rescue service says it has been using thermal imaging cameras, but no fault could be found with the train.
Passengers have been tweeting pictures of smoke coming from the engine compartment.
Rush hour services between Shrewsbury & Crewe have been heavily disrupted. The train is being recovered and taken to Wrenbury Station, and the incident has now been handed over to Cheshire Fire Service & Arriva Train engineers.
Advertisement
Spending on transport projects in the West Midlands is less than a third of that in London.
In evidence given to MPs on the Transport Committee, Centro said that local funding of £198-per-head on transport compared with £644-per-head in London for 2012.
Now - some people have train sets, others have huge soft toy collections - but one man from Peterborough has taken his interest in flying commercial jet planes to a whole new level.
Richard Hutchinson has spent thousands of pounds building an authentic replica of a Boeing 737 cockpit in his bedroom.
A new service between Newquay and Birmingham is launched today.
It's aimed at both business and holiday travellers. It'll run seven days a week for the summer months and is operated by Flybe. Tickets for single flights are on sale now.
The managing director of Bombardier UK says the company's workforce has been looking forward to celebrating 175 years of the railways in Derby. He says it is a particularly important milestone for the people who have worked there for more than 25 years.
Advertisement
Celebrations are taking place today to mark 175 years of the railways and rail industry in Derby
Read the full story ›
Taxi drivers in Nottingham are protesting today over plans to make them take a new 'knowledge' test before they can be licensed.
Gedling borough Council says it'll help provide a better service. But drivers say the test shouldn't apply to existing licence holders.
Members of the public will get the chance to go on one of the Midland Metro's new trams tomorrow.
£40 million has been spent upgrading the fleet, and five out of a eventual 20 trams are being tested at the main depot in Wednesbury.
They'll be in full service by the summer, but passengers can have an early look at one of the high-tech trams at Birmingham Snow Hill station tomorrow. Chris Halpin reports.
Commuters on the Midland Metro have spoken of their excitement at the launch of a £40 million new fleet of trams in the coming months.
Passengers told ITV News Central they liked the look of the new trams and were excited to get on board - though had their fingers crossed for fewer breakdowns.
Load more updates