There are delays at Birmingham New Street station due to a disruption between Birmingham and Leamington Spa. The delay is being caused by a trespass incident.
A motorcyclist has been fatally injured following a road traffic collision with a lorry near Lichfield.
West Midlands Ambulance Service, including the air ambulance from Cosford, received a call at about 8.45am yesterday and responded to the crash. However, the motorcyclist was confirmed dead at the scene.
Crews arrived to find a motorcycle and lorry that had been in collision. The man riding the motorcycle had suffered serious injuries and was in cardiac arrest.

"Advanced life support was carried out by medics, with the support of an off duty fireman and retired police officer, but unfortunately despite their best efforts, sadly nothing could be done to save the man and he was confirmed dead at the scene.

"The driver of the lorry, a man, was assessed and discharged at scene."
– A West Midlands Ambulance Service spokesman
Advertisement
One man has died in a series crash on the M40 between J16 and J15, which happened at around midnight yesterday.
The accident involved three lorries and two cars and resulted in one vehicle catching fire. Significant damage has been caused to the road surface and restrictions are expected for most of the morning.
The collision is affecting both directions of traffic and has caused the motorway to close. However, there is a diversion in operation, which takes Southbound traffic North on the M42 to J6.
Warwickshire Police are appealing for any witnesses.
East Midlands Trains' customers are amongst the most satisfied, according to new figures released today by Transport Focus.
Read the full story ›
There are delays due to a road being closed and very slow traffic due to shed load and jackknifed lorry on the A5 at B4111 Harpers Lane.
There is also congestion on the A5 to B4116 Merevale Lane in Grendon, towards the roundabout.
There is a lane closed due to a broken down vehicle on the M1, Southbound between J29 for Chesterfield and J28 for Mansfield.
Advertisement
One lane has been closed, which is causing very slow traffic due to broken down vehicle on M6 Northbound between J9 A461 for Wednesbury and J10 for Wolverhampton and Walsall.
There is currently congestion on the M6 to J8 M5, with the matrix sign set to 40 mph.
Travel time is around 20 minutes
#M6 both ways btwn J3a and J3, we've just stopped traffic in order to transfer some horses from a broken down horse box. Pls bear with us.
The M6 is closed to traffic in both directions between Junction 3 and Junction 3a at Coventry to rescue horses after the car pulling the horse box they were in broke down.
Highways England is currently dealing with the incident.
An overturned car caused havoc on the M6 Northbound in Warwickshire this morning.
It happened between J3 A444 / B4113 (Nuneaton / Bedworth / Coventry) and M6 J3A.
OPU dealing with RTC M6 northbound J3 to Corley. Just managed to re-open 1 lane. Patience & avoidance please. JA http://t.co/ZTAg5jKMEO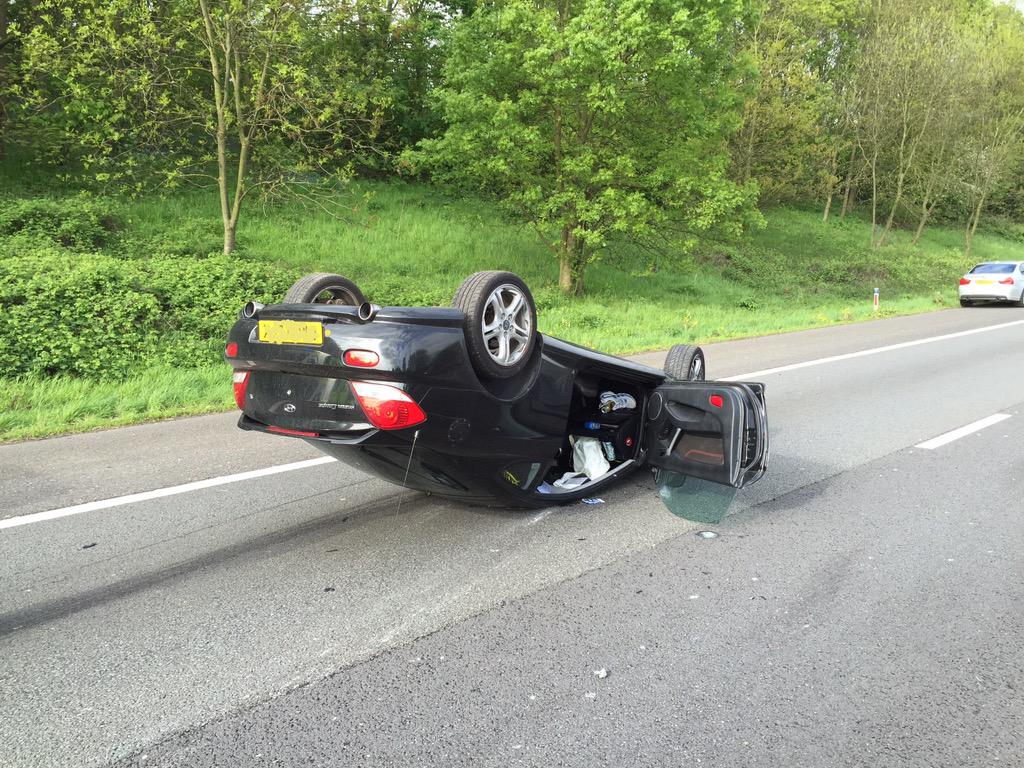 All three lane have now fully reopened.
Two HGV's have been involved in a collision on the eastbound carriageway (towards Derby) and on the westbound carriageway (towards Stoke) a car and HGV have also collided.
Fire service and paramedics are dealing with the incident involving the two HGVs as the drivers of both vehicles has sustained injuries, one believed to the seriously.
The air ambulance is currently also at the location.
It is likely that the road will remain closed for a consideration time.
Load more updates