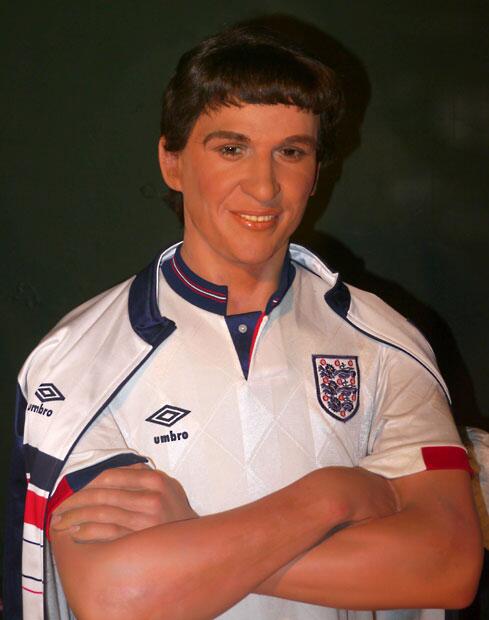 Stars have been teasing former England and Leicester City striker Gary Lineker, for a not so life-like waxwork of the former footballer on display in Great Yarmouth.
It's after news reports a foreign buyer had bought up the waxworks from the Louis Tussard's House of Wax at the seaside holiday resort, whose models have gained a cult reputation for bearing little resemblance to their subjects.
Former Manchester United and Denmark goalkeeper tweeted a picture yesterday, of his disbelief at the barely-recognisable life-size version of the now BBC Sport presenter.
Comedian Lee Hurst also got in on the banter with the following tweet.
To which Gary responded - "use my own earwax!".
An actress who starred in Superman has returned a Leicester man's wallet by tweeting about finding it after he left it on the tube.
Read the full story ›
Advertisement
Caroline Criado-Perez, who came under sustained attack on Twitter after running a successful campaign to have a woman's picture placed on a new bank note, has welcomed Twitter's pledge to do more to tackle trolling and abuse on the platform, but said they could have acted quicker.
While I'm pleased they're listening, it's taken Twitter a week to come up with this.

Twitter's 'report abuse' button on the iPhone application goes through to the old reporting form - what we're looking for is an overhaul of the system which sits behind the button.

The current process is lengthy, complicated and impossible to use if you're under sustained attack like I have been.
Right now, all the emphasis is on the victim, often under intense pressure, to report rather than for Twitter to track down the perpetrator and stop them.

I am, of course, pleased that they are taking on new staff. The hard facts are that this will take time, investment and properly trained and paid staff - but it's crucial they get this right.
Several female journalists have received a threatening tweet telling them that a bomb has been placed outside their homes.
The Metropolitan Police have confirmed that they have received a complaint relating to threats made on Twitter and that enquiries are continuing but have not yet made any arrests.
The Guardian claims the journalists targeted include Hadley Freeman from the paper, Grace Dent, a columnist for the Independent and Catherine Mayer, Europe editor of Time magazine.
According to the Guardian the tweet read: "A BOMB HAS BEEN PLACED OUTSIDE YOUR HOME. IT WILL GO OFF AT EXACTLY 10:47PM ON A TIMER AND TRIGGER DESTROYING EVERYTHING"
Ben Townsend was in court today charged with two counts of sending by public communication network, offensive, indecent, obscene or menacing messages.
The prosecuting solicitor said that he sent these messages via Twitter to two Northampton players.
His defence solicitor said he did this while under the influence of alcohol, after a game between Northampton and Cheltenham Town. He said he now bitterly regretted his actions and now realises that what he said was offensive and racist.
The district judge said there were racial elements to the tweets and she said in the current climate "it is not the sort of behaviour that the courts are going to tolerate".
She asked the probation services to prepare a community sentence. She said she wasn't considering a custodial sentence.
The probationary service was unable to do that today, so sentencing was adjourned until the 4th of July.
Ken Goodwin was in court today for ITV News.
Advertisement
A man from Cheltenham has admitted sending offensive messages to football players. Ben Townsend, 25, pleaded guilty to two charges when he appeared before the town's magistrates.
The charges relate to racist Twitter messages send to Northampton Town football players. Townsend was bailed to appear before the court for sentence on July 4th. He's been told he won't be going to prison.
A 25-year-old man has been arrested on suspicion of sending racist tweets to two Northampton Town football players.
It's after striker Adebayo Akinfenwa and defender Clarke Carlisle were sent abusive messages on the social networking site.
The man was arrested in Gloucestershire last night and is being held in police custody.
The officer concerned today submitted his resignation and it was accepted with immediate effect.

Commander Allan Gibson said: "This officer's behaviour was completely unacceptable and it is right that he resigned."

The officer chose to resign immediately prior to his suspension being put in place.
– Scotland Yard statement
Load more updates