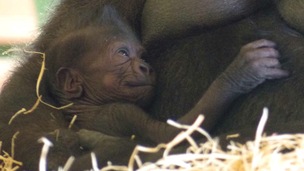 Twycross Zoo has welcomed the birth of an endangered gorilla.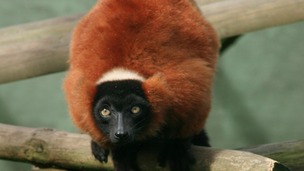 Endangered lemur twins have been moved to Twycross Zoo in an attempt to help the species breed.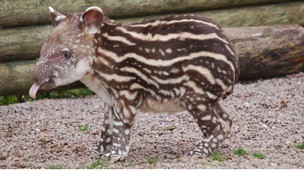 Twycross Zoo have announced the birth of a new addition to their animal family.
Live updates
Zoo tortoises' speed lessons
An extension area to the giant tortoise exhibit at Twycross Zoo in Leicestershire prompted keepers to develop a new training programme to help bring these super slow-moving, 400lbs creatures indoors!
Zoo tortoises' speed lessons
The new extension area is a great addition to the giant tortoise exhibit. They have much more room to roam outdoors, and the various substrates give our trio of Aldabra tortoises an enriched environment designed to stimulate them day today.

We knew the outdoor extension would prove more challenging for us to bring the tortoises indoors for the evening. They are very slow moving animals, plodding along at less than one mile per hour.
– Zoo Keeper Ryan Berry
It has been a very slow process. We anticipate the training will carry on throughout the summer until our tortoises really get the hang of it but the patience of the team has really paid off so far.

Despite his name, Speedy is always the last one in at the end of the day. We expect this is down to being older and wiser!
– Zoo Keeper Ryan Berry
Advertisement
Zoo tortoises' speed lessons
When we hold the target above the tortoises' head they will stretch up tall with their necks to reach it which enables us to place a mirror underneath them for our vet team to check their undercarriage for any health issues.
– KRIS HERN, TWYCROSS ZOO ANIMAL TRAINING MANAGER
Zoo tortoises' speed lessons
We began the training roughly six months ahead of the extension area being completed, using a target and the tortoises' favourite foods. We held the target a few centimetres in front of them and when they touched it with their nose we gave a verbal bridge 'good' and fed them a piece of food; we then moved the target further away and repeated the process which encouraged them to move along at a steady pace. As the behaviour got stronger we gradually increased the distance between them and the target.
– Kris Hern, Twycross Zoo animal training manager
Zoo tortoises' speed lessons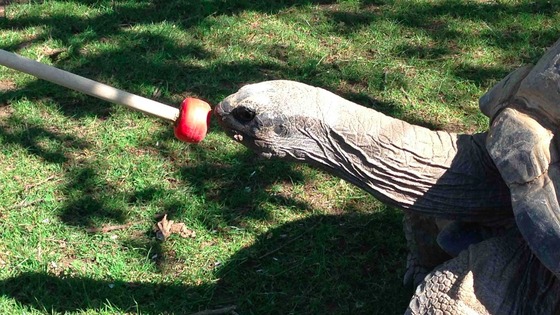 An extension area to the giant tortoise exhibit at Twycross Zoo in Leicestershire has prompted keepers to develop a new training programme to help bring these slow moving creatures indoors quicker while they renovate.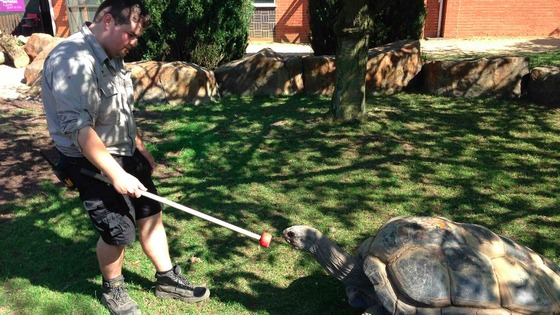 In an attempt to ensure it is not just the hare the tortoise can defeat, zookeepers have given them a training programme to make sure they move back in quicker.
It follows a planned extension of the animal's indoor and outdoor facilities.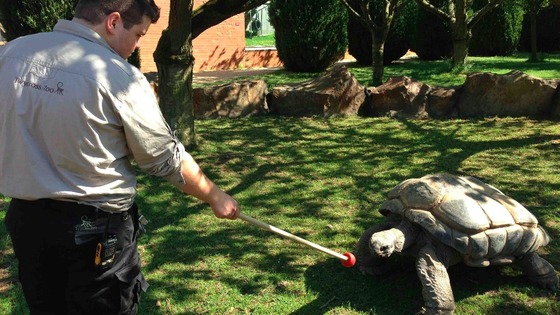 Zookeepers also say the regime has proved beneficial for health checks.
Twycross Zoo cares for three Aldabra tortoises: Tim aged 40, Shelly 30 and Speedy aged 70.
Baby meerkats
Baby meerkats that are just over one month old are settling into their new home at Twycross Zoo. The quadruplets were born on the 11th May.
Advertisement
Baby meerkats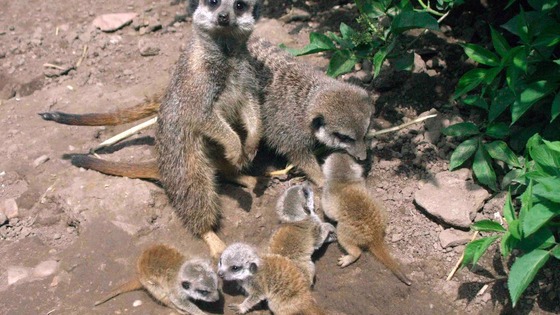 Four meerkat pups that were born on 11th May are proving a huge hit with visitors at Twcross Zoo.
Zoo keepers say they were surprised that the mother gave birth to quadruplets.
World first lemur attraction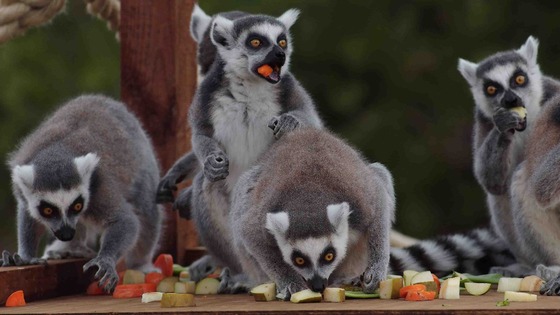 Twycross Zoo in Leicestershire, has unveiled a new attraction which allows visitors to walk alongside lemurs.
The walk-through enclosure has already been buit and the primates are getting used to their new home.
Sharon Redrobe, Zoological Director, said, "our new lemur walk-through is a great addition to the Zoo's collection of exhibits, but most importantly it will enable us to teach the public of the plight of Madagascar and these endangered primates."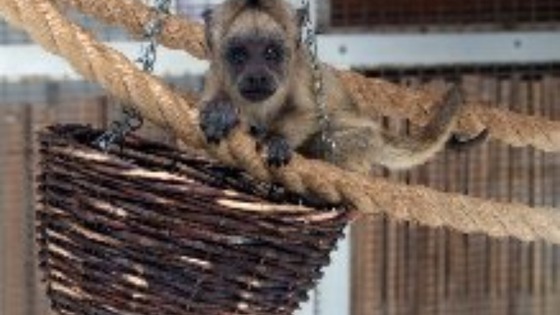 Twycross Zoo in the Midlands has announced the birth of a black and gold howler monkey, the world's noisiest primate.
This latest announcement comes after several births for Twycross Zoo, including a baby western lowland gorilla, baby bonobo and newborn crowned lemur.
Twelve week old Donatello was born on 4th February 2013 to parents Lottie (mum) and Rafael (dad) and the baby is doing well.
Endangered bonobo born at Twycross
Both mum and baby are doing very well. Banya is quite relaxed with the baby and seems confident in her mothering skills, and this has given her keepers an opportunity to get a close look at the baby and confirm that it is a boy.

Banya is an integral part of our bonobo group and this applies to her son as well. The other bonobos are interested in him but at this point only Banya will carry him. He will remain in close proximity to his mum for the new fext years.
– Dr. Charlotte Macdonald, Curator of Living Collections at Twycross Zoo
Load more updates
Back to top