A study has estimated the financial impact of poor mental health in the West Midlands region.
Read the full story ›
An Islamic manuscript which has been identified as one of the world's oldest fragments of the Qu'ran has gone on public view
Read the full story ›
Advertisement
A cheating student who hacked into the University of Birmingham's computer system so he could get a better degree has been jailed.
Read the full story ›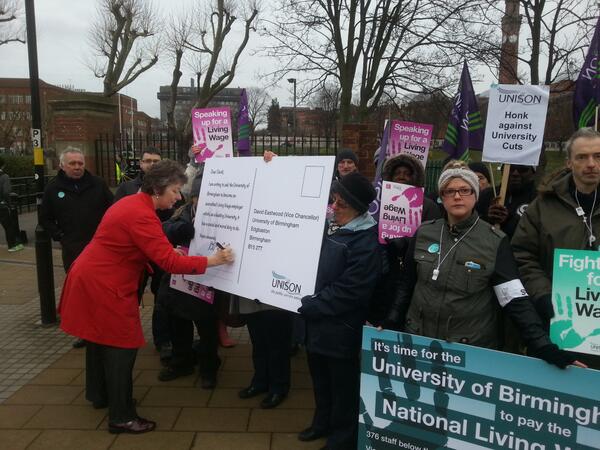 BREAKING: Two further men charged with violent disorder following protest at University of Birmingham. Full details: http://t.co/H5122UH98H
West Midlands Police have charged two further men with violent disorder after a protest at the University of Birmingham on Wednesday.
It follows a charge against another man earlier today. Ten other people have been released on police bail following disorder which saw buildings on the Edgbaston campus damaged.
A 22-year-old man has been charged with violent disorder following the protests at the University of Birmingham on Wednesday.
Simon Furse, of Pershore Road, Edgbaston, is due to appear at Birmingham Magistrates Court this morning.
13 people were initially arrested following the protest, which turned violent when protesters clashed with Police and security, but five men and five women were released on bail last night.
Two more men remain in Police custody.
Advertisement
Protesters can be heard shouting 'occupy' as they gain entry to Birmingham University, before tussling with security guards.
This video is courtesy of The Tab Birmingham.
A Birmingham University spokesman has condemned the actions of Defend Education Birmingham, the group who carried out yesterday's protest:
The actions of Defend Education Birmingham - a group not affiliated to the Guild of Students or in any way representative of our student body - included defacing buildings and property, throwing smoke bombs and fireworks, smashing down doors, damaging buildings including Aston Webb and the Old Joe clock tower, as well as injuring staff.
She went on to say the University had 'no choice' but to call in Police support, after buildings and property was defaced by protestors yesterday:
Given the serious nature of their actions, the University had no choice but to ask the police for assistance in restoring order and protecting students, staff and university property... Whilst peaceful protest is part of university life, the University cannot tolerate behaviour that causes harm to individuals, damage to property or significant disruption to our university community.
Fresh pictures show how yesterday's protesters at Birmingham University gained access to the main Aston Webb building through a rear door.
Following the arrests of 13 people after a protest at Birmingham University yesterday, Police Superintendent Lee Kendrick has said:
This may well have been billed as a peaceful protest, but it escalated into a serious public order incident - a criminal investigation has been launched and anyone found to have acted unlawfully will be punished.
Following accusations on social media since the event, Superintendent Kendrick went on to deny that Police were 'kettling' demonstrators, saying:
We strongly refute any suggestions of containing or 'kettling' a lawful protest. Police were called to the site by the university as a result of demonstrators breaking into buildings, damaging property and assaulting staff. The suspects were detained by police and required to give their details ahead of the pending criminal investigation - any that refused were arrested.
Load more updates