Live updates
Central Travel
Six people have been treated by paramedics after a three-car smash in Staffordshire.
One of the cars had been forced off the road in the crash, which happened at around 9.30am today, and was found down an embankment off the Ashbourne Road in Uttoxeter.
The front seat passenger of that car, a woman, was airlifted to hospital suffering back and chest injuries, while the driver and two teenage passengers - all also women - were taken to hospital with other injuries including seat belt wounds.
A 17-year-old girl from one of the other cars was taken to hospital after hurting her neck in the crash, while an 11-year-old boy, who had been in the third car, was treated at the scene for a minor seatbelt injury.
Advertisement
Wall collapse flattens garden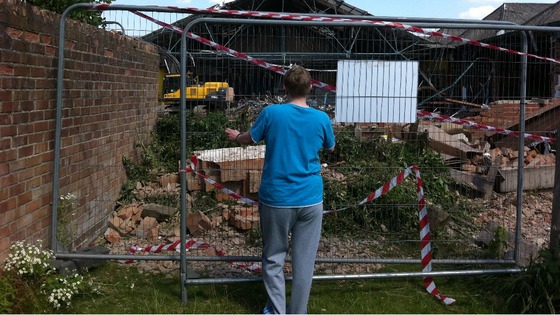 The contractors, HCL, based at Alfreton in Derbyshire, have apologised for what they admit was an "embarrassing" blunder. Site manager Richard Speake told ITV News Central:
"The structure was old and unsound and basically gave way under the weight of the roof. We will be working closely with the residents to put things right and do the necessary paperwork."
Mr Speake confirmed there was asbestos in the roof, but said they had specialist staff trained to dispose of it and there was no health risk to people living nearby.
Wall collapse flattens garden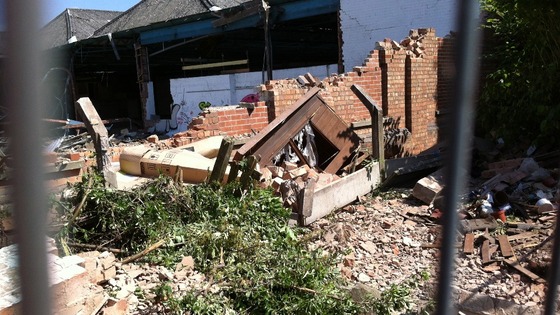 Debris rained down into two homes in Drewry Lane, one belonging to Mrs McKechnie, the other to a 95-year-old woman who was in hospital at the time. The wall flattened her garden shed.
Residents say it is lucky no-one was seriously injured. They're also worried about asbestos dust on the site.
Wall collapse flattens garden
A woman from Derby has described how she ran out of the way of a warehouse wall as it collapsed into her back garden. Lee McKechnie says bricks were flying around her head as the structure toppled over.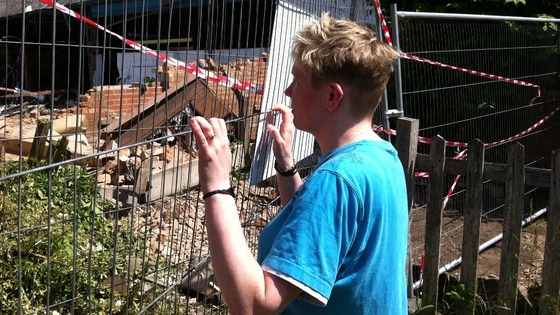 The huge wall fell down yesterday afternoon as workmen were carrying out demolition work on an old self storage depot in Uttoxeter New Road.
Back to top