Live updates
War memorial defaced
The Bomber Command war memorial that was defaced has now been covered up and has a police guard.
War memorial defaced
Douglas Radcliffe, Secretary of Bomber Command Association said that the airmen honoured in the Bomber Command Memorial had died to give people the freedom to live in the UK.
He added: "I can't believe that somebody would do this but they've done it."
Advertisement
War memorial defaced
The Bomber Command Memorial in central London has been defaced. It is dedicated to the 55, 573 airmen who died in the Second World War. This figure includes 25,000 men from Lincolnshire air bases.
War memorial defaced
London
Reports are coming in that the Animals In War Memorial in Park Lane has also been defaced. More details to follow.
War memorial defaced
London
Annoyed to see someone's scrawled "Islam" on the bomber command memorial at green park this morning
The Bomber Command Memorial in Green Park defaced by some idiot. Won't tweet image. Prefer to read this http://t.co/9nSr9zqBk1
Bomber Command memorial In Green Park defaced. Hard to believe really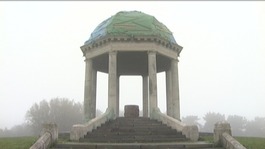 More than four hundred thousand pounds is being spent restoring a war memorial which has been repeatedly targeted by metal thieves.
Read the full story
Advertisement
Back to top