A Christmas experience created by Laurence Llewelyn-Bowen has been temporarily closed after hundreds of complaints from visitors.
Unhappy families who paid £22.50 per ticket took to social media to complain about The Magical Journey attraction, at the Belfry golf club, in Wishaw, Warwickshire.
Some claimed the experience was "far from magical", expressing their disappointment at the waiting time to see Santa and the toys handed out to children.
Following the complaints organisers have temporarily closed the attraction until Wednesday "for improvements" and offered refunds to people who have already visited and those who were due to go along on Sunday, Monday, and Tuesday.
"Based on customer feedback we have taken the decision to take three full days closure today (23/11/14), tomorrow (24/11/14) and Tuesday (25/11/14) in order that we can implement changes and improvements to the experience.

Our customers are our priority for safety and a magical experience and we sincerely apologise for any inconvenience this may cause.

It is important that we deliver the high quality experience you are expecting and hope to reopen with improvements and changes having been made.

We have also had difficulty with torrential rain on site affecting the lighting and sound, we have people working to repair this damage.

All customers affected by these closures have been emailed and will be offered either a refund or a new date, based on their preference."
– Organisers post on Facebook
The Unite union says engineering skills will be difficult to replace if there's an increase in business at Rolls-Royce.
Yesterday the company, which employs workers in Derby and Hucknall, announced it was cutting 2,600 to save money and improve efficiency.
The company employs staff in Derby, Hucknall, Warwick and Ansty near Coventry.
Advertisement
Rolls-Royce has announced that thousands of jobs are to go as part of a programme to reduce costs and improve efficiency.
The company said 2,600 jobs will be lost over the next 18 months, mainly in the Aerospace division.
The firm employs staff at four locations in the Midlands, including its Derby HQ. The chief executive said these job cuts will not be the last. James Clark reports.
Rolls Royce has announced that thousands of jobs are to go as part of a programme to reduce costs and improve efficiency in the company.
The company says 2,600 jobs will be lost over the next 18 months, mainly in the Aerospace division.
In the Midlands, that will affect the company's sites in Derby, Hucknal in Nottinghamshire, Warwick, and Ansty, near Coventry. But it is not yet clear how many of the job losses will be at these sites.
We are taking determined management action and accelerating our progress on cost. The measures announced today will not be the last, however they will contribute towards Rolls-Royce becoming a stronger and more profitable company. We will work closely with employees and their representatives to achieve the necessary reductions on a voluntary basis where possible, while making sure we retain the skills needed for the future.
– John Rishton, Rolls Royce CEO
Amended plans for the development of the former Daw Mill Colliery site near Arley in Warwickshire have been submitted by a property regeneration company, who say it could bring 1,000 jobs back to the site.
The new plans take into account the views of community groups, local residents, councillors and businesses.
A 500,000 square foot light industrial business space is at the centre of the application, which the Harworth Estates company says will bring employment back to the Daw Mill site quickly, given the impact the colliery's closure had on the community.
We have responded to the concerns of the local stakeholders by reducing the size of the development by a third from our original application and by removing distribution units that will reduce movements by heavy goods vehicles to and from the site by more than 70%.

We want to make best use of Daw Mill's assets – its railhead and its high power supply – to attract end users that will move goods via the connection to the Nuneaton to Birmingham line.

We estimate that we can deliver more than 1,000 new jobs, once the site is fully developed, directly replacing the jobs lost when the colliery ceased operating in March 2013.
– Owen Michaelson, Chief Executive of Harworth Estates
Advertisement
Five people were injured after a crash in Warwickshire last night.
It happened at at Bridge 108, Coventry Canal in Lower Shuckburgh just before 7:30pm.
It took an hour and a half to rescue one of the drivers who was trapped in a car.
Wellesbourne, Stratford & Rugby Large Animal Rescue team working to rescue Tally the 28year old horse in Walton today http://t.co/iW0wA8MMH5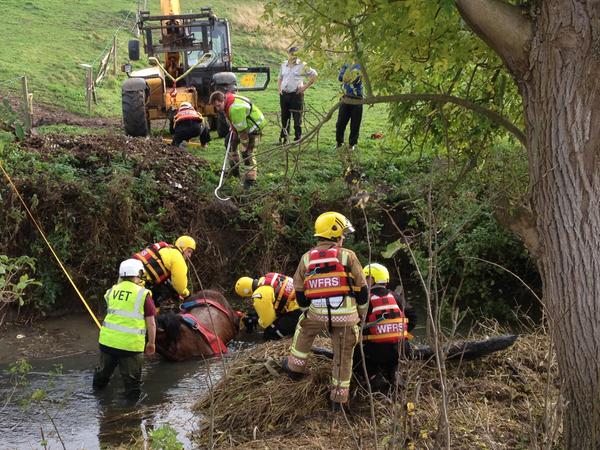 Police are still searching for a silver car that they think was involved in a hit-and-run that left a child in hospital.
An 11-year-old boy was left severely injured when he was struck by a car on Cheveral Avenue in the Radford area of Coventry on the evening of Monday October 20.
Officers believe the child was hit by a silver, two door hatchback. The driver sped away from the scene without stopping.
Although the victim was taken to hospital with a range of injuries, he has since been released and is recovering at home.
"We believe the vehicle involved is a small silver two door hatchback and following the collision the car would have significant front end damage.

"I am appealing to anyone who has seen a car matching this description to come forward. If you have been asked to repair a car with driver front end damage then I want to hear from you.

"If you have noticed a car in your street with new damage or if any friend or relative cannot explain new damage that has appeared on their car then please call us with information.

"We are determined to find the person responsible for driving away from the collision. I would also appeal to the person driving this car to do the right thing and come forward, we can then get their side of the story."
– PS Laura Floyd, from the force's traffic department
Load more updates