For many people across the Midlands, the idea of the local village pub is fading away as nationally 21 pubs on average close every single month.
The New Inn in Norton Lindsey in Warwickshire is sharing that fate - but members of the community have rallied together to hopefully change that. They're hoping to open the first community pub in Warwickshire.
Watch Lee Comley's report here.
The marks were scrawled on entrances in order to protect the inhabitants and visitors from evil spirits.
Read the full story ›
Advertisement
Members of the community have come together to open a community pub, the first in Warwickshire
Read the full story ›
The 48-year-old mother-of-two plummeted to her death during a South African holiday when a gust flipped over the basket.
Read the full story ›
Halloween Tudor Storyteller: Thurs 27th - Sat 29th October (Shakespeare's New Place, Warwickshire)
The Halloween Tudor Storyteller event presents a mix of spooky and comedic tales from 400 years ago for all the family.
Visitors will get the chance to learn about how the Tudors dealt with suspected witches and find out about ancient Halloween customs. Evening performances starts at 6pm and are unsuitable for children.
There are plenty of ghoulish goings-on at each of the Shakespeare family homes this half term.

Our family-friendly activities are a great opportunity to learn about the history of All Hallows Eve with lots of fun to be had." -
– Ruth Warner, Shakespeare Birthplace Trust
The Managing Director of a company which mis-sold advertising space in a multi million pound fraud has been jailed for six years.
Read the full story ›
Advertisement
One lane is closed due to an accident on the M42 Southbound at J9 (Curdworth / Coleshill).
There is congestion back to J11 (Burton-upon-trent).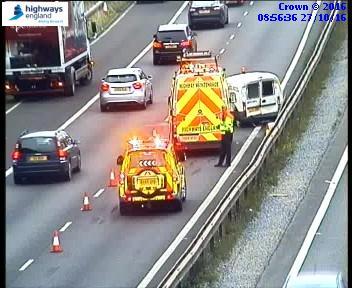 Police are appealing for information after the body of a 60-year-old man was discovered in Warwickshire.
Read the full story ›
Six people have been hurt, two seriously after a head on collision between two cars.
It happened on Old Milverton Lane in Blackdown to the north of Leamington Spa at about 4.40pm on Sunday afternoon.
The first car was carrying 4 people and a 27-year-old woman was airlifted ro the University Coventry Hospital with back and neck injuries.
A 36-year-old man was taken to the same hospital with neck, back and chest injuries.
A 68-year-old man and 67-year-old woman were taken to Warwick Hospital by ambulance with minor chest pain from the seatbelt.
Fifty arrested in connection with an incident at a Sikh temple have been told they will face no further police action
Read the full story ›
Load more updates