A woman who broke her ankle in Solihull has had a train stopped for her by West Midlands Ambulance Service so she could get to hospital.
Paramedics were called out to Earlswood at around 2.15pm this afternoon after receiving reports that a woman had become injured while walking with a group of friends in the woods.
A West Midlands Ambulance Service spokeswoman said:
Due to the location of the incident and the rough terrain, the quick thinking paramedic liaised with the railway and plans were put into place for the next passing train to stop in the woods to make a special pick-up.
The woman and ambulance crew travelled to Earlswood Station to an awaiting ambulance where she was conveyed on to her next stop; Alexandra Hospital."
Demand on the ambulance service in Staffordshire has increased compared with last year.
The figures from West Midlands Ambulance Service show demand fluctuated in other areas of the region.
Staffordshire saw a rise in demand of 12% over the Easter weekend compared with last year but the West Mercia area saw a 12% drop during the same period.
Overall, the trust answered 10,821 999 calls during the weekend - up 1.7% compared to 2013.
Advertisement
A triathlon runner has been rescued from Ellesmere Lake in North Shropshire.
West Midland Ambulance Service said it attended an incident at Mereside after receiving a 999 call at 6:30pm.
In a statement a West Midlands Ambulance service spokesperson said:
"A man in his forties was rescued from the water and found to be in respiratory arrest. Ambulance crews treated to stabilise the patient before he was conveyed by air ambulance to the Royal Shrewsbury Hospital."
WALSALL: Three people have been injured following a collision involving an ambulance service response vehicle and a BMW car.
It happened at 9:26am. A paramedic and the driver and passenger from the BMW are in hospital with non life-threatening injuries.
Broadway North is currently closed between Princes Avenue and Walhouse Road while officers investigate.
Three people have been injured after a crash between an ambulance response vehicle and a BMW in Walsall.
The collision happened shortly before 9.30am on Broadway North. A paramedic and passenger in the BMW are in hospital with what police say are 'non life-threatening' injuries.
Broadway North is currently closed between Princes Avenue and Walhouse Road while officers investigate.
A man has suffered a broken leg and fractured pelvis after a serious car crash in Birmingham city centre in the early hours of this morning.
West Midlands Ambulance service were called to High Street in Digbeth shortly before 3.00am today.
A paramedic who was working at West Midlands Ambulance Service's City Centre Treatment Unit in Broad Street was sent to the scene.
A West Midlands Ambulance Service spokesman said:
"One of the injured was trapped and was freed with the help of the fire service. He's in his thirties and had a broken leg and a suspected fractured pelvis. The injuries were treated at the scene by ambulance personnel. He was then taken to Queen Elizabeth Hospital Birmingham."
Advertisement
Four people were left injured after a collision involving two cars in Tamworth at around 10pm on Wednesday night.
West Midlands Ambulance Service dispatched four ambulances to the incident at the Lichfield Road Industrial Estate, along with a community first responder and a paramedic area support officer.
A spokesman for West Midlands Ambulance Service said:
Two elderly men were in one of the cars involved. They both had chest pains and were taken to Good Hope Hospital. There were three young men in the other car. The driver and front seat passenger had neck and back pains and were both immobilised as a precaution and taken to the same hospital. The rear seat passenger was assessed and discharged at the scene."
Three people have been taken to hospital after the horse and cart they were travelling in was involved in a crash with a car in Bewdley in Worcestershire.
The collision happened near The Running Horse pub on Long Back at around 8:40pm.
"The first patient, a man in his 30s, was assessed and treated for leg and hip pain and was immobalised with the use of a spinal board.

"A woman in her 30s was treated for a fractured left arm whilst the third patient, a young girl, was assessed and treated for a fractured ankle and back pain.

"The horse was also hit in the collision but did not appear to be injured.

"The driver of the vehicle did not suffer any injuries."
– West Midlands Ambulance Service spokesman
Hydraulic Platform being brought into use to assist Tech Rescue with someone who has fallen from a footbridge. http://t.co/hPSKslxrnD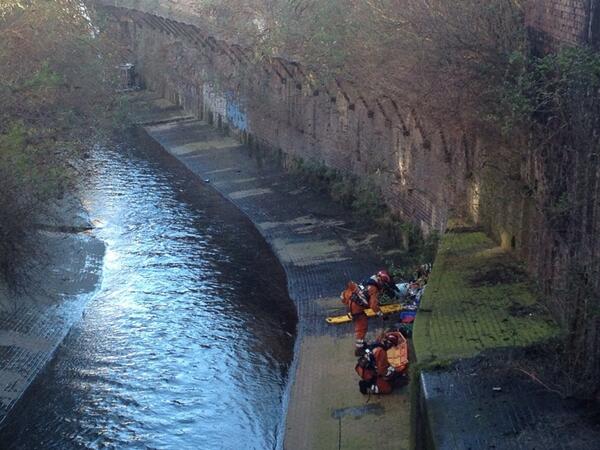 These tweets by West Midlands Fire Service show a dramatic early morning rescue of a man who had fallen from a canal footbridge in Birmingham.
Fire and ambulance crews were called to Floodgate Street behind the Custard Factory in Digbeth shortly after 8:00am this morning.
Two members of the West Midlands Ambulance service Hazardous Area Response Team had to wade across the canal to the patient who was trapped on a bank not served by the towpath.
Fire crews from Highgate Fire Station then had to use an hydraulic platform to get the man's stretcher up onto the road and into an awaiting ambulance.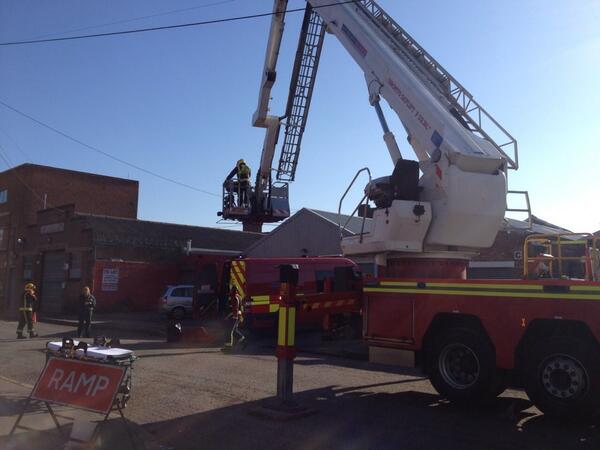 The man was then transferred to Birmingham City Hospital for treatment.
A photograph of a van which ended up on its roof after hitting another car and flipping over has been released by West Midlands Ambulance Service.
A man and a woman, both in their 50s, had been in the van at the time but managed to escape serious injury.
They both suffered multiple minor injuries, including seatbelt injuries, but were not badly hurt and were discharged by paramedics at the scene.
Load more updates