Police searching for missing Birmingham man Inderjit Bhogal have today found a body.
Inderjit Bhogal, from Handsworth Wood, was last seen on Broad Street in Birmingham's city centre at around 10.45pm on Friday 20 November.
Specialist teams were deployed to search the city centre's canal network and following an underwater search, they recovered a body of a man.
The death is not being treated as suspicious and will be referred to the coroner in due course.
The family of 41-year-old Mr Bhogal have been informed and are being supported by officers.
West Midlands Police has agreed to pay 'substantial' undisclosed damages to a dad who was tasered four times by officers outside his home.
Read the full story ›
Advertisement
A former police officer who cracked a major human trafficking ring is now patrolling our river banks, on the prowl for poachers.
Read the full story ›
Police are appealing for witnesses after a young girl was seriously injured when she was hit by a car on Saturday.
The 14-year-old was taken to hospital with serious head injuries where she remains in the critical care unit.
Officers from the Collision Investigation Unit are asking for anyone who witnessed the incident, which happened around 5pm on Chester Road to contact them.
I would like to hear from anyone who has not already spoken to a police officer to contact us so that we can establish how this young girl came about her injuries.
– Police Constable Stuart Pryor
The driver of the silver Ford Fiesta has been spoken to and is co-operating fully with the investigation.
The Collision Investigation Unit can be contacted on 101.
Detectives investigating a double shooting in Birmingham have arrested a third suspect on suspicion of murder.
Read the full story ›
Two Wolverhampton men who chased and caught a robber who stole a woman's phone, have been praised by West Midlands Police.
Gary Morris, aged 31 and Raimond Luket, aged 62, were driving past West Park Hospital in September last year when they saw a man grabbing a mobile phone from a woman.
The men stopped their car and chased after the offender, physically restraining him despite being threatened.
They then called police, who arrested the 34-year-old man and returned the phone to the woman. The man was also found in possession of drug paraphernalia and was later charged with theft.
Mr Luket was presented with a Good Citizen Award yesterday, although unfortunately Mr Morris was unable to attend.
Advertisement
Police are appealing for information on a group of Halloween raiders who rushed two homes in south Birmingham armed with a knife.
The men ? at least one of whom wore a skull mask ? barged into the home of a young mum on Monmouth Road, in Bartley Green, at around 9pm on the night of Halloween (Saturday) before searching rooms and cupboards.
They fled empty handed after the 21-year-old pleaded with the men not to disturb her young daughter who was sleeping in a bedroom.
But minutes later the group, understood to be black males, did the same at a nearby property.
They surged past a man before carrying out a fruitless search and leaving with a mobile phone taken from the victim.
"No-one was hurt but clearly these were shocking ordeals for the residents…at one address they stormed into the house with a knife while a two-year-old child slept just feet away.

"We're trying to understand the motive for the attacks as no-one was injured and, apart from a mobile phone, nothing was taken.

"I'm appealing for anyone who saw the men in or around Monmouth Road on the night, or anyone with information, to contact me immediately. We need to know who these men are."
– Detective Constable Stuart Parker
Police officers involved in leaving an abusive message for a suspected domestic violence victim on her voicemail could face civil action.
Read the full story ›
There are delays on Hagley Road in Birmingham heading towards Junction 3 of the M5, reportedly on account of a crash in the area.
Police are at the scene and are stopping traffic from continuing past the BP Garage.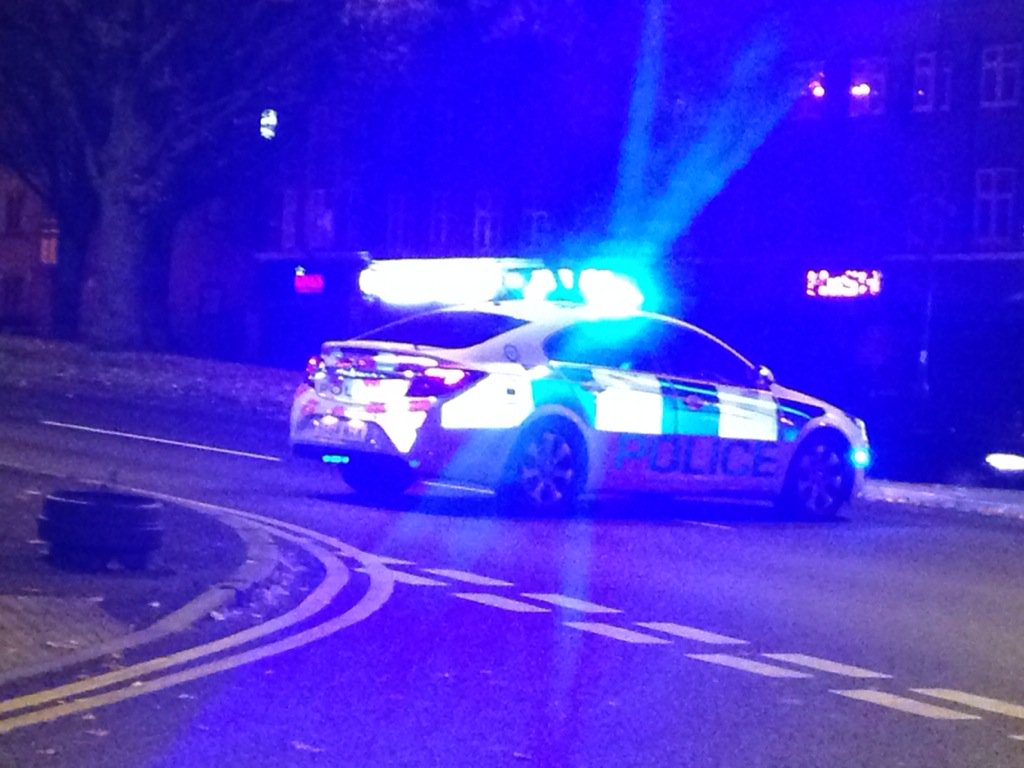 Army badges stolen from an ex-SAS soldier who helped end the 1980 Iranian Embassy siege are to be returned to his family today.
Read the full story ›
Load more updates