A teenager who had been missing from her home in Sutton Coldfield for over a week has been found safe and well, according to West Midlands Police.
Kayleigh Butler had been missing since Sunday 26 July but has now been found.
GOOD NEWS - Missing teenager Kayleigh Butler has been found safe and well. Thanks for your help sharing our appeal. http://t.co/Yz950gSgeA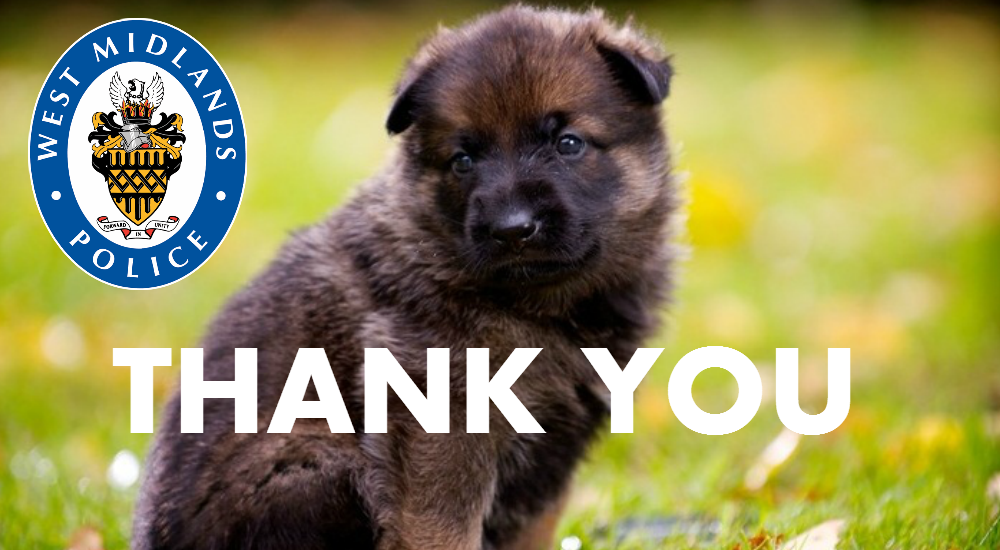 A Wolverhampton Wanderers follower has been banned from all professional football grounds in the country.
Read the full story ›
Advertisement
Police are appealing for witnesses after a man was left unable to walk with serious leg injuries in a road rage incident in Walsall.
The 54-year-old was driving along Primley Avenue in Alumwell at 2pm on 21 June when a dark green Renault Clio pulled out in front of him and blocked the road.
Both drivers got out of their cars and began to argue with one another, with a third man then joining the argument. The victim was then assaulted by the other two men resulting in the tendons in his legs being torn, a broken knee cap and bruising.
The driver of the Clio is described as white, in his late 20s, around 6ft tall and of slim build. He has short, fair hair and possibly has some facial scarring. The third man who joined in is described as black, in his early 20s, around 5ft 9ins tall and of medium build.
Anyone who witnessed the assault is also urged to call police on 101 or the independent charity Crimestoppers anonymously on 0800 555 111.
Police would like to trace a man suspected of tricking an elderly woman into handing over her PIN and bank card, and stealing £400.
Read the full story ›
A 24-year-old man from Reading and a 23-year-old woman from Earley have been charged with terrorism offences after a joint operation between the West Midlands and South East Counter Terrorism Units.
Mohammed Rehman, from Radstock Road, Reading and Sana Ahmed Khan, from Hutton Close, Earley, Wokingham, have both been charged this evening with preparing for acts of terrorism in the UK.
Rehman has further been charged with possession of articles for terrorist purposes.
Both will appear before Westminster Magistrates Court on Friday 5 June.
They were detained on Thursday 28 May. Their homes were searched and a number of items were removed for forensic examination.
This is the moment a couple were caught on camera appearing to steal from a woman after distracting her while she shopped in a supermarket.
The 78-year-old pensioner was doing her weekly shop at Aldi, in Bell Green, Coventry, at 11.30am on May 29 when thieves struck.
The footage shows a woman approaching and picking up a bag of potatoes before striking up a conversation.
While her back is turned a man can be seen dipping into her trolley bag and removing her purse - containing £60.
In another aisle the pair meet up where the man transfers the purse to the woman's shopping basket - she neatly covers it with the bag of potatoes.
The pair leave the store separately before going on to spend hundreds of pounds using the victim's bank cards.
Anyone with information should contact Coventry Police.
Advertisement
HEY YOU GUYS - Can you help us track down Louis Barnett who is wanted for burglary? Call 101 if you've seen him. http://t.co/YZtiJqoqXr
Police have issued an online appeal to trace a burglary suspect featuring an apparent reference to American comedy classic The Goonies.
West Midlands Police's official Twitter feed used the phrase "Hey You Guys" made famous by the 1985 cult film - alongside a picture of suspected offender Louis Barnett.
Several Twitter users responded to the appeal by suggesting that Barnett, aged 23, resembles The Goonies' character Sloth.
Barnett, from Stechford, Birmingham, is wanted in connection with a break-in committed in the Castle Bromwich area.
Electrical items and jewellery were stolen during the offence on May 18.
Amar Atwal was seriously injured in a collision in West Bromwich on Wednesday. His family want to help others following the tragedy.
Read the full story ›
Police are hunting two men who knocked a woman unconscious as she unloaded her car in West Bromwich.
It happened as the 68-year-old woman unpacked her black Audi car, which was parked under the Premier Inn in High Street, around midday on Wednesday 1 April.
She was approached by a man, who hit her across the head, knocking her unconscious, before he and another man stole an orange DKNY handbag, a laptop and some hand luggage.
The woman was cut on the back of her head and her armed was injured.
Sergeant Wayne Dudley from Sandwell Police said:
This was an unprovoked nasty attack on a vulnerable woman as she was taking her things out of the car boot. Despite checking local CCTV and carrying out witness trawls, we haven't been able to identify these two men. I am sure someone will know who they are or will have seen something before or shortly after the attack on April 1.
– Sergeant Wayne Dudley
BREAKING: Two people have been arrested this evening on suspicion of preparing for acts of terrorism in the UK.
The pair – a man aged 24 and a woman aged 23 – were arrested in Reading and Wokingham respectively at 7.30pm.
West Mids counter terror officers made the arrests and say the pair didn't pose an imminent threat. More to follow: http://t.co/yEGgCahPtc
West Midlands Counter Terrorism officers have arrested a man and a woman on suspicion of preparing for acts of terrorism in the UK. The pair, aged 24 and 23, were arrested in Reading and Wokingham at 7.30pm this evening.
Officers say the pair didn't pose an imminent threat to the public.
Load more updates