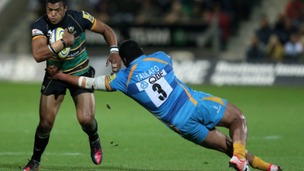 Northampton Saints will look to keep their hold on the top spot in this weekend's Aviva Premiership action.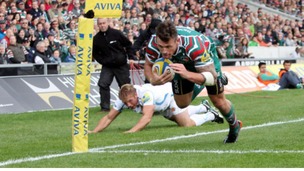 The Tigers travel to the Salford City Stadium to take on a Sharks team that are yet to win in the Aviva Premiership this season.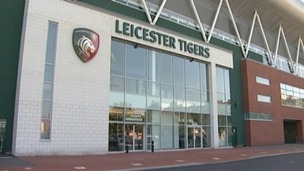 The Aviva Premiership fixtures for 2012/13 have been announced.
Live updates
Warriors' team coach fire on M5
Swansea players generously donated some of their equipment to Worcester Warriors after some of the team's kit was destroyed in a fire which engulfed their coach.
While everyone on board escaped unharmed, their kit was not so lucky.
Fortunately, the Ospreys generously offered up some of their own to allow yesterday's match to go ahead with just a 90 minute delay.
Investigations are ongoing into what caused the blaze.
Darryl Murphy has the full story.
Warriors' team coach fire on M5
An investigation is underway after a rugby team's bus was destroyed by a fire, as it traveled along the M5 in Gloucestershire.
The coach, which was being used by the Worcester Warriors, was destroyed in the blaze.
Club officials have told ITV News Central they are 'concerned' about how quickly the vehicle was engulfed with flames.
Advertisement
Warriors' team coach fire on M5
The Worcester Warriors' team coach was destroyed in a blaze as players and staff travelled to their afternoon match against Swansea.
The fire caused long delays on the M5 as fire crews tackled the flames, while the game was pushed back by 90 minutes.
Full story by Wesley Smith.
Warriors' team coach fire on M5
Thick plumes of black smoke billow into the sky as flames rage at the rear of the Worcester Warriors' official team coach in a video captured by a passing car.
The severe blaze was caught on camera by the passenger of the car, before emergency services arrived.
The coach caught fire as the team travelled along the M5 to Swansea for a match.
The video was uploaded to YouTube by Natasha Phipps.
Warriors' team coach fire on M5
Flames took hold of the Worcester Warriors' team coach as players travelled along the M5 this morning.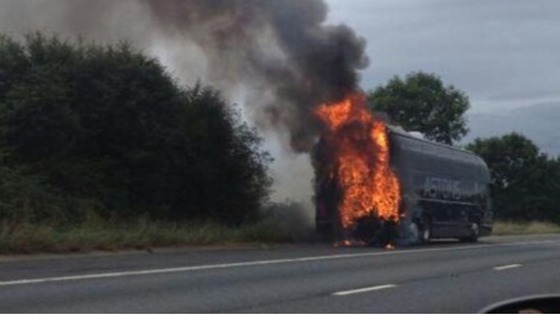 All staff and players are said to be safe and well. It's not yet known how the fire started.
The coach was reduced to little more than a metal shell after firefighters managed to put out the blaze.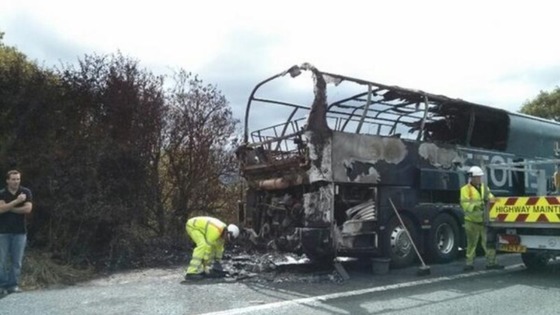 The match will now go ahead later than scheduled, at 4.30pm.
Warriors' team coach fire on M5
We'll see you all at the Liberty Stadium then! Ospreys v Warriors goes ahead with 4.30pm kick-off.
Advertisement
Warriors' team coach fire on M5
West Country (E)
Two lanes have now re-opened on the M5 southbound in Gloucestershire.
All lanes were closed between J14 B4509 (Thornbury / Falfield) and J15 M4 (Almondsbury Interchange) after Worcester Warriors' team coach caught fire.
Congestion is back to J13 A419 (Stroud).
Warriors' team coach fire on M5
West Country (E)
The Highways Agency website shows Southbound traffic on M5 is bumper-to-bumper as far north as 11A for Gloucester right down to coach fire site near Bristol.
They expect the road to start clearing from 12.30pm, but there are likely to be considerable delays for holidaymakers getting away for the Bank Holiday weekend. The A38 is also reported to be very busy in the area.
No Worcester Warriors players or staff are reported to be injured after their coach caught fire. Their match is rescheduled at Ospreys for 4.30pm.
Warriors' team coach fire on M5
Latest - The Warriors team bus caught fire on the M5 this morning. Discussions are taking place to determine whether the match will go ahead
Latest - All players and staff are safe and well. We will let fans know as soon as a decision regarding the match has been made.
Worcester appoint CEO
Worcester Warriors have appointed Charles Cameron as their new CEO.
He will take up his new position on Monday 13 May.
We are very pleased to have recruited Charles as CEO after a comprehensive and wide-ranging search.

A club such as Worcester faces many challenges in creating a sustainable business model and a higher position in the league and we need an experienced business leader in the CEO role.
– Anthony Glossop, Worcester's Chairman of the Board
Load more updates
Back to top