Live updates
Britain's Oldest Man Dies
Britain's oldest man Reg Dean has died, aged 110 years and 63 days. He was born in Staffordshire and a long-standing member of the Dalesmen male voice choir in Derbyshire.
He was the choir's life president, and helped to found the group in the 1980s.
When he turned 101, ITV Central spoke to the active choir member and his fellow singers.
Advertisement
Britain's Oldest Man Dies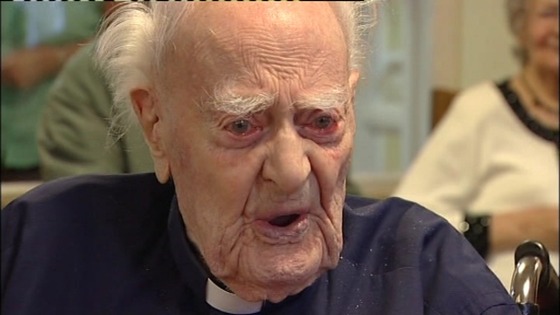 Reg Dean from Tunstall in Staffordshire has died aged 110 years and 63 days.
Speaking in 2011 he told ITV Central that there are three questions everyone should ask themselves.
Who am I?

Why am I here?

Where am I going?
He admitted, however, to not knowing the answers.
He was an army chaplain in Burma and was shot at by the Japanese.
He was born in 1902 and has lived through five monarchs. The Wright brothers achieved the first manned flight just after his 1st birthday, and the Titanic sank when he was ten years old.
Back to top