M42 Southbound lane is closed on exit slip road, queueing traffic due to broken down vehicle at J3A M40, congestion to J4 A34 / A3400 (Shirley / Dorridge).
Lane one (of two) closed.
Roadworks are now in place on the A38M Aston Expressway in Birmingham for 24 weeks start tonight.
There will be overnight closures to begin with.
Advertisement
Two lanes are blocked due to a crash on the M6 Southbound between J10 A454 / B4464 (Wolverhampton / Walsall) and J9 A461 (Wednesbury).
Lanes one and two (of four) are blocked.
There are severe delays on London Midland trains between Hereford and Birmingham via Worcester because of signalling problems.
Rail replacement services are in operation.
Roads approaching the Birmingham Children's Hospital have been closed to help a helicopter landing in the area: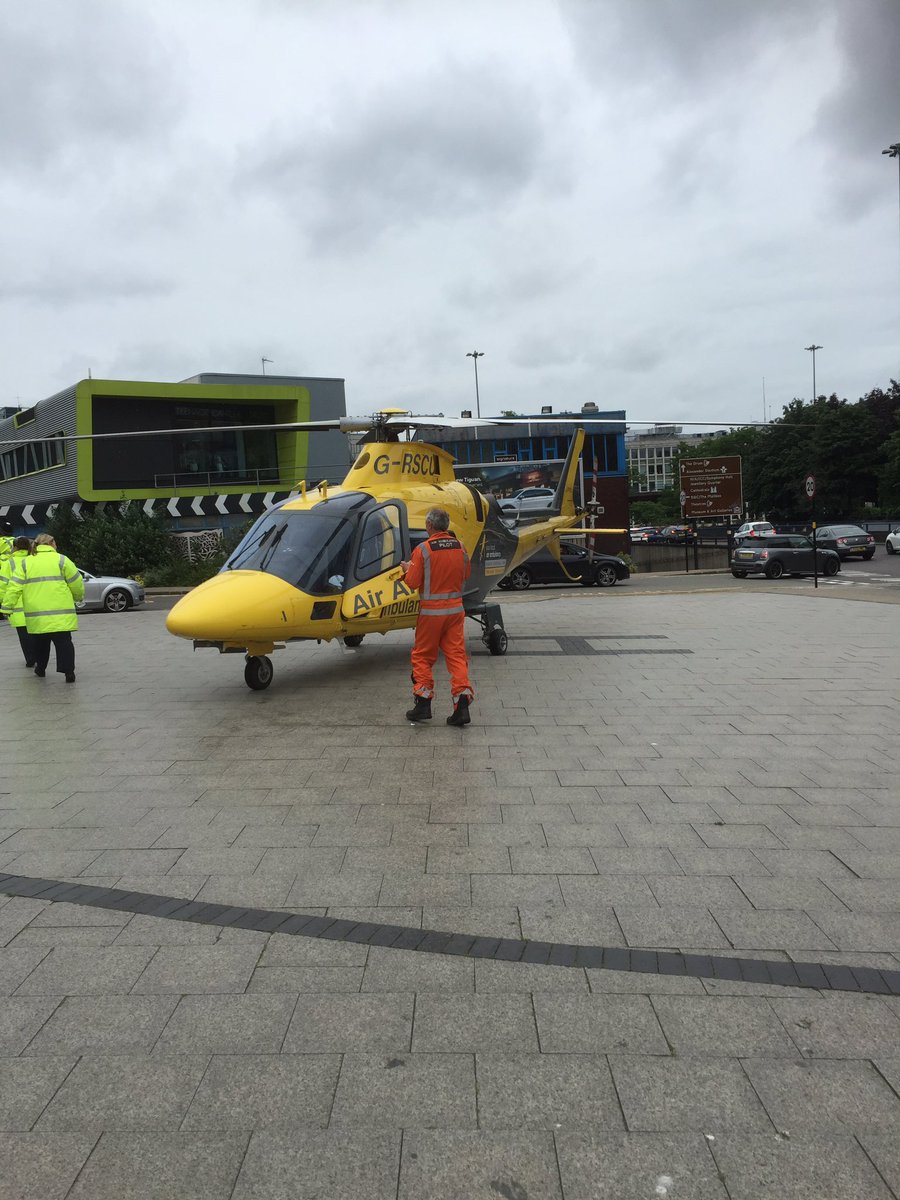 Police are appealing for information after a passenger on a bus travelling to Derby assaulted two women.
The first assault happened when a woman caught a bus travelling from Wirksworth to Derby at about 7.30am this morning.
During the journey, she assaulted an 80-year-old woman by banging her head on a seat.
When the bus reached Belper, the offender stepped off and assaulted a second woman by pushing her to the floor.
The offender then continued her journey to Derby.
She was described as white, in her mid-20s, with shoulder length dark hair. She was wearing a tracksuit and multi-coloured socks, and was carrying a Nike sports bag.
Police believe that both attacks were unprovoked and they want to hear from anyone who may have seen the woman in Derby since this morning.
Anyone with information should call PC Matt Moore on 101, quoting incident 181 of June 25.
Advertisement
Accident on the hard shoulder on M69 Northbound between J2 B4669 (Burbage) and M1 J21 / A563 (Leicester).
Lane three (of three) was briefly blocked. Lane three (of three) is blocked on the Southbound side due to debris in the road.
Two lanes are blocked and traffic is queueing due to broken down lorry on M42 Southbound at J4 A34 / A3400 (Shirley / Dorridge), congestion on M42 to J6 A45 (Birmingham Airport / Coventry).
Lanes one and two (of three) is blocked after a lorry has broken down in lane two.
Traffic was already slow due to an accident earlier between J3A and J3.
Delays and queueing traffic after an accident involving three vehicles on the M6 Southbound around J3 A444 / B4113 (Nuneaton / Bedworth / Coventry).
Congestion goes back to the J3a M6 Toll.
The A606 Nottingham Road is blocked in both directions due to a landslip between Old Dalby Lane (Nether Broughton) and Clawson Lane (Ab Kettleby).
Load more updates