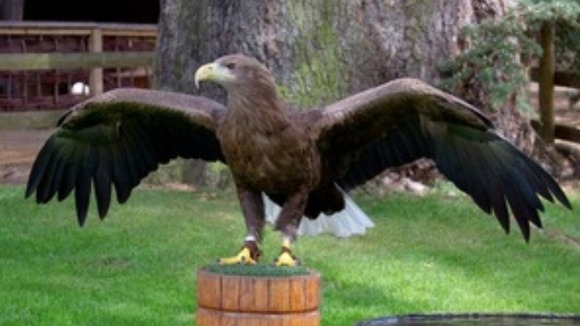 Warwick Castle's bird handler Chris O'Donnell has said the search for the missing eagle Stan is ongoing following reports it had been called off.
Stan the white tipped sea eagle flew away from Warwick Castle four months ago during a show.
Many sightings lead Chris and his team to the bird of prey since he disappeared but have been unable to catch him.
The White Tailed Sea Eagle which has a wing span of 6 and a half feet, has been at the tourist attraction since 2004, he has flown away before but only for 2 or 3 hours.
The last person to see Stan was his handler Chris, one month ago in Daventry.
Chris said "we haven't had any sightings for four weeks so we don't know where to look, as soon as we have a report of a sighting we will follow it up. If Stan was safe in the wild we would be happy to leave him but there are hazards, like if he is scavenging for food by a road for example."