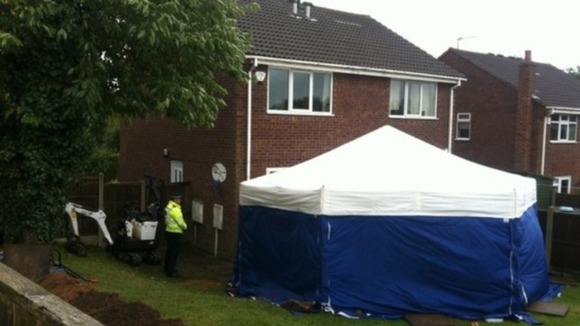 Nottinghamshire Police, who are investigating the remains of two bodies found buried in a back garden in Mansfield, say a bone analysis 'further supports' their theory that they are those of Patricia and William Wycherley.
Detectives are urging anyone who knew Patricia Wycherley, formerly known as Patricia Moore, to get in touch after an anthropologist report revealed the remains have 'distinctive features', which Mrs Wycherley had.
The analysis showed the first set of remains were most likely that of a well-built white woman, who was aged 40 or older and 5ft 5ins to 5ft 7ins tall.
The report also found that a second set of remains are believed to have belonged to a man who was older than 60, well-built and between 5ft 7ins to 5ft 9ins tall.
The force has now launched a murder inquiry into the case to discover what happened to the Wycherleys, an elderly couple who lived at the property during the 1990s.
Police confirmed that a formal identification may take some time. While the results from a Home Office post-mortem examination, conducted on Friday 11 October, to establish cause of death, are yet to be released.