A police officer who fought and subdued a violent car thief with the help of his dog has praised the animal's bravery.
Despite being hit, strangled and even bitten by Trevor McKenzie, PD Gino refused to give up and eventually the prolific crook was arrested.
His handler, PC Nigel Weston, said he had "no doubt" that McKenzie was trying to kill Gino in his attempts to get away.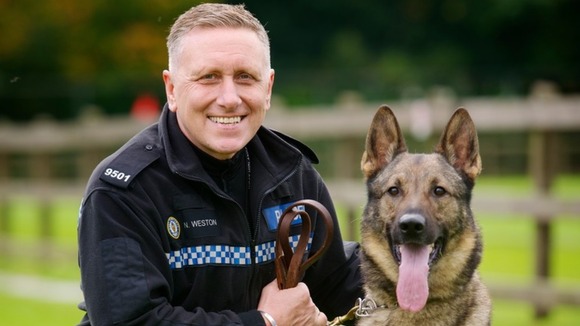 Gino was awarded West Midlands Police's Police Dog Action of the Year prize yesterday.
PC Weston said:
There's no doubt in my mind McKenzie was trying to kill Gino. He lashed out repeatedly at the dog and even bit him on the neck.

Gino demonstrated complete courage and determination to protect me and keep the offender at the scene until back-up arrived.
[McKenzie] ignored my calls to stand still and tried climbing a fence, but Gino grabbed hold of a leg and pulled him down.

He grabbed hold of Gino's neck collar and twisted it in an attempt to strangle him - I could hear the dog choking but he refused to let go.
I struck him several times but he continued lashing out – he was in a frenzied state and it later emerged he was high on drink and drugs.