Teenage education activist, Malala Yousafzai, has been awarded the EU's Sakhrov Prize for freedom of thought at the European Parliament in Strasbourg this morning.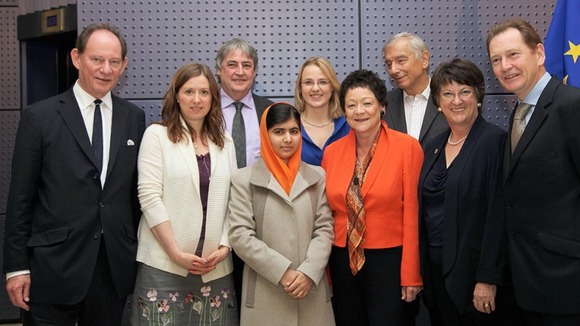 Before the ceremony, Malala met with Birmingham MEP, Phil Bennion and members of the Alliance of Liberal Democrats for Europe (ALDE) group, who nominated her for the prize.
Mr Bennion said:
"Malala is an inspiration for millions. We nominated her for the European Union's highest award not only for her incredible work before she was brutally attacked, but for the tremendous courage she has shown since in continuing to fight for girls' right to education around the world."
Sir Graham Watson, a Liberal Democrat MEP and leader of ALDE, said:
"This prize is not just for Malala but for the millions of other girls and boys worldwide, Muslim and non-Muslim, who like her have been denied their universal right to education. She now personifies the fight for that right with her 'weapons of books and pens'."