A new campaign, highlighting the dangers of bringing flares and smoke bombs into football grounds, claims children as young as eight have been used to smuggle the pyrotechnic devices into stadiums.
The Premier League, Football League and the FA are working in unison in light of the growing number of incidents in recent months. Earlier this year, a 15-year-old boy suffered lung damage from a smoke bomb thrown during Wigan Athletic's match against Aston Villa.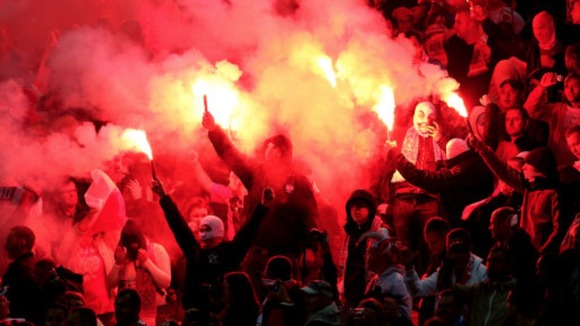 The Premier League said:
"A disturbing element of increased pyrotechnics has been the involvement of children, whereby it is not uncommon for 'mules' to bring the pyrotechnics into a ground on behalf of others."
Fireworks are illegal at football matches, but more recently a linesman was struck by a smoke-bomb during Tottenham Hotspur's encounter at Aston Villa in October this season.