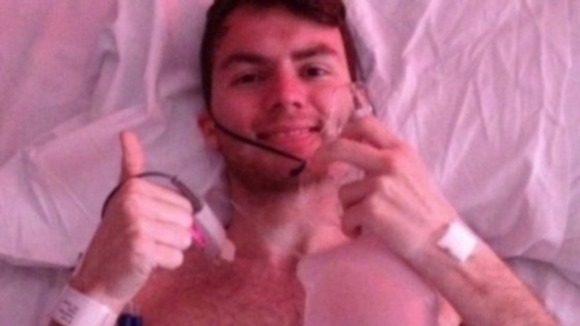 A charity single inspired by Stephen Sutton - the charity fundraiser who died from cancer - could top the charts this week, after his mother urged: "Let's all get it to number one!"
The song is called 'Hope Ain't a Bad Thing' by The Neon Brotherhood. The group are from the same town as Stephen - Burntwood in Staffordshire. It currently sits at number two, just a day after it was released.
Thousands turned out to pay their respects to Stephen at a two-day vigil at Lichfield Cathedral last week. The 19-year-old touched the hearts of people across the world during his battle with bowel cancer. His fundraising page now shows a total of almost £4.2million.
Stephen's mother, Jane, posted on Facebook:
Last weekend, The Neon Brotherhood comprising of 40 fantastic musicians from Neon Sound Studios in Burntwood, who either knew Stephen, rehearsed with him, or were just simply inspired by him, came together to write and record a charity single in Stephen's memory.
After four days of hard work and determination the single, entitled Hope Ain't A Bad Thing, has now been made available to download online. All proceeds from this single will go straight to the Teenage Cancer Trust.
I would personally appreciate it if you could click the link below to purchase this song and lets all get it to No. 1. Thank you all, Jane x.