These are the latest pictures from the Fort Shopping Park in Birmingham showing the damage caused after a tower was blown down in strong gales last night.
The sign, which is tall enough so it can be seen by vehicles travelling along the elevated section of the M6, came down in winds of up to 70mph last night as Storm Barney swept across the region.
The retail park is open today but the overground car park is closed.
Advertisement
The Fort Shopping Park in Birmingham has confirmed the retail park is open today despite a tower in its car park collapsing during heavy gales last night.
In a statement on its website this morning a spokesperson said:
The force of Storm Barney unfortunately brought down The Fort Shopping Park Tower last night however, we can confirm nobody was close by or injured and there was also no damage to any vehicles.

The park remains open and all retailers will be trading as normal with vehicles being directed into the underground car park which houses 700 spaces.

The area has been secured to enable the Tower to be dismantled and removed today.

The Fort Tower stood at approximately 150ft and has been a visual reference point for the out of city shopping park since opening in 1996. It is the first time it has ever suffered any structural damage.

We will be sure to update everyone through our social media channels.
– The Fort Shopping Centre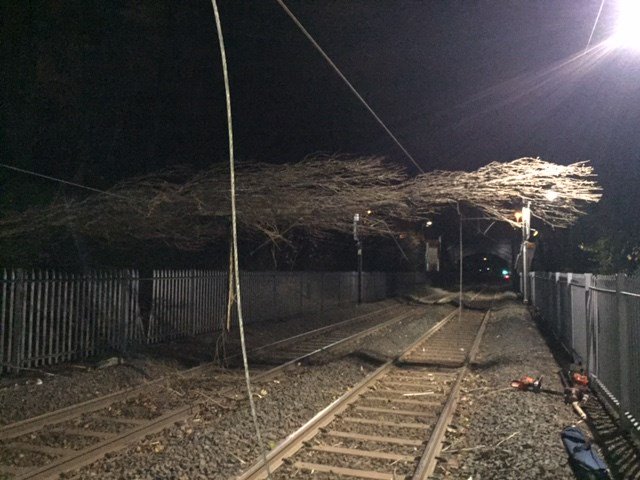 A fallen tree blocking the Cross City line damaging over head cables.
This shot shows the roof taken off a house in Acocks Green in Birmingham.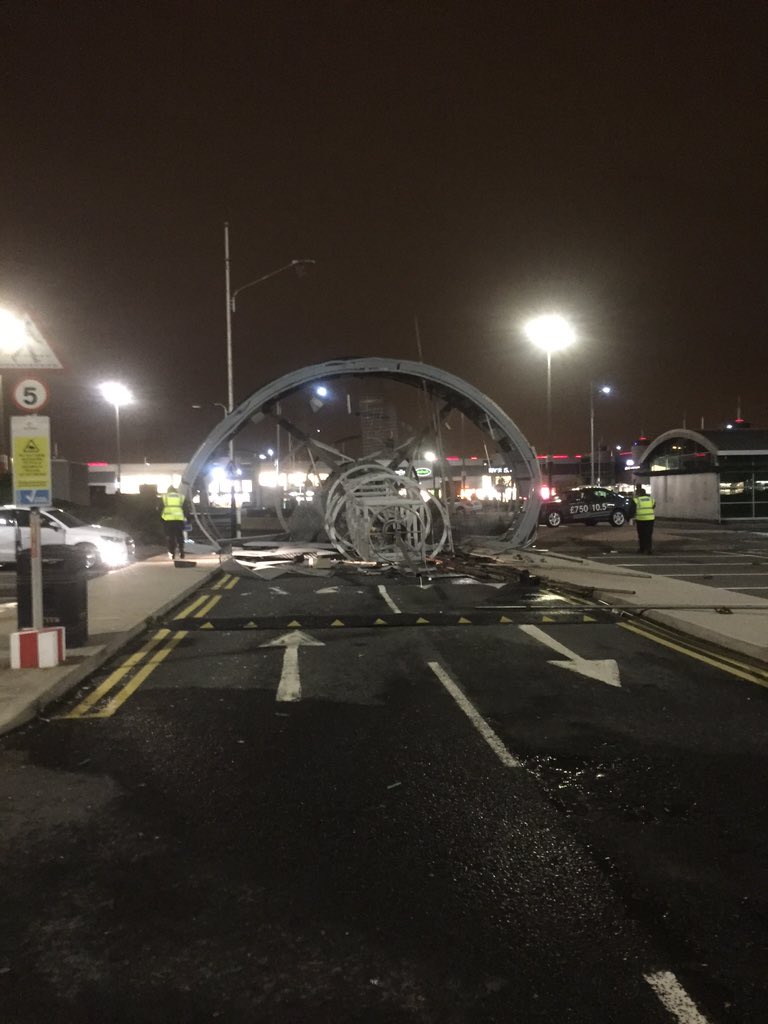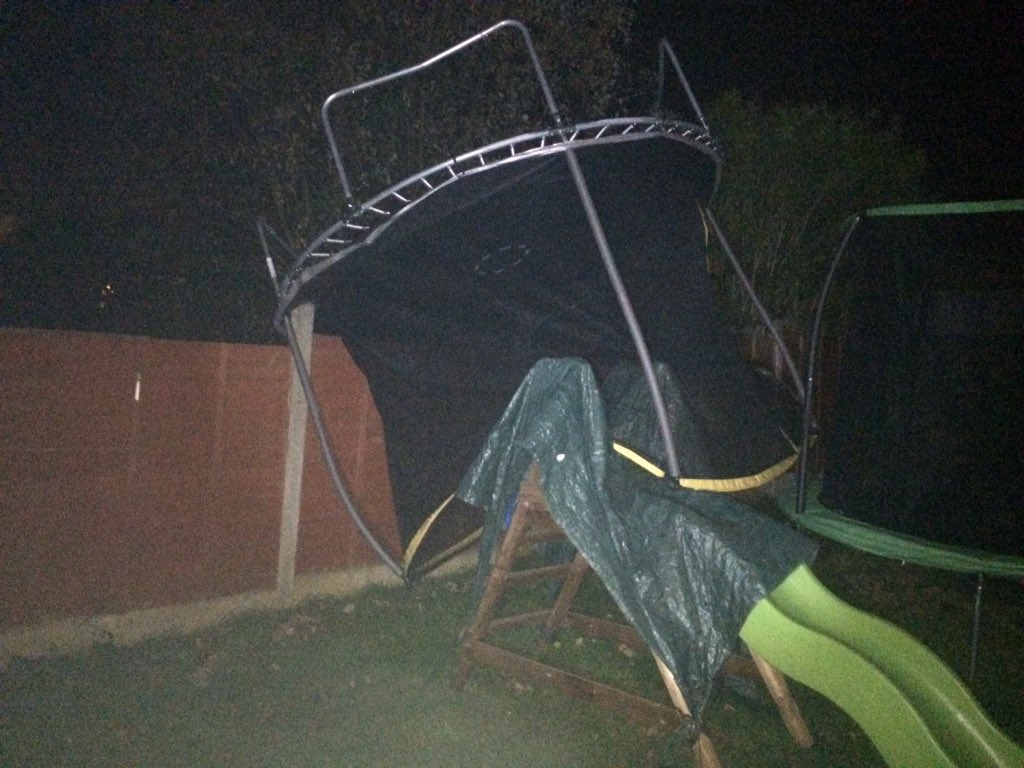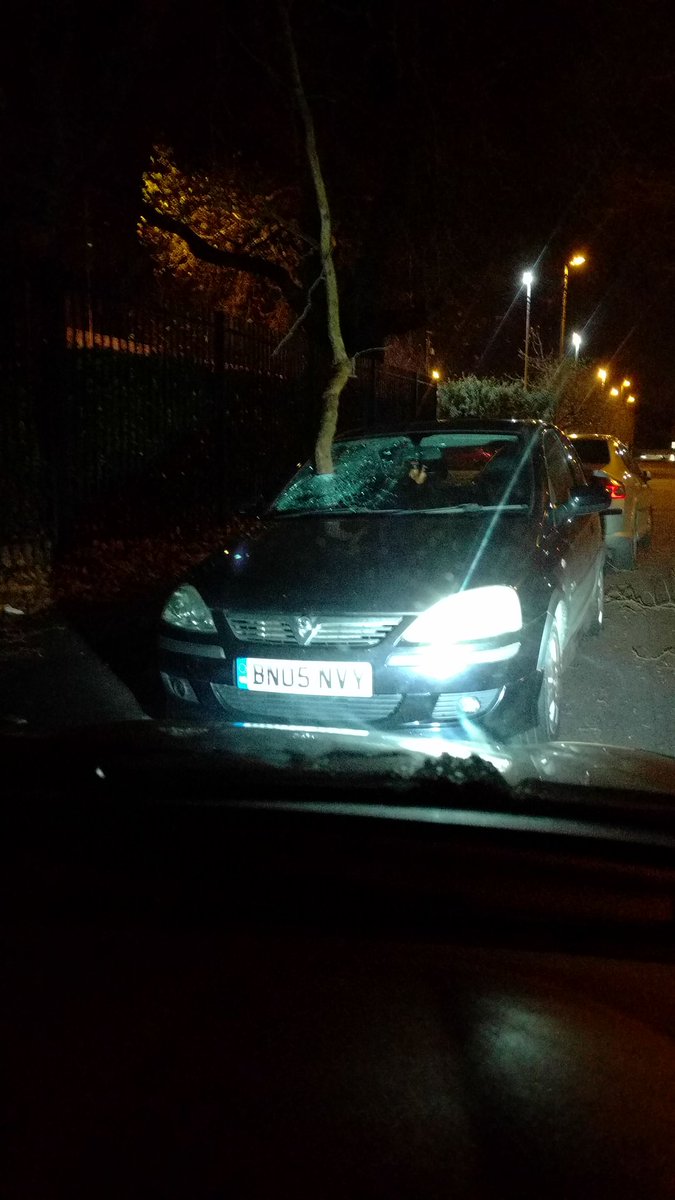 A shop front has been entirely ripped off in Nottingham city centre during strong gales brought by Storm Barney last night.
The hoardings came down on Carrington Street, hitting a bus stop.
If you have any pictures of the damage or videos of last night's strong gusts send them in to us at centralnews@itv.com.
Your pictures will be used online and could be on TV!
There are delays of up to 80 minutes on the Southbound M6 and 60 minutes on the Northbound carriageways at Junction 6 Spaghetti Junction, as the clear up operation continues after Storm Barney.
There were gusts of up to 62mph last night which brought lamp posts down on the motorway.
Advertisement
Fallen trees on rural roads across the region are causing travel disruption for commuters this morning after Storm Barney.
This shot of Icknield Street on Weatheroak Hill in Worcestershire is typical of scenes all over the West Midlands after gusts of up to 62mph caused damage and disruption.
More than 2,500 properties are without electricity after power lines were brought down, and there are long delays on the M6 after lamp posts were blown over.
The Fort Shopping Centre in Birmingham is due to make an announcement later after a tower at the retail park toppled over during Storm Barney last night.
The highest gusts in the region were recorded at 62mph. No one was hurt when the structure came crashing down shortly after 9pm last night.
There is no word yet from the retail park on whether it will be open today.
More than 2,500 properties across the West Midlands are without power after Storm Barney.
Power lines have been brought down across the region, with Shropshire being worst affected.1,400 properties and homes are currently cut off from electricity across the county.
There are major delays at Junction 6 of the M6 this morning after Storm Barney.
Two lanes are closed in both directions after over running roadworks, and emergency repairs.
Load more updates