Hurricane force winds exceeding 80 MPH tore into the side of the factory at the JCB World HQ in Staffordshire this afternoon.
Read the full story ›
Earlier this afternoon 85mph winds caused disruption in Shropshire. Many roads were closed as a result of trees falling down, including one which in Shawbury close to the RAF base.
A tree has fallen on a car & is blocking the carriageway by the entrance to RAF Shawbury on the Shawbury to Wem road.
Advertisement
The Grinshill Animal Rescue Centre near Shrewsbury has reported damage to some of its external enclosures which house many of the reception centres dogs.
It comes after the MET office issued a yellow weather warning for strong and high winds for much of the West Midlands for the rest of the afternoon.
Thunderstorms have swept into Birmingham and the West Midlands today - with some residents reporting sightings and property damage by Tornadoes. Severe winds of 94mph hit the west coast and Wales this morning, causing traffic chaos and flattening trees and fences.
Torrential rain and winds of 70mph have been reported in some areas. There were also reports of tornadoes in Leamington Spa and Shropshire and hail storms in Stoke.
Footage from one resident in Meir, Stoke on Trent, shows the extent of the damage to gardens with reports that up to 20 houses have been damaged in one street alone. Meanwhile Ella Knight tweeted this video of the unfolding weather: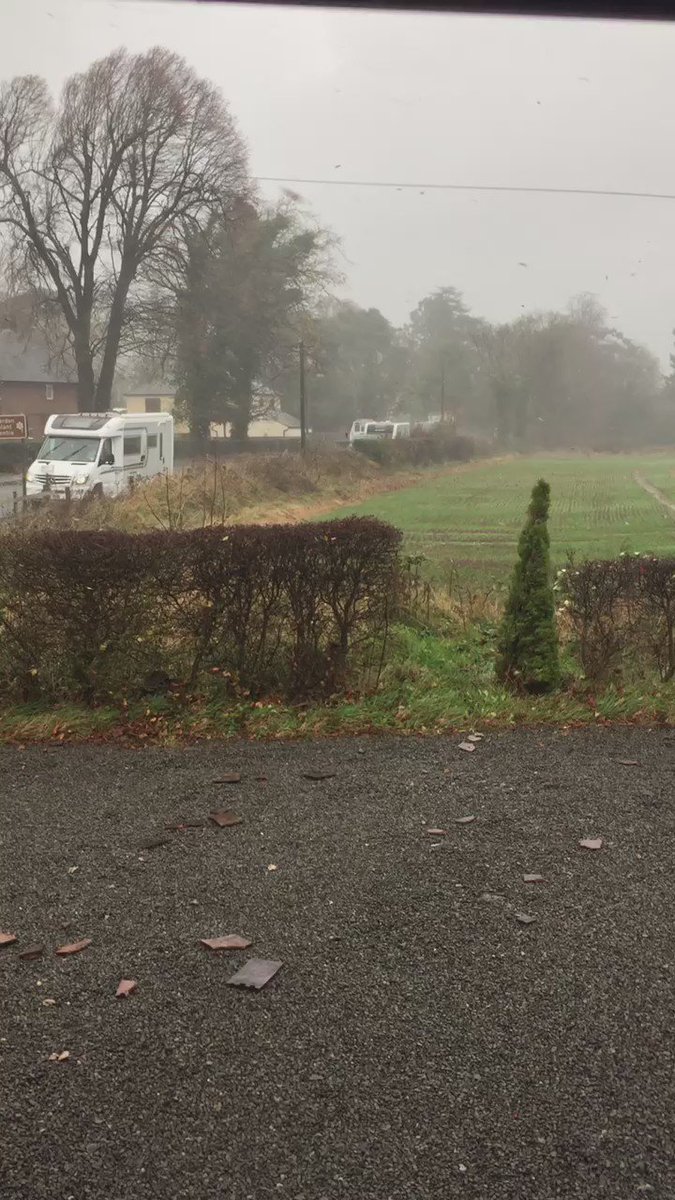 Parts of the Midlands have a weather warning for snow from midday today as a chilly front moves across the region.
The Met Office has issued a yellow alert for snow in Staffordshire, Nottinghamshire, Derbyshire, Lincolnshire, Leicestershire, Nottingham, and Rutland.
The rain is likely to turn to snow in places later today and into Wednesday morning.
Parts of the Midlands have a weather warning for snow tomorrow and Wednesday as a chilly front moves across the region.
Read the full story ›
Advertisement
The midlands is expected to shiver through another chilly week after air moving in from the Arctic sent temperatures down to single digits.
Read the full story ›
A yellow weather warning for fog is in place across the Midlands this morning.
The Met Office is warning motorists of difficult driving conditions.
The warning is in place until 10:00.
There's thick fog across much of the West Midlands. Leave more time for your journey and please take extra care - h… https://t.co/LXZBjIEdqj
At 2am on Sunday morning (30th October) the clocks will go back an hour to Greenwich Mean Time.
This means an extra hour partying on Saturday night, or an extra hour in bed on Sunday morning!
Some very short days ahead now with dark nights and dark mornings.
The Winter Solstice happens on the 21st December and that's when the days start drawing out again (shortest day).
Load more updates