The Met Office has issued a yellow warning of rain for the Midlands this morning.
Large amounts of rain could fall in a short amount of time, possibly causing some disruption due to localised flooding.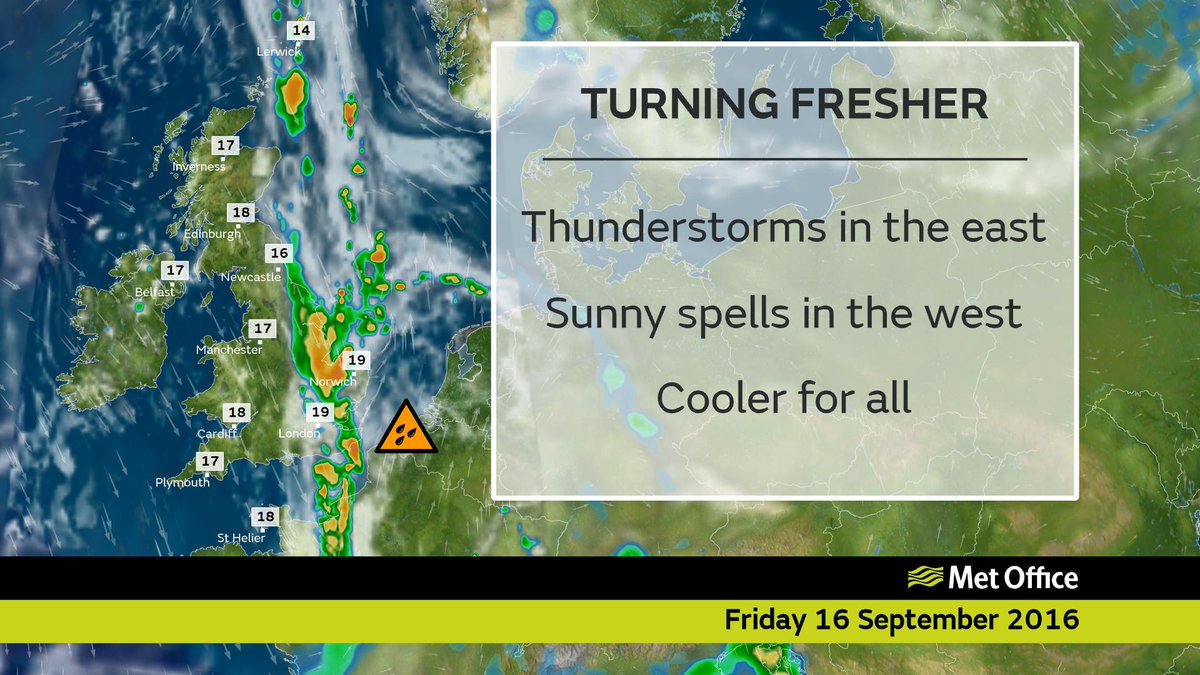 Weather warnings have been issued as thundery showers, torrential downpours and potential flash flooding look set to hit parts of the UK.
Read the full story ›
Advertisement
Brightening up today, but turning quite chilly tonight.
A cloudy start, with some rain probably still affecting eastern counties. It will turn brighter from the west, with the best of the sunshine through the afternoon. However, it will feel a little cooler than of late. Maximum temperature 19 deg C.
Tonight: Evening sunshine will give way to a dry night with prolonged clear periods, although a few fog patches may form by dawn. Turning chilly, especially in more rural locations. Minimum temperature 7 deg C.
Tomorrow: A chilly, but sunny start. Cloud will increase through the day, and while most places will remain dry, the odd shower is possible, and it will also become breezier. Maximum temperature 20 deg C.
Outlook: A few showers are possible on Monday and Tuesday, with perhaps a greater risk on Wednesday. Some sunshine in between, with temperatures taking a marked warming trend.
The cause of an evacuation at a Tesco store on Saturday afternoon was a burst water pipe, the retailer has confirmed.
There were reports yesterday that lightning had struck the store causing water to pour in during heavy thunderstorms above the shop in Boston in Lincolnshire.
But Tesco say that it was in fact a water pipe that runs just below the roof that had burst. It happened in the late afternoon yesterday, and staff were able to clean up the water by 9pm, when the store reopened.
Shoppers at a Tesco store in Boston in Lincolnshire have reported that the building has been evacuated because of flooding.
Read the full story ›
The Met office has issued a weather warning for heavy rain, possible thunder and lightning. Luckily for us it won't last.
Read the full story ›
Advertisement
Great day spent at Donnington race track, ridiculously hot weather and Formula E racing cars that do zero to sixty in 3 seconds.
With Triple A passes around our necks - Access All Areas - We came.. We saw..We filmed.
Although unplugging British racing hopeful Sam Bird's car, may get me into trouble - have a look!!
'Animals that feed on fruits and veg get fruit ice lollies while the carnivores get ice blocks made out of blood instead of water'
Read the full story ›
Bulwell Police in Nottingham rescued the little dog after finding it in a hot car with no air and no water.
This is what happens when irresponsible dog owners leave their poor dogs in hot cars with no fresh air and no water! https://t.co/DUARdmOq9R
Public Health England has issued advice on how to stay safe over the next few days as a heatwaves sweeps across the region.
The watchdog says keeping safe in the sun is mostly common sense but warns the high temperatures can bring trouble for those with underlying health risks.
"Each year we hear stories of people who have fallen seriously ill because, even though it's hotter they may wear clothes which are too warm for hot weather, they may not drink enough or just try to do too much," said Dr Angie Bone, head of Extreme Events at Public Health England.
Public Health England issued advice:
Look out for others, especially older people, young children and babies and those with underlying health conditions
Drink plenty of water - sugary, alcoholic and caffeinated drinks can make you more dehydrated
Close curtains on rooms that face the sun to keep indoor spaces cooler and remember it may be cooler outdoors than indoors
Open windows when it feels cooler outside and it's safe to do so
Never leave anyone in a closed, parked vehicle, especially infants, young children or animals
Try to keep out of the sun between 11am to 3pm
If you have to go out in the heat, walk in the shade, apply sunscreen and wear a hat
Avoid physical exertion in the hottest parts of the day
Wear light, loose fitting cotton clothes
Load more updates