Public Health England has issued advice on how to stay safe over the next few days as a heatwaves sweeps across the region.
The watchdog says keeping safe in the sun is mostly common sense but warns the high temperatures can bring trouble for those with underlying health risks.
"Each year we hear stories of people who have fallen seriously ill because, even though it's hotter they may wear clothes which are too warm for hot weather, they may not drink enough or just try to do too much," said Dr Angie Bone, head of Extreme Events at Public Health England.
Public Health England issued advice:
Look out for others, especially older people, young children and babies and those with underlying health conditions
Drink plenty of water - sugary, alcoholic and caffeinated drinks can make you more dehydrated
Close curtains on rooms that face the sun to keep indoor spaces cooler and remember it may be cooler outdoors than indoors
Open windows when it feels cooler outside and it's safe to do so
Never leave anyone in a closed, parked vehicle, especially infants, young children or animals
Try to keep out of the sun between 11am to 3pm
If you have to go out in the heat, walk in the shade, apply sunscreen and wear a hat
Avoid physical exertion in the hottest parts of the day
Wear light, loose fitting cotton clothes
With Birmingham set to bask in the sunshine, the city council has warned people to stay out of ponds, lakes and canals across the city.
Read the full story ›
Advertisement
Midlands could hit almost 90F (32C) on Tuesday followed by storms, heavy rain and the risk of flash flooding later.
Read the full story ›
Des Colman writes: "Today my drive to work brought something to the forefront of my mind - see if you agree."
Read the full story ›
Advertisement
Des's alphabet guide to our weather! He starts at the beginning with some fascinating facts about all things starting with 'W'.
Read the full story ›
Parts of the Midlands are getting more heavy rain this evening. The radar picture above shows some places covered in red spots, which means they are getting up to 12 mm an hour of rainfall.
Not as bad as last few days but still a few beefy showers about. Evesham currently getting a soaking. https://t.co/4dbvzkvfCI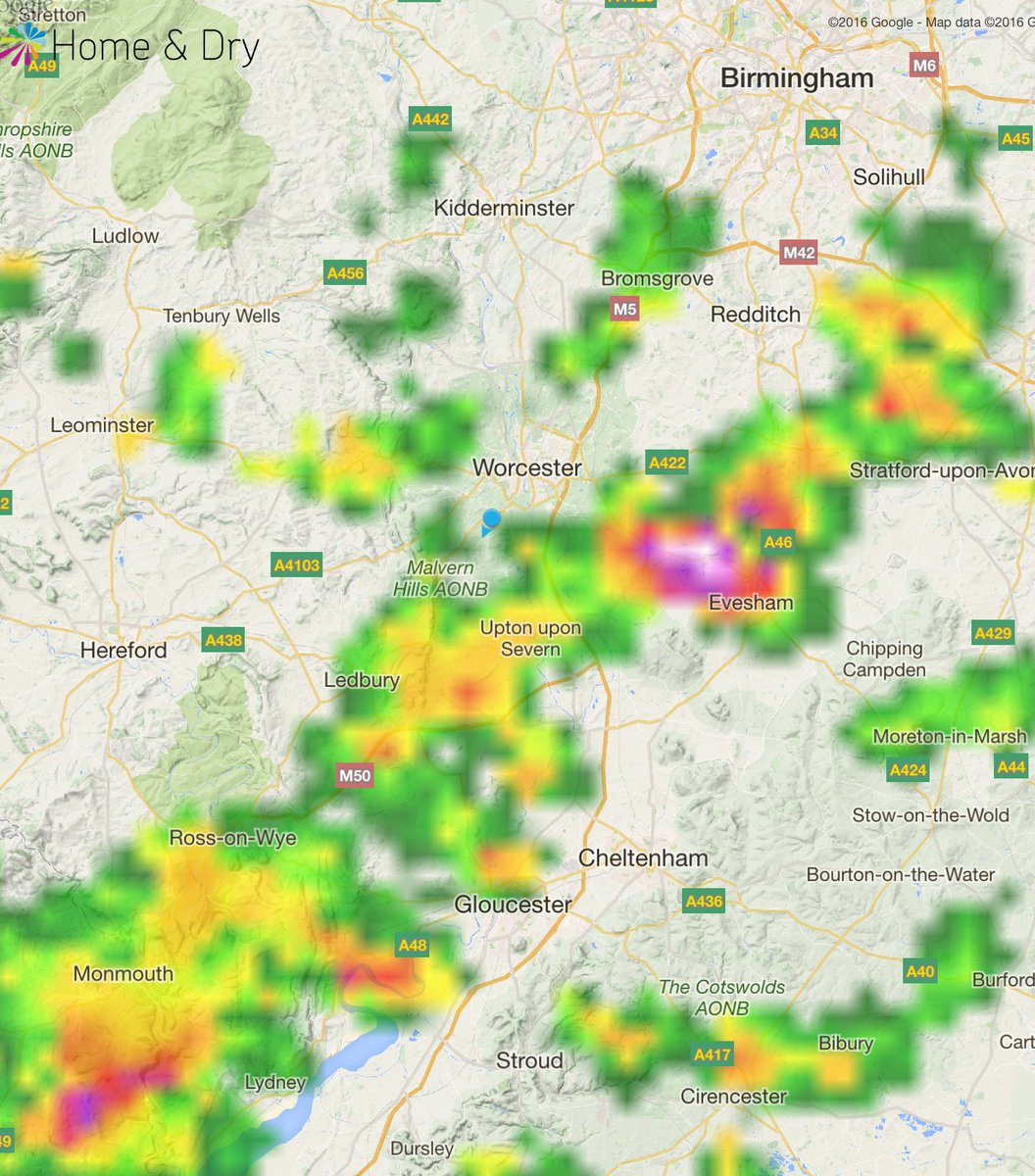 Torrential rain has brought further havoc to the region with people trapped in cars and homes waterlogged by what's been described as the worst flooding in eight years.
People in South Birmingham were the worst affected and West Midlands fire service said it received nine hundred emergency calls last night.
Cars floated down streets, railway stations looked like canals, and drains became fountains. A pet hamster also had a very lucky escape as the floodwaters overwhelmed one home.
Our reporter Chris Halpin was there as the flooding hit and returned again today as families and businesses reflected on a night they won't forget.
A motorist in Long Eaton was forced to abandon his vehicle after severe flooding overnight.
There are currently 22 flood warnings and alerts in place across the Midlands.
Load more updates