Every pupil from Guernsey's La Mare De Carteret School has written a letter to try and convince deputies a redevelopment is needed.
This morning they were handed to the politicians who are deciding whether or not to spend almost £60 million on a rebuild.
In the letters children described the difficult learning conditions, complaining about the ceilings and the smell of damp in the classrooms.
Advertisement
One student has drawn a picture of the old and new La Mare de Carteret schools, asking Guernsey politicians for some storage in the new building and "maybe some lockers... and our own tables."
Letter from a pupil of la mare de carteret urging politicians to go ahead with the £60m rebuild http://t.co/11wahmvZA4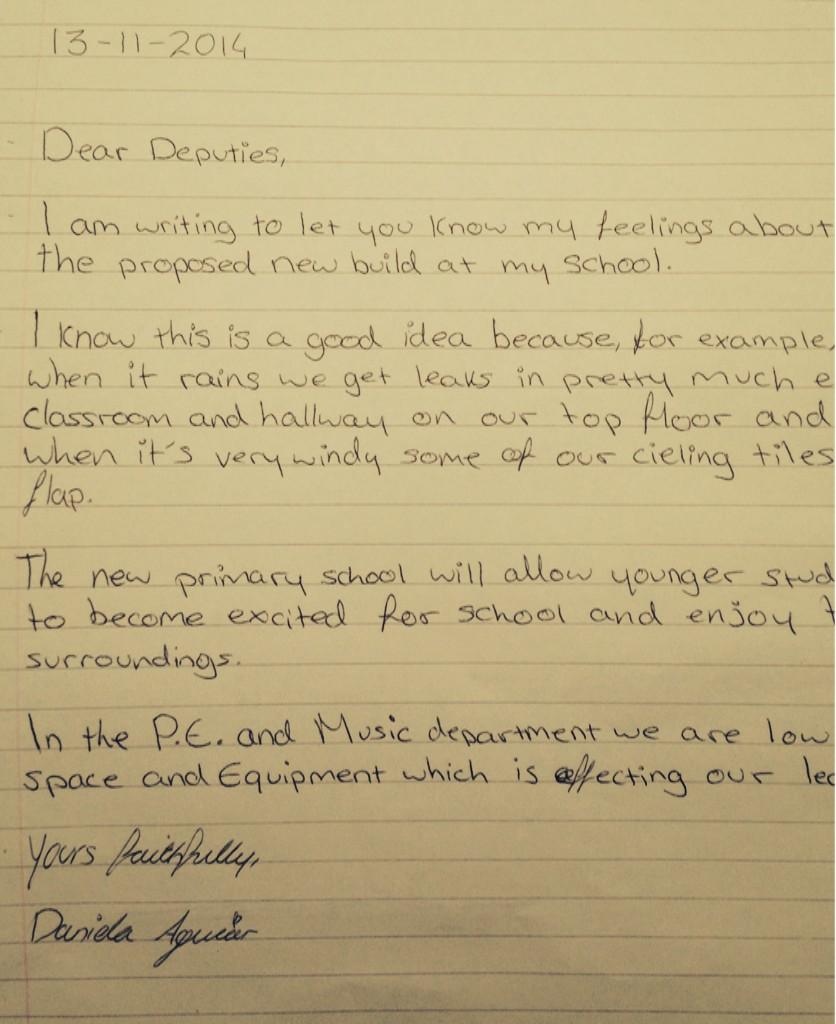 Guernsey's politicians will debate the proposed £60m refurbishment of La Mare de Carteret school today.
This morning, the school's Assistant Head Teacher Dan Cleary will hand over 400 letters to States members urging them to support the move.
Deputies must decide if they think the project is value for money.
Guernsey States are set to debate whether to approve funding for the redevelopment of the La Mare de Carteret High School and La Mare de Carteret Primary School at its meeting tomorrow.
The two schools cater for more than 1,000 children aged between 4-16 years old.
The new plans include a club-level competition indoor sports hall and a new centre for autism support service on the island, along with the new school facilities.
The state of the current facilities at the school have been bemoaned by those that use them, with current Year 10 student Megan Lumb saying they deserve better:
Guernsey States are being asked to create a formal register for driving instructors in the island.
It's after the UK's chief driving examiner warned the island that not doing so is putting them at risk. At present, anyone can set up a business and become a teacher.
If the request is passed in December, those wishing to instruct will have to pass an examination and go through a criminal records check.
The reasons for the move:
To protect health, safety and security
To create fair and contractual arrangements
To encourage those entering the profession to be properly qualified
To maintain an international recognition of the Guernsey driving licence
Advertisement
A bid to give Health & Social Services an extra £1.25million has been rejected by the States.
Former HSSD Minister Mark Dorey called for more funding for the department, which is currently responding to severe criticism by the Nursing & Midwifery Council because of failings in maternity services.
But Deputy Dorey said the extra money was needed to fund a range of existing services.
The newly appointed Health Minister Paul Luxon was amongst those to oppose the proposal for more funding.
He also asked Deputy Dorey to withdraw another motion for £1million specifically to pay for improvements in maternity services, saying his new board needed to assess fully the needs in that area before determining the funds that would be needed.
The bid to get an extra £1.25M for Health by ex-board is lost, by my count
Chief Minister says 'let new Health board do hollistic review of funding needs' rather than give them more money today
Deputy Hunter Adam speaking now, so we've heard from 3 Health Ministers past and present on health funding already today in the States
Budget debate is very health-focused. Is part of the root cause of the crisis at the department a simple lack of funding?
Guernsey is due to decide on its States spending today.
The 2015 budget includes increases in alcohol, fuel and tobacco duties. There's also a 15% increase in Domestic Tax on Real Property rates and a freeze in personal income tax allowances.
Members have been debating the budget since Tuesday.
Load more updates