Waitrose has announced plans to create 2,000 extra jobs in 2015.
The supermarket said the positions would be in new and extended shops as well as an e-commerce grocery depot opening this year.
From spring, the retailer is opening 14 new shops including seven new supermarkets and seven Waitrose convenience stores.
The new stores will be in Oxford, Guildford, Basingstoke, Wollaton in Nottinghamshire, Milngavie in Dumbartonshire, Bagshot in Surrey,and Kings Cross, which will also house a new cookery school.
Smaller outlets will open in Heathfield in East Sussex and a further six locations in the south east.
Waitrose Director of Development Nigel Keen said: "Last year many of our branches received more than 10 applications for every vacancy - so we're delighted to be able to create an additional 2,000 roles in 2015."
It looks like panda-monium in the panda enclosure at a conservation centre in China.
Read the full story ›
Advertisement
The West Midlands enjoyed the biggest fall in unemployment of any region in the UK, with a drop of 34,000 people.
Meanwhile, Wales bucked the trend, with a rise of 9,000 in the three months to November. The East Midlands, East of England, South East and Scotland also reported a rise.
West Midlands: -34,000 (173,000 unemployed; 6.3% unemployment rate)
North East: -9,000 (110,000 unemployed; 8.5% rate)
South East: -8,000 (207,000 unemployed; 4.5% rate)
South West: -7,000 (120,000 unemployed; 4.4% rate)
Yorkshire and the Humber: -6,000 (183,000 unemployed; 6.8% rate)
North West: -4,000 (229,000 unemployed; 6.5% rate)
London: -4,000 (298,000 unemployed; 6.5% rate)
Northern Ireland: -3,000 (50,000 unemployed; 5.8% rate)
East Midlands: +1,000 (129,000 unemployed, 5.5% rate)
East of England: +1,000 (153,000 unemployed; 4.9% rate)
Scotland: +7,000 (158,000 unemployed; 5.7% rate)
Wales: +9,000 (103,000 unemployed; 7.0% rate)
Government leaders have welcomed news that unemployment in the UK has fallen to its lowest level in more than six years - and say welfare reforms played an "instrumental" part.
The number of jobless fell by 58,000 in the three months to November, meaning the number of people out of work has dropped to 5.8 per cent - down from 7.1 per cent 12 months previously.
Work and Pensions Secretary Iain Duncan Smith also welcomed the news, and said the government's welfare reforms had played an "instrumental" part in getting more people into work.
We have reached an important milestone in this country's jobs-led recovery.

We know that British people want to work hard and get on, but all too often in the past the welfare state hindered rather than helped - thwarting ambition and killing off hope.

We put an end to that and now the number of people claiming the main out-of-work benefits is the lowest for a generation, and there are record numbers of people in work.

Thanks to our long-term economic plan, businesses are feeling confident about the future. Jobs are being created and salaries are rising, meaning that increasing numbers of people are feeling the security and hope for the future that comes with a regular wage.
– Iain Duncan Smith, Work and Pensions Secretary
The number of people employed in the UK has risen by more than 500,000 in 12 months, according to the latest figures.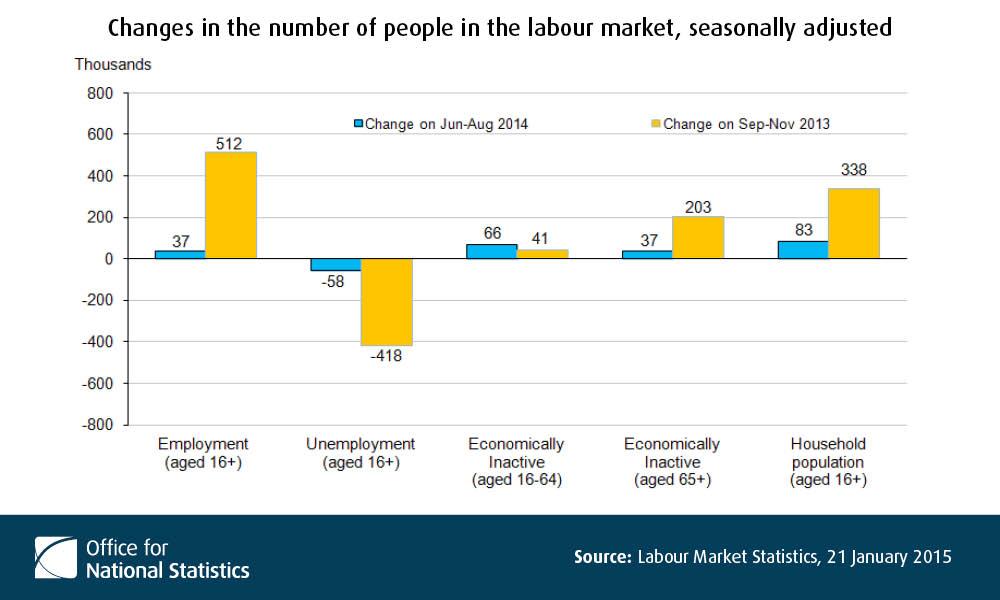 The Office for National Statistics said there were 512,000 more people in work in the three months between September and November 2014 than in the same period the previous year.
Around 37,000 more people were in work compared to the previous three months, keeping the employment rate at 73 per cent - up from 72 per cent in 2013.
Unemployment fell by 58,000 in the three months to November, down to 1.91 million - its lowest level in more than six years, official figures have revealed.
The figures, from the Office for National Statistics, also showed the number of people claiming jobseeker's allowance fell by 29,600 - down to 867,000 - last month.
Average earnings increased by 1.7 per cent in November compared to the previous year, and were up by 0.3 per cent from October.
Advertisement
The Prime Minister's pledge to work towards "full" employment in a speech in Ipswich today echoes the Chancellor's upbeat message on the economy.
But the question remains what sort of jobs his government has, and would create.
The fact the deficit hasn't fallen faster, some economists argue, is partly due to low paid jobs not bringing in sufficient tax revenues.
David Cameron will brush such criticism aside, saying that he wants to ensure "anyone who wants a job is able to get a job." He claims that 1.75 million new jobs have been created since 2010, and most of those have been full-time jobs offering a good wage.
As politicians discuss a new law on what it calls modern slavery, ITV News presenter Julie Etchingham today spoke of some shocking stories that were uncovered during filming of tonight's programme.
She said that while some victims were forced to work up to 18 hours a day for as little as 50p an hour, for others it was even worse.
"We spoke to women who had their passports withheld, who slept on a mat on the kitchen floor, were physically and verbally abused by their employers and their employers' children," she told Good Morning Britain.
Theresa May says abolishing modern slavery is a personal priority, but we find it alive and well in some of London's wealthiest streets.
Read the full story ›
Aberdeen is the base for many North Sea drilling operations - and oil is the lifeblood of its economy.
ITV News Correspondent Debi Edward reports on the alarm some in the Granite City felt when BP announced it would be axing around 300 jobs in the oil industry.
Load more updates