A leaflet from the Department of Work and Pensions has been revealed as fake after officials made up comments from fictional claimants.
Read the full story ›
In a unique ITV experiment teachers and pupils from independent and state schools swap places. What do they have to learn from each other?
Read the full story ›
Advertisement
Conservative and Labour figures have clashed over claims fears over a potential Labour-SNP coalition stopped business owners from employing people before and after the election.
While unemployment has risen, the number of EU migrants working in the UK has topped two million for the first time.
Official labour market figures showed a record 2,033,000 people foreigners were employed in the three months to June, up 4% on the previous quarter.
The rising unemployment looks particularly unwelcome for students awaiting A level results. But might this be a good time to hunt for a job?
Read the full story ›
The Government has said it is helping "millions across the country to succeed and achieve their full potential" despite the latest jobs figures showing more people out of work as unemployment rose again to 1.85 million.
Thanks to our long term economic plan we have already seen two million more people in jobs since 2010. On top of that, today's figures show job vacancies at a near record high - evidence of the continued confidence of British businesses, and potential for further growth in the UK economy.

Our one nation government is helping millions across the country to succeed and achieve their full potential. I was particularly pleased to see that wages are continuing to rise - meaning that hardworking people will see a real difference in their pay packets.
– Work and Pensions Secretary Iain Duncan Smith
His Labour counterpart, though, said the latest figures were "worrying", highlighting a rise in youth unemployment as of particular concern.
The rise in unemployment for a second month in a row is worrying and shows we cannot afford to be complacent about the recovery. With productivity stagnating, David Cameron and George Osborne must take bolder action to raise jobseekers' skill levels to get more back into work and help build the high-skilled workforce Britain needs.

The rise in youth unemployment highlights a real danger that young people are being left behind. Ministers must urgently deliver more high-quality apprenticeships to give young people the skills they need to get a job and build a future.
– Labour's Acting Shadow Work and Pensions Secretary Stephen Timms
Advertisement
The latest increase of unemployment "strengthens (the) possibility" the jobs market may be levelling off, the Office for National Statistics has cautioned.
This is now the second consecutive time we've reported fewer people in work on the quarter. While it's still too early to conclude that the jobs market is levelling off, these figures certainly strengthen that possibility. Growth in pay, however, remains solid.
– ONS statistician David Freeman
Unemployment increased by 25,000 between April and June to 1.85 million, while the ONS showed jobs vacancies have largely steadied in the last six months.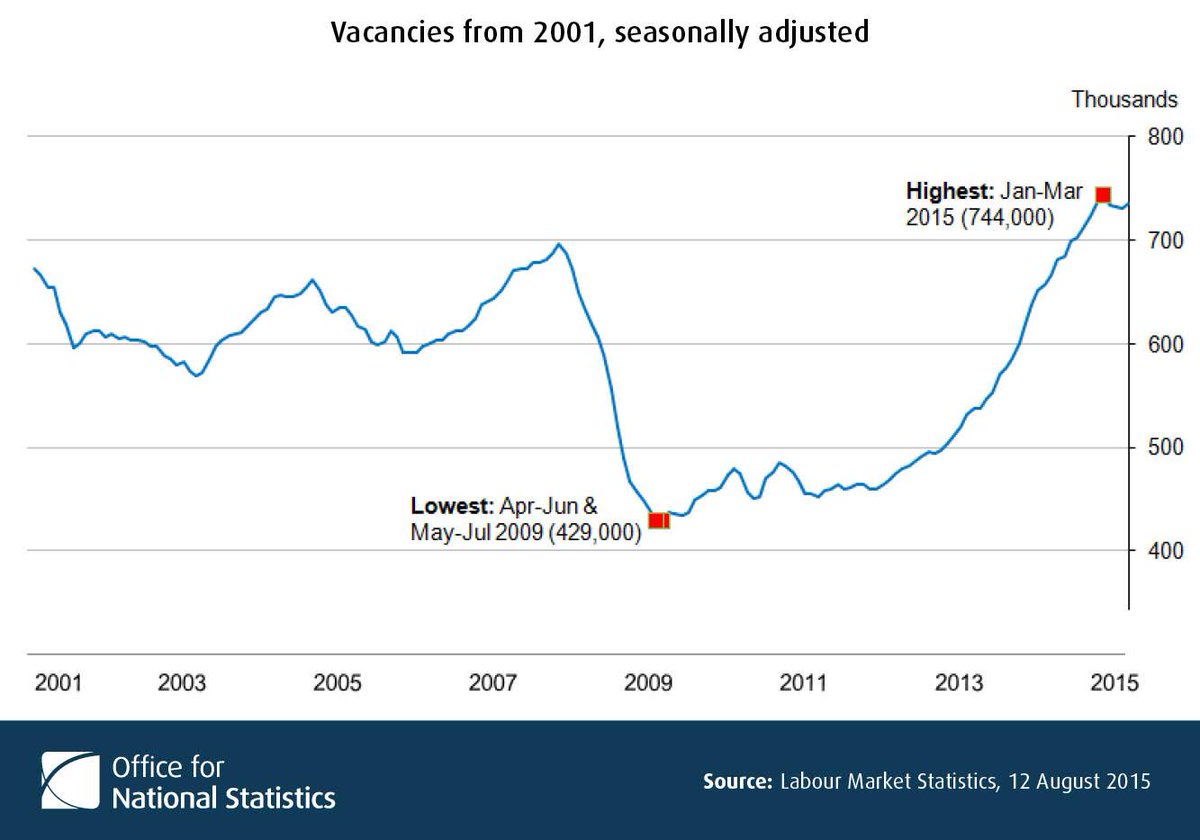 Unemployment increased by 25,000 between April and June to 1.85 million, official figures have shown.
The number of people claiming jobseeker's allowance last month fell by 4,900 to 792,400, the Office for National Statistics said.
Average earnings increased by 2.4% in the year to June, 0.8% down on the previous month.
The latest figures show the second consecutive monthly rise in unemployment after two years of decline in the number of people out of work.
The number of night workers has risen to three million since the recession, with more women than ever working antisocial hours.
Read the full story ›
Tens of thousands of new mothers every year are being fired or forced to quit their jobs due to workplace discrimination, a study has found.
Read the full story ›
Load more updates