Sports Minister Helen Grant wants to see a "battle for gender balance and fairness" in sport to eradicate differences in prize money
Read the full story ›
Job vacancies in Britain have reached a post-recession high of over 1 million and 30 cities now have more posts than jobseekers.
Read the full story ›
Advertisement
Chancellor George Osborne wrote on Twitter following the "fastest fall in unemployment on record":
We've seen fastest fall in unemployment on record over past year-another step towards full employment. Job not done but our plan is working
Youth unemployment fell at fastest annual pace since records began,down 253,000 on the year.Still too high but #LongTermEconomicplan working
If wages continue to improve and soon overtake inflation, the long-awaited interest rate rise may come sooner than investors thought.
Read the full story ›
The UK unemployment rate between June and August was 6%, ONS figures show - but what was the unemployment rate in your area?
Read the full story ›
Britain is within a whisker of the highest ever rate of employment: 73.0% now, the record was 73.2% in 2005.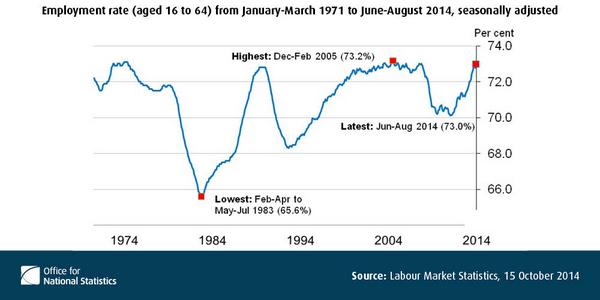 Advertisement
The Office for National Statistics has revealed that 6% of the labour force were unemployed in the last financial quarter:
Prime Minister David Cameron has hailed the "biggest-ever fall in unemployment in history".
Cameron wrote on Twitter:
The biggest-ever fall in unemployment in history, taking it below 2m, is great news. Our plan is working, but there's still much more to do.
Unemployment rate in 3 months to August drops again to 6% - the lowest level since 2008 but the pace of new jobs being added slowed.
Unemployment fell by 154,000 in the quarter to August to 1.97 million, official figures released today showed.
It was the first time unemployment figures had dropped below two million since 2008.
The number of people claiming Jobseeker's Allowance last month also fell by 18,600 to 951,900, the Office for National Statistics said.
Average earnings increased by 0.7% in the year to August - up 0.1% on the previous month.
Load more updates