Comedian Joan Rivers seemed to promote the new iPhone 6 from the grave today after posts appeared on her official Facebook and Instagram accounts, TMZ reported.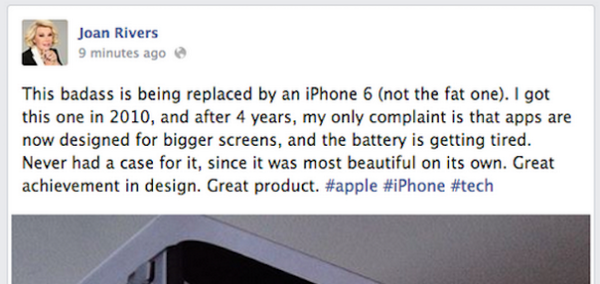 The post appeared on Rivers' Facebook and Instagram pages for a brief period this morning before they were removed.
TMZ suggests the posts were the result of a "pre-negotiated deal" with Apple and before her death she had scheduled them to publish on the iPhone's launch day.
Hollywood director J.J. Abrams has been declared the victor in a good-natured Twitter war with his friend and fellow director Zack Snyder.
Read the full story ›
Advertisement
Gamers have been given a taste of what Final Fantasy XV will look like after developer Square Enix released a new trailer.
Read the full story ›
The customised Harley-Davidson Peter Fonda rode in the 1969 cult film Easy Rider is expected to fetch more than £600,000 in an auction in California.
The Captain America chopper is one of the most recognisable motorcycles of all time.
The bike is the only surviving from the four customized choppers created for the film.
Alexander Armstrong has landed the starring role for the return of much-loved cartoon character Danger Mouse.
The comedy actor - who hosts BBC One's Pointless - will be voicing the debonair but diminutive secret agent for his comeback next year, more than two decades after the series ended.
White-clad hero DM, who wore a patch over one eye, was previously voiced by Sir David Jason in the original shows which ran for more than 10 years.
The new CBBC series will also feature the voice of Come Dine With Me, Dave Lamb, who has landed the all-important role of narrator.
Danger Mouse ended in 1992 and his return created a buzz when it was announced in June.
Leonardo DiCaprio has been appointed a UN 'Messenger of Peace' to help promote international action on climate change.
The Hollywood actor joins a number of prominent stars who have been given the role, including Stevie Wonder, George Clooney and Michael Douglas.
UN Secretary-General Ban Ki-Moon said as well as being "one of the world's leading actors", DiCaprio had a "long-standing commitment to environmental causes".
He founded the Leonardo DiCaprio Foundation in 1998 to work on environmental and humanitarian issues.
The Wolf of Wall Street star will address a major UN climate summit in New York next Tuesday.
Advertisement
Apple has introduced a one-button solution for customers angry about having the new U2 album automatically added to their iTunes accounts.
However, there was a widespread backlash online following the announcement, prompting Apple to offer an immediate removal of the record.
The page now contains a link to remove the album and the message: "If you would like U2's Songs of Innocence removed from your iTunes music library and iTunes purchases, you can choose to have it removed.
"Once the album has been removed from your account, it will no longer be available for you to redownload as a previous purchase."
Bob Crewe, the co-writer of pop classics such as Can't Take My Eyes Off Of You and Big Girls Don't Cry, has died at the age of 83.
His brother, Dan Crewe, said today that the producer, songwriter and Jersey Boys lyricist died on September 11 in Scarborough, Maine. The cause of death was not given.
The New Jersey-born Crewe co-wrote a number of memorable hits before helping put together The Four Seasons and meeting future collaborator Bob Gaudio.
Songs written by the pair helped the Four Seasons define an era in music with hits like Walk Like a Man, Rag Doll, and Frankie Valli's solo hit Can't Take My Eyes Off Of You.
Former glamour model Katie Price has revealed the unusual name of her latest baby - Bunny.
Price welcomed the new addition with husband Kieran Hayler in August.
Bunny is Price's fifth child and her second child with her third husband Hayler.
The celebrity pair appear to be back together after looking like they were on the brink of splitting up earlier this year when she accused him of having an affair with her best friend, and announced she planned to divorce him.
Django Unchained actress Danièle Watts was handcuffed by police after she was seen "showing affection" to her partner, NBC News reported.
Read the full story ›
Load more updates