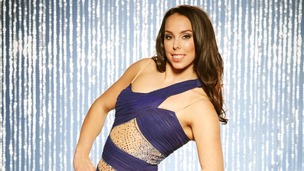 The stars taking part in the very last series of Dancing On Ice have been revealed.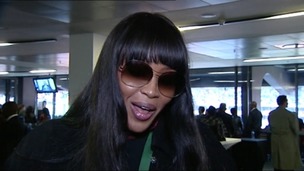 Supermodel Naomi Campbell has spoken to ITV News at the memorial service for her "honorary grandfather" Nelson Mandela.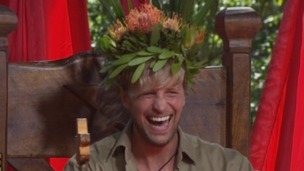 Westlife singer Kian Egan has been crowned king of the jungle on I'm A Celebrity...Get Me Out Of Here!.
Live updates
Carol Vorderman is one step closer to realising her dream of flying solo around the world after passing her pilot's licence test.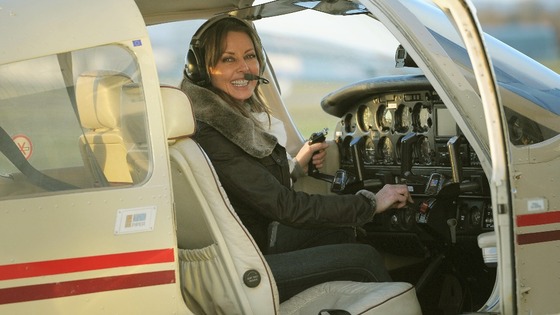 The Loose Women presenter celebrated by hugging her boyfriend Graham Duff, a former Red Arrows pilot, after being told she had passed her test at Gloucestershire Airport, near Cheltenham.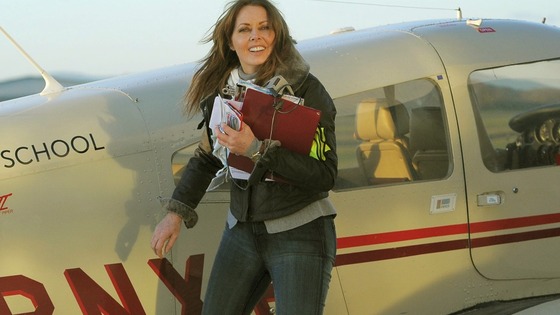 "I'm a pilot. I did it," Vorderman screamed as she found out the news.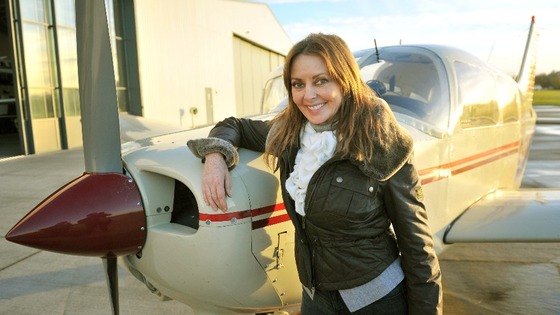 The maths whizz will collect her private pilot's licence (PPL) next week and then she can officially fly with passengers.
Take The High Road and Balamory actress Mary Riggans has died at the age of 78.
She was best known for her role as Effie Macinnes in the STV soap opera Take The High Road, in which she starred from the early 1980s until the last episode in 2003.
The Sony Award-winning actress died peacefully in her sleep on Monday.
Riggans also played Suzie Sweet in the BBC children's programme Balamory from 2002 to 2005 and appeared in other television shows such as Rab C Nesbitt and Taggart.
Her death was confirmed by Martin Hunt, a friend and spokesman for the family.
Advertisement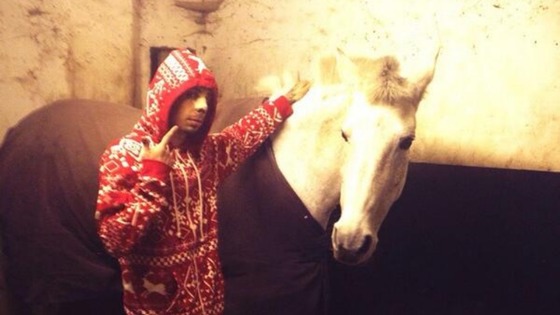 Former N-Dubz star Dappy seems to have forgiven the horse that kicked him in the face after posting a picture of him alongside the horse.
"This is the B******* that Bust me open! #LOL," he wrote alongside a picture of him in a Christmas-themed onesie stroking the horse .
The controversial star was hospitalised after falling off the animal before being kicked in the face.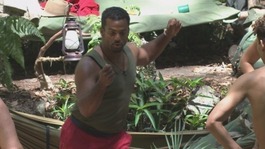 Alfonso has been holding out admirably, but he finally relented in last night's I'm A Celebrity and taught everyone the 'Carlton' dance.
Read the full story
Downton Abbey is to go head to head with EastEnders in the Christmas ratings battle.
The ITV period drama, which will be shown at 8.30pm on Christmas Day, will also be up against Mrs Brown's Boys on BBC 1, during the two-hour long episode.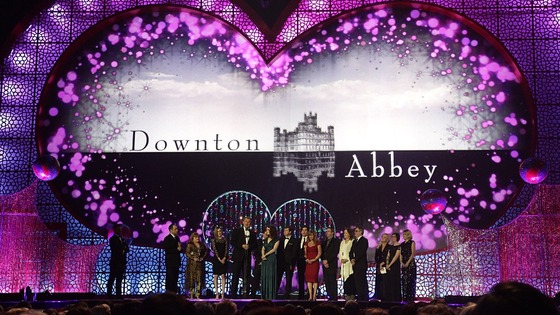 Downton, which is returning to ITV for a fifth series next year, has been sold to more than 220 territories and watched by an estimated 120 million people around the world since its debut in 2010.
Read more: Oscar-nominated actor Paul Giamatti joins Downton Christmas cast
Oscar-nominated actor Paul Giamatti will be joining the cast of Downton Abbey for the Christmas Day special.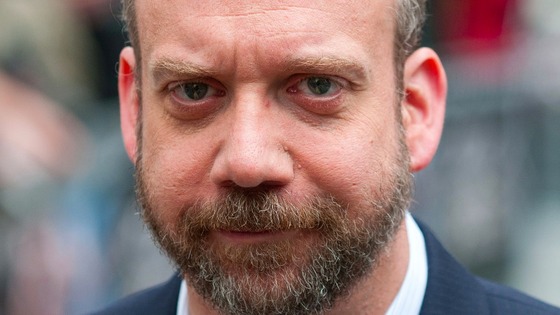 The American star, who was nominated for the best supporting actor Oscar for his role in boxing drama Cinderella Man, will play Lady Grantham's brother.
Not a lot has been given away about Giamatti's role in the ITV drama, but producers have let slip the Christmas Day episode will revolve around Lady Rose MacClare's (Lily James) entry into London's high society.
Click here for more Downton Abbey news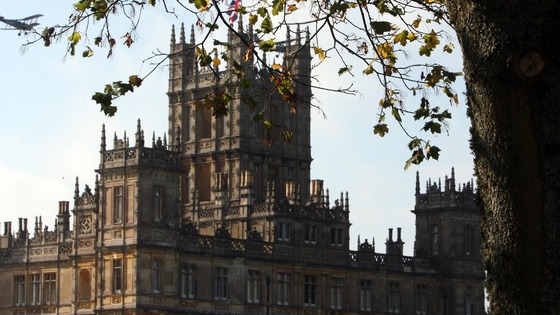 Shirley MacLaine returns as Lady Grantham's mother Martha and James Fox joins the cast as aristocrat Lord Aysgarth.
The two-hour episode of the award-winning ITV series, which will be shown at 8.30pm on Christmas Day, picks up the story six months on from the end of series four.
Advertisement
I'm A Celebrity...Get Me Out Of Here! star Joey Essex has been learning a lot in the jungle and was stunned to learn that stick insects - look like sticks.
The reality TV star could not believe his eyes and thought the insect was a spider when he first spotted one during a jungle challenge.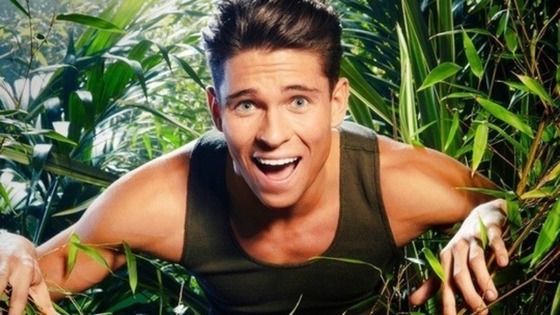 Essex, who has previously stunned viewers by saying that he does not know how to blow his nose or read the time, came face to face with the stick insects during the Dingo Dollar Challenge.
"I've never seen one of those in my life, it actually looks like a stick, it's a ringer if you compared it to some sticks, you'd never tell the difference," Essex told Olympic star Rebecca Adlington.
"It is a stick with legs that moves and now I've seen two of them it's like stick insect city here."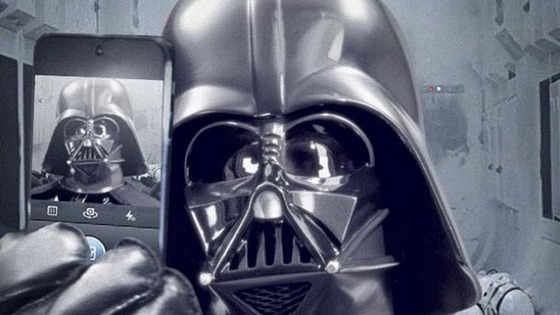 Star Wars launched its official Instagram account by posting a selfie of Darth Vader.
The image, which is captioned 'another day in the office', shows the character posing with a phone and has gained more more than 27,000 likes in less than 24 hours.
Fans of the sci-fi franchise were encouraged to sign up to the new Instagram account with a tweet which read: "It is useless to resist."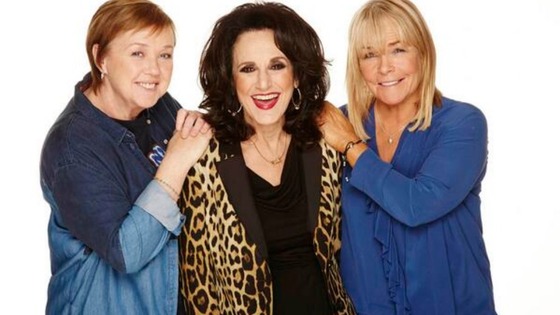 ITV has confirmed that sitcom classic Birds Of A Feather will return early in the New Year.
The show was first launched 24 years ago, will return to our screens on Thursday 2nd January at 8.30pm.
Read more: Birds Of A Feather stars reunited for new ITV series
Celebrity waxworks at Madame Tussauds have been given a festive makeover in support of Save the Children.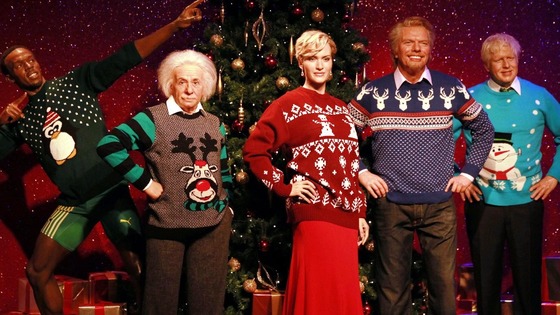 Wax figures of Usain Bolt, Albert Einstein, Kate Winslet, Sir Richard Branson and Boris Johnson saw their usual attire replaced with loud Christmas jumpers to show their support for the charity's 'Christmas Jumper Day: Make the world better with a sweater' campaign.
People are being encouraged to wear a Christmas jumper on Friday 13 December and give £1 or more to Save the Children.
Load more updates