Lightning strikes sparked a fire in the roof of St Michael's Hospital, Rayne Road, Braintree amid storms that swept across the south east, Essex County Fire and Rescue Service said.
Crews were called in after lightning struck the roof of a hospital building this morning. The lightning strike caused a fire in the roof.

On arrival the incident commander reported that there was a fire in the roof and that the entire building - which measures 16 by six metres - was completely smoke logged.

Wearing breathing apparatus and using two hose reel jets firefighters had extinguished the fire by 09:12hrs.
– Essex County Fire and Rescue Service.
Part of a hotel roof has collapsed after a blocked drain caused water to pool, the Essex County Fire and Rescue Service said.
Crews were called in after the roof of the hotel partly collapsed causing problems with the electrics.

On arrival the incident commander reported that a blocked drain in the roof had caused water to pool and part if the roof had collapsed.

Firefighters isolated the electrics and pumped water from the drain.
– Essex County Fire and Rescue Service
Advertisement
An Environment Agency has posted a satellite image showing "big storms" North of London.
1st visible satellite pic of day shows cooler drier weather over Scotland heading SE. Big storms N of London. http://t.co/Y2rk3Ka90P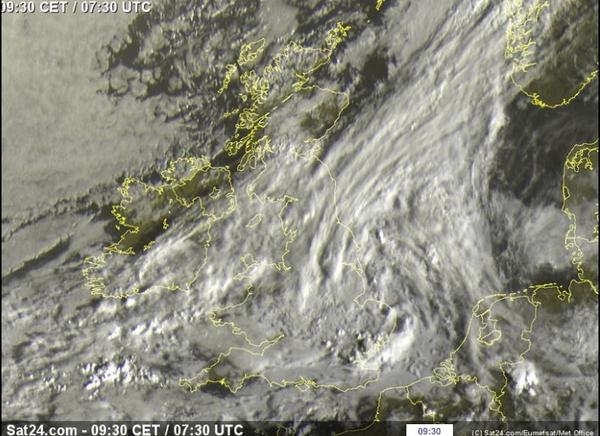 The Met Office has warned of further heavy showers and thunderstorms through to Saturday evening, with the main risk becoming confined to southern parts from late afternoon.
It also warned of potential for isolated disruption due to surface water flooding and lightning strikes.
Images of flooding on roads through Essex have begun to emerge on Twitter with one driver posting a photograpg of water covering the A12.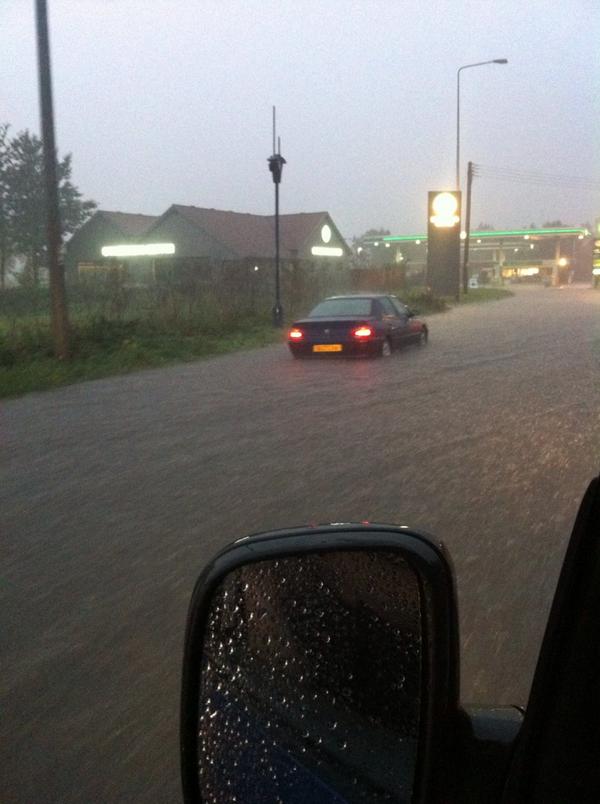 Environment Agency officials warn of the dangers of flooding as storms emerge in London and Essex.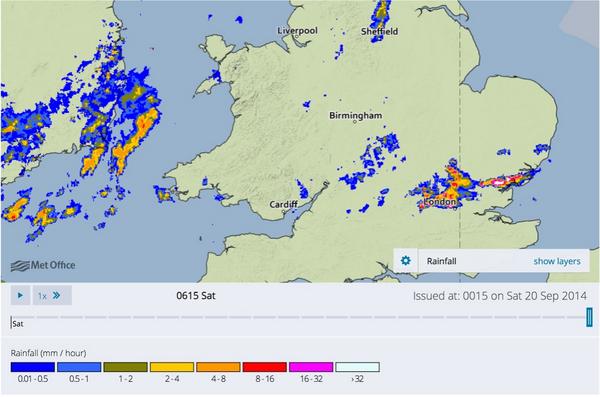 Advertisement
Firefighters across California have been battling major wildfires in what could be the most destructive wildfire season on record.
Read the full story ›
Leonardo DiCaprio has been appointed a UN 'Messenger of Peace' to help promote international action on climate change.
The Hollywood actor joins a number of prominent stars who have been given the role, including Stevie Wonder, George Clooney and Michael Douglas.
UN Secretary-General Ban Ki-Moon said as well as being "one of the world's leading actors", DiCaprio had a "long-standing commitment to environmental causes".
He founded the Leonardo DiCaprio Foundation in 1998 to work on environmental and humanitarian issues.
The Wolf of Wall Street star will address a major UN climate summit in New York next Tuesday.
The Formula E Championships in Beijing hopes 'green' motor racing will change what ordinary motorists think of electronic cars.
Read the full story ›
Global leaders must show "the same level of urgency" to tackle climate change as was shown to protect the ozone layer, the head of the World Meteorological Organization says.
"International action on the ozone layer is a major environmental success story ... This should encourage us to display the same level of urgency and unity to tackle the even greater challenge of tackling climate change," WMO Secretary-General Michel Jarraud said after the first signs were reported that the layer was thickening.
The ozone hole that appears annually over Antarctica has also stopped growing bigger every year, though it will be about a decade before it starts shrinking, the report found.
Load more updates