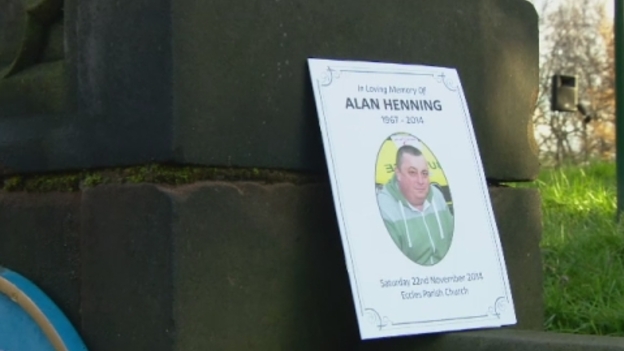 A memorial service has been held for the murdered Salford aid-worker Alan Henning.
Family, friend and colleagues and came together at Eccles Parish church, where a memorial stone has been laid in his honour, as Tim Scott reports.
The head of a Manchester charity which has organised the deployment of the first NHS staff to go to Sierra Leone to fight the Ebola epidemic has been speaking to Granada Reports. Professor Tony Redmond says more than 30 doctors, nurses and other clinicians set off from Heathrow this afternoon. They will diagnose and treat patients in the West African nation.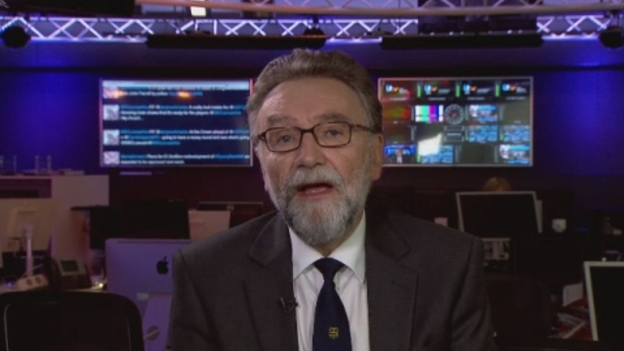 Advertisement
Family and friends of Mr Henning gathered for a service at Eccles Parish Church earlier today. A memorial stone in his honour was then unveiled.
The widow of murdered British aid worker Alan Henning has told a memorial service he was killed "for being what we should be, selfless and caring".
The 47-year-old taxi driver was kidnapped in December by Islamic State (IS) militants in Syria and held captive before a video showing his beheading was released last month.
A private memorial service at Eccles Parish Church in Greater Manchester for invited guests was held, and audio was relayed outside the church. It was decked with yellow ribbons like those well-wishers had sported when there was still hope he would be freed.
His widow Barbara and daughter Lucy walked in with Bethany and Michael Haines, the daughter and brother of David Haines from, Scone, Scotland, who was also murdered by IS.
Mrs Henning told the memorial: "We must never forget the reason why he went to Syria and the reason he was taken from us - for being what we all should be, selfless and caring."
She said her thoughts were with the families of John Foley, Steven Sotloff, David Haines and Peter Kassig, the other Westerners who were beheaded by IS.
She added: "I hope and pray that John Cantlie will be released and returned to his family so that they are spared the horror."
Mrs Henning asked for donations to be made to Hostage UK, a charity which helps the families of kidnap victims.
Many in attendance at the town centre church wore yellow ties or scarves as an echo of the yellow ribbons seen throughout Eccles.
Mr Henning's murder is thought to have been at the hands of "Jihadi John", an IS fighter who speaks with a London accent and who is apparently responsible for the four other hostage killings.
Advertisement
Wigan Athletic chairman Dave Whelan has told ITV News he will resign if an FA investigation finds him guilty of making racist remarks.
Mr Whelan is under fire for remarks he made defending the club's manager, Malky Mackay which have been criticised as anti-semitic and racist.
A memorial service for British aid worker Alan Henning will begin shortly in Eccles.
Mr Henning's family and friends will gather for a private service at Eccles Parish Church, after which they will unveil a memorial stone in his honour.
David Cameron is under pressure to give up £1.5 million in donations from businessman Dave Whelan amid allegations of racist comments by the Wigan Athletic chairman.
Labour backbencher Karl Turner has written to the Prime Minister urging him to condemn the remarks and hand the money to charity.
Mr Whelan became emboiled in the row as he tried to defend his decision to employ Malky Mackay as the club's manager, despite a Football Association investigation into claims he sent anti-semitic messages to a friend while in charge at Cardiff.
The 77-year-old former JJB Sport boss is said to have told the Guardian: "The Jews don't like losing money ... I think Jewish people do chase money more than everybody else".
He also reportedly argued there was "nothing bad" about referring to Chinese people as "Chinks".
Mr Whelan has apologised for causing offence, and suggested he had been misquoted.
But in a letter to Mr Cameron, Mr Turner said: "David Whelan is a significant donor to the Conservative Party, and has donated £1.5 million since 2007.
"His most recent donation of £100,000 was received by the Conservative Party on the August 2 2014.
"Given his status as a significant contributor to your re-election efforts you must now make it clear if you personally condone or condemn these comments.
"I hope that you agree with me that these anti-Semitic and racist comments have no place in modern British society, and as such I hope that you also agree with me that you must now give up any money that you have received from Mr Whelan and consider which charitable groups would be better recipients of it.
"Failure to act swiftly in this matter will show a lack of leadership. It will not be possible for you to simultaneously condemn offensive remarks while accepting large sums of money from those responsible for them."
Load more updates
Back to top