Advertisement
As anti-fracking protestors left Poulton-le-Fylde for Blackpool earlier we gathered opposing views on shale gas exploration in Lancashire.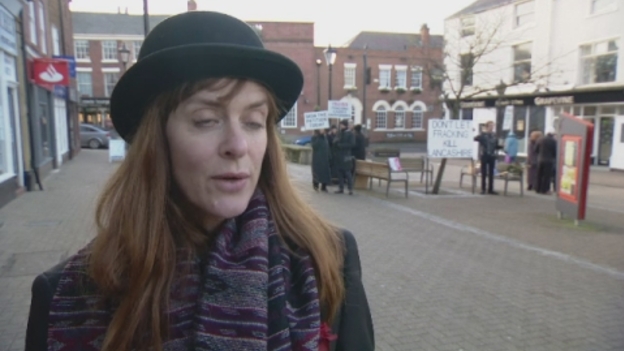 Hidden cameras have captured some of the first moments of three rare tiger cubs at Chester Zoo.
The tigers were born to eight-year-old Sumatran tigress Kirana on Jan 2 after a 105-day pregnancy.
The sexes of the cubs will not be known for some time and zoo staff are continuing to keep a close eye on the family.
Advertisement
A tin containing mementos of a baby has been found inside an abandoned tent at a park in Manchester.
Police say the keepsake tin could have sentimental value and they're hoping to reunite it with the owner.
Officers have searched the park, known locally as Northenden Round, and found no evidence to suggest anything untoward had occurred although concern has been expressed for the welfare of the owner.
Anyone with information should phone Greater Manchester Police on 0161 856 4882 or Crimestoppers on 0800 555 111.
A father who once ate burgers and takeaways every day has lost four-and-a-half stone in 12 months after his weight made him feel like a "failed parent".
David Eyres, 34, a self-employed landscape gardener from Oldham, had been overweight since his 20s but his weight rose to 18 stone when he turned to food for comfort after his father died from cancer in 2009.
His daily diet consisted of a bacon sandwich for breakfast, a McDonald's Big Mac and a cheeseburger with chips and a fizzy drink for lunch, and an Indian takeaway curry with chips, onion bhajis and naan bread for dinner as well as family-size packets of crisps and chocolate bars as snacks.
He said it left him unable to play with his children and struggling to carry out his work.
But a photo of the father-of-three posing with his son Ben while at his heaviest spurred him in to action and 12 months later he is barely recognisable as the same person.
Mr Eyres joined his local Slimming World club where he was encouraged to cook home made meals and supported in starting exercise, Within a year his weight had dropped to 13st 5lbs, a weight loss of 4st 7lbs, and his waistline shrunk from 38 inches to 30 inches.
The father, who joined the club with his wife Kelly for support, was named Mr Sleek 2015 by the organisation in recognition of his transformation.
Load more updates
Back to top