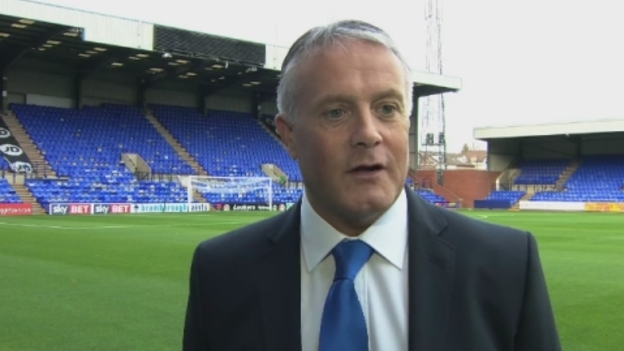 Micky Adams has begun the job of trying to turn around Tranmere's fortunes.
Today was his first day as manager at the League Two club.
Rovers are at to the foot of the table and, after watching their 2-0 defeat to Oxford from the stands, Adams knows there is a lot of hard work ahead.
Advertisement
The lorry driver accused of causing the M62 hen party coach crash has told a jury he thought he was going to die in the accident .
Forty-five-year-old Kevin Ollerhead denies causing the death of 18- year-old Bethany Jones after his lorry ploughed into the back of the minibus she was traveling in.
The prosecution say Ollerhead had time to avoid the crash but he says the first memory he had was that the minibus was directly in front of him.
Ollerhead told the court, "When I saw the minibus and I knew I was going to hit it I thought I was going to die and everything just stopped."
The driver of the coach, James Johnson, has already pleaded guilty to causing death by dangerous driving.
Ollerhead's trial is continuing.
Police have released CCTV of a robber dropping his loot as he stumbled out of a supermarket following a raid.
The man entered the Tesco Express in Rochdale yesterday morning.
When he found that there were no staff present, he lifted his face covering and shouted for assistance.
Once the cashier arrived at the till, he was threatened with a gun and forced to hand over money.
The robber can then be seen dropping the money as he left the scene, before chasing the stolen notes around the car park.
Detective Sergeant Nicola Hopkinson, said:
A former chief inspector has told a court that he was not troubled about alterations he made to officers' statements about the Hillsborough disaster.
David Beal said he had a "small role" in amending accounts on the advice of South Yorkshire Police's lawyers to review some sections.
He told the inquests in Warrington:
Mr Beal agreed that somebody else had done the substantive work of revision before he wrote it out in full.
The witness said he was offended by suggestions from a lawyer representing some of the bereaved families that he was a key figure involved in a cover-up.
Advertisement
A 21-year-old man has been jailed for four weeks for sending an anti-semitic tweet to Labour MP Luciana Berger.
Garron Helm's message showed a yellow star superimposed onto Ms. Berger's head with the hashtag 'Hitler was right', the Liverpool Echo reports.
Ms Berger said Helm's tweet had "deeply shocked" her.
She added that she hoped the verdict "serves as an encouragement to others to report hate crime whenever it rears its ugly head ".
Liverpool Magistrates Court heard that Helm had sent the tweet in a state of "anger and political frustration" in the early hours of August 7th.
Two builders have offered to help rebuild Manchester Dogs' Home for free, and have called on other tradespeople to join them.
Aydee Dixon and Danny Fletcher said they were 'gutted' by news of the fire and wanted to use their skills to help the sanctuary rise from the ashes.
The pair, who own Powerhouse Property Services in Hyde, set up a Facebook page asking for other workers to help out too. The page has around 30,000 likes.
For information on how you can help get involved, click here.
A man has been arrested after a suspected drone was flown over a Premier League stadium during a match, police say.
The 41-year-old man was held in the car park of an Asda supermarket after reports that a drone was seen flying over a stand at the Etihad Stadium during Manchester City's 4-1 win against Tottenham Hotspur on Saturday.
He was held on suspicion of breaching the air navigation order and bailed for two months while police conduct further inquiries.
It is not clear what the device was used for, but GMP said it could have "posed a threat to crowd safety and potentially cause alarm in crowded areas".
No injuries were reported at the match, which was attended by more than 45,000 people.
One of the killers of toddler James Bulger did not want his head shaved in prison because he feared he would look "like a thug", a court has heard.
During a phone call on August 16 2010, Venables also complained about a newspaper story that he was on hunger strike, jurors were told.
The details emerged in the Old Bailey trial of prison officer Scott Chapman, 52, who was allegedly paid £40,000 by newspapers for leaked information about Venables.
A prison intelligence report read out by the prosecution stated: "The newspaper had said he was on hunger strike, and a cleaner, and on suicide watch."
"He will not want his hair shaved off because he does not want it in newspapers that he looks like a thug."
The trial was adjourned until tomorrow when the defence is due to start.
Load more updates
Back to top