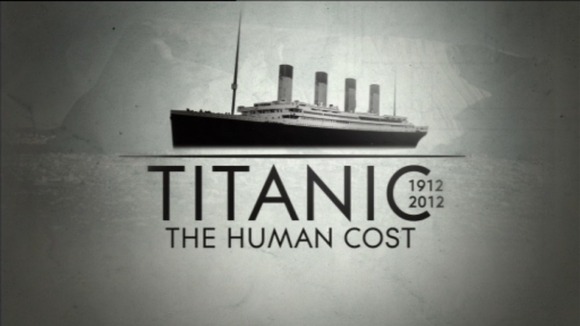 She may have been the most famous shipwreck of all time, but at the heart of the Titanic story isn't pot holes and rivets, it is people; and not just one story, but thousands. The human cost of the disaster was immeasurable.
To mark the one hundredth anniversary of the sinking of the Titanic, Granada Reports have brought together the relatives of two of Titanic's crew, who died that fateful night.
I've often wondered did he believe the ship was unsinkable, like everybody said or was there a sense of danger and what happened to him - was he one of the ones who was sucked under or did he manage to get out and try and save his life - we'll never know
– Mary-Ann Byrne, Great granddaughter of Thomas McInerney
When the ship had struck the iceberg he was apparently up on deck and a woman passenger was walking along and he took off his lifejacket and he gave his lifejacket - she survived and Andrew died
– Martin Heys, Cousin of Andrew Latimer

They are two descendants, with a special bond.

Thomas McInerney would have had almost no chance of survival. His job would have meant he would have been in the engine room of the ship until the very end. Born in 1873 in Howe Street, Bootle – he had four children. The family have no photographs of Thomas, but he was described as looking like the actor James Cagney.

"My relative was a guy called Andrew Latimer - he's my first cousin 3 times removed and his job on the Titanic was senior chief steward of the first class."

Born in 1857, Latimer lived at 4 Glenwyllin Row, Waterloo, Liverpool. An experienced steward, he'd also worked on the Teutonic, Cedric, Adriatic and Olympic. He was one of the most highly paid crew members onboard Titanic. His wages were £20 a month.

Perhaps one of the most famous stories from that night, is that of Wallace Hartley - the band leader from Colne. Despite the chaos and human instinct to save their own lives. The story goes that the band continued to play as the ship went down.

Colne historian Darran Ward told us: "It was horrific - these musicians were surrounded by the sheer horror of decks breaking up, things collapsing on people. They were so brave, they gave their own lives up to keep on playing amidst the panic and I think they'll always be remembered for that"

None of the band survived that night; Wallace Hartley died a hero.

His body was recovered from the waters several days later and bought back home to Colne. Although he was just one of hundreds who died that night, his death touched a whole community. His was one of biggest funerals in the Titanic story.

"Up to 40 thousand people lined streets of Colne. It was a major thing - you cannot believe the sheer volume of the crowds," Darren says.

But the fascination with Titanic remains undiminished by the passage of time. A hundred years on, a new generation are still enthralled. And for some - its a story that's personal.
Daniel Rooney was my great grandfather and he was going to go on the Titanic but night before he was due he had a dream about the Titanic hit an iceberg, so he said i'm afraid to go on that ship - I won't go - the dream saved his life
– Callum Johnson-Sach, aged 5

Thomas Patrick Dillon was born in 1878 in Liverpool. He was a trimmer in the engine room when the ship went down.

He later gave the following account to the British Enquiry:

"I went down with the ship and sank about two fathoms. Swam about twenty minutes in the water and was picked up by No. 4. About 1,000 others in the water in my estimation. Saw no women. Recovered consciousness and found Sailor Lyons and another lying on top of me dead."

They are stories that have been handed down through generations.

And will continue to be told and retold by their descendants for years to come.