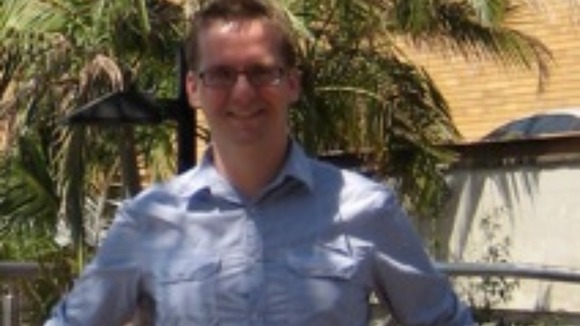 A quantum physicist from Salford who was at the "top of his career" has died in a car crash in Australia.
Dr Sean Barrett had been in the country for less than an hour when his taxi was hit by a stolen Toyota Landcruiser which police said was speeding and had ignored a red light.
The driver, who was arrested and charged with manslaughter, was taken to hospital.
36 year old Dr Barrett was in a relationship. His mother is said to be devastated.
Sean was a brilliant mind, and a brilliant man. Anyone who had the pleasure to meet him in physics and beyond would tell you that. He was a charismatic man who had the rare gift to light up any room. He is a loss to science, and to life. He was cut short in his prime. Rightly, his family, friends and his colleagues whom he leaves behind are devastated.
– Family statement

Dr Barrett was due to visit his close friend Dr Dee Chohan in Sydney for her birthday next week.

They met at the University of Cambridge 16 years ago.
Sean was in a different league. He was like my rock and he'd always say I'm his little kid sister. He would come and stay every single year. I miss him so much.
– Dr Dee Chohan

Dr Barrett, who could not drive, was killed alongside his taxi driver. He was named locally as Kuldeep Singh.

They were making their way from the airport in Perth, Western Australia, at around 2am on Friday when the crash happened.

Assistant Police Commissioner Gary Budge said the driver of the stolen car "proceeded through a red light at speed".

He said the vehicle had been stolen days earlier and the occupants were wanted in connection with a series of offences.

A police helicopter was in pursuit of the 4x4 but stood down when the driver turned off its lights.

Mr Budge said there was no evidence to suggest the car was being chased when it crashed.

Dr Barrett had travelled to Australia to speak at a conference on quantum physics being jointly organised by the University of Western Australia and the University of Queensland.

The event will now be dedicated to the memory of Sean with colleagues revisting his work and remembering his life.
He was making significant impacts in the research field for which he had so much enthusiasm and passion. Sean's strength of character and insight drew colleagues and friends to him throughout his life. He was at the height of his career and leaves behind an outstanding research record. His tragic and sudden death is a profound loss to the research community.
– The Universities of Western Australia and Queensland

A graduate of Churchill College at Cambridge, where he also completed his PhD, Dr Barrett went on to hold prestigious research positions at Hewlett-Packard Labs in Bristol and Macquarie University, New South Wales.

He was funded by a Royal Society Fellowship at Imperial College, London.

His research looked at theories into building scalable and robust quantum computers.
It is with great sadness the we have learnt of the death of Dr Sean Barrett. Sean was an outstanding physicist, whose research was furthering our understanding of quantum physics and quantum computing. His loss will be greatly felt by the scientific community. Our thoughts and condolences are with Dr Barrett's family, friends and colleagues at this tragic time.
– Imperial College London