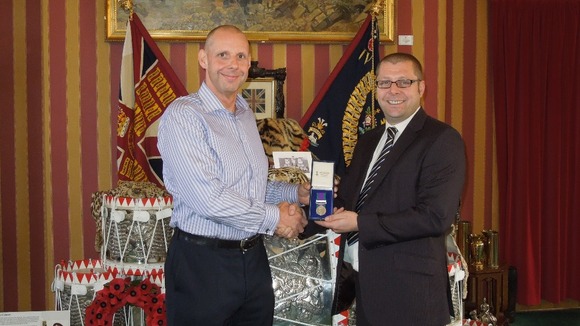 An ex-soldier from Blackburn, Lancashire, who lost a service medal 13 years ago has had it returned after it was found on sale in an Afghan marketplace.
Mick France, a former Lance Corporal with the Queen's Lancashire Regiment, which is now part of the Duke of Lancaster's Regiment, was reunited with his honour after being contacted via Facebook.
He was presented with his Northern Ireland service medal for a second time during a ceremony at the Regiment's Headquarters at Fulwood Barracks in Preston.
The medal was unearthed by Stan Bates, a Superintendent with West Yorkshire Police who has been working as a civilian adviser to the police in Afghanistan.
"I regularly trawl the local bazaars in Kabul where India General Service Medals are not uncommon and, while doing so, one of my contacts showed me this medal. It was engraved with Mick's name and unit and obviously had a story to tell. So, having bartered the price down, I purchased it and contacted the Duke of Lancaster's Regimental Museum."
– Stan Bates, West Yorkshire Police

The Regiment set about tracking Mick down via its network of ex-soldiers and by using Facebook
"My girlfriend rang me, she had opened an account on Facebook that I never check. She said that my Platoon Sergeant in Berlin had contacted me and wanted me to call him. I obliged as he always had something stupid to say to me because he comes from Burnley and I'm from Blackburn!

"After speaking to him I was amazed that my medal had been found in a bazaar in Afghanistan - a place that I never went with my regiment."
– Mick France, former Lance Corporal with the Queen's Lancashire Regiment