Award for Cumbrian farmer who protects rare birds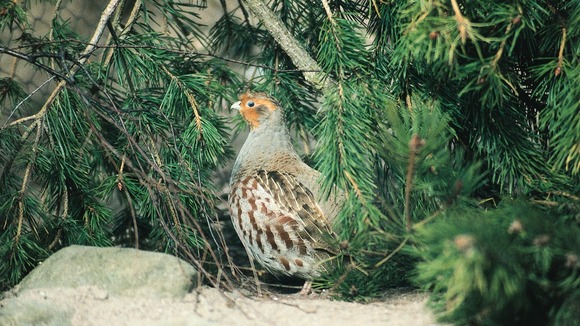 Farmer Martin Baird has been praised for his conservation work at his Cumbrian farm which is helping to preserve grey partridges.
Mr Baird has restored hedgerows and created year-round habitat for both seed-eating birds and breeding waders at Red Hall Farm.
Now his efforts have earned him the 2012 Cumbrian Grey Partridge Group trophy from the Game & Wildlife Conservation Trust (GWCT).
The GWCT encourage farmers and landowners to conserve the small populations of birds that remain in the county through the group.
Grey partridges were particularly vulnerable due to last summer's wet weather which hampered breeding success.
Charity GWCT is advising farmers to help the birds and boost their chances of survival through winter.
Specifically, grey partridges need over-winter cover and food, nesting cover and brood rearing cover and food. Mr Baird provides such a habitat largely through adopting relevant options in his Government-funded Higher Level Scheme, which seeks to provide environmental benefits.
"Martin`s enthusiasm for conservation stands out when you look around his farm. With the help of his Higher Level Scheme and previous Countryside Stewardship Scheme he has restored a network of hedgerows, created year-round habitat for seed-eating birds and habitat for breeding waders. He is a shining example of how conservation can be incorporated into a modern intensive dairy farm."
– John Bowman, Natural England

Members of the Cumbrian Grey Partridge Group contribute data to the GWCT Partridge Count Scheme and attend an annual meeting to discuss management options for supporting the native species.