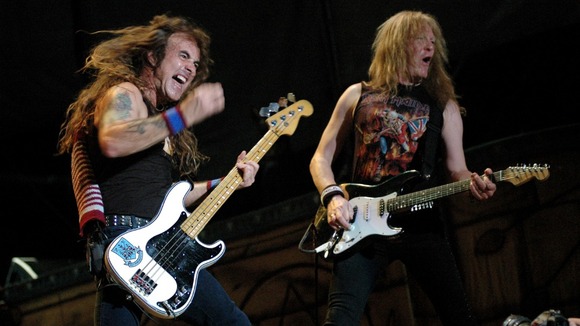 Rock veterans Iron Maiden have teamed up with a Stockport brewer to launched the band's own beer.
The band teamed up with Robinsons to create real ale Trooper, named after one of their most popular songs.
Lead singer Bruce Dickinson helped develop the flavour of the 4.8% strength beer with several visits to the firm.
"I'm a life-long fan of traditional English ale. I thought I'd died and gone to heaven when we were asked to create our own beer.

"I have to say that I was very nervous. Robinsons are the only people I have had to audition for in 30 years. Their magic has been to create the alchemical wedding of flavour and texture that is Trooper. I love it."
– Bruce Dickinson

Announcing the partnership, Robinsons managing director Oliver Robinson said: "Trooper is a premium British ale with true depth of character and flavour.

"For more than 30 years, the unmistakable icon of Eddie, the band's instantly-recognisable mascot, has adorned every album cover, T-shirt and poster - so it is fitting that Eddie will now adorn the cask pump clip and take centre stage on the bottle label of Trooper.
"Not only do Iron Maiden genuinely enjoy a good pint of cask ale but so do many of their fans - and they have an important part to play in our customer base."
– Oliver Robinson, Robinsons managing director

Bottles of Trooper will be available for worldwide sale from May.