Specialist bird keepers at Blackpool Zoo hand-rear the UK's only Magellanic penguin chicks.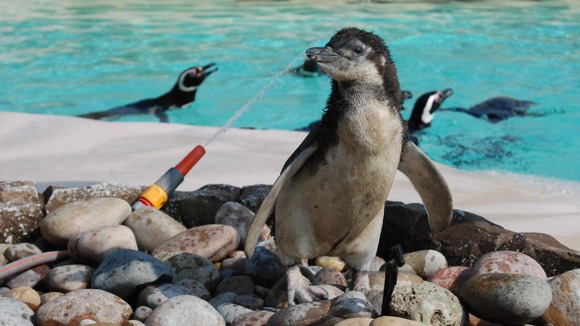 Bird keepers flying high after super season!**
Specialist bird keepers at Blackpool Zoo are flying high after successfully hand-rearing the UK's only two Magellanic penguin chicks.
The achievement comes in a record-breaking year for the dedicated team, who have cared for and hatched more than 270 eggs since January.
Gandalf and Pippin the penguin chicks hatched in May after keepers took the decision to remove their eggs from the nest after they were neglected by their first-time parents.
Using the very latest hand-rearing techniques, which include through the night feeds and a detailed species re-introduction programme, staff have cared for the two birds round the clock and they are now enjoying spending time with the rest of the zoo's penguin colony.
The chicks, whose gender will be determined by DNA testing, have been reared on a menu of fish milkshakes, vitamins and minerals and, more recently, solid fish.
A whole host of species have also been successfully hatched and raised in Blackpool Zoo's bird facility this year including Guineafowl, Demoiselle Canes, Caribbean flamingos, African Spoonbills, Black-cheeked Lovebirds, Sacred Ibis, Little Egrets, Blue-Crowned Conures and a Western Galah Cockatoo.
We have had our busiest and most successful year here in the bird department at Blackpool Zoo.

"We are delighted to have successfully hand-reared two penguin chicks for the first time and with only a few Bobwhite quail and Guineafowl left in the incubator and just three flamingos relying on us for night feeds, I would like to congratulate the whole team for their efforts this year.

"It is wonderful to see all the chicks integrated back into their groups and visitors love to see Gandlaf and Pippin showing off their swimming skills in the penguin pool.

"After such a whirlwind of activity I now understand the meaning of the saying 'empty nest syndrome' and can't wait until we start all over again next year!"
– John Paul Houston, Senior Bird Keeper at Blackpool Zoo

Magellanic penguins hail from South America and breed in coastal Argentina, Chile and the Falkland Islands, with some migrating to Brazil where they are occasionally seen as far north as Rio de Janeiro.

They have short, wedge shaped tails and long narrow wings that they use like paddles when they are swimming. They can reach speeds in excess of 15mph in the water.

Blackpool Zoo hold the only group of Magellanic penguins in the UK and the group has been living there since 2009.